We recently butchered our old laying hens and canned around fifty quarts of chicken broth. My husband, Joe, and our children are home on vacation the week of July 4. So this week I'm sharing some extra recipes.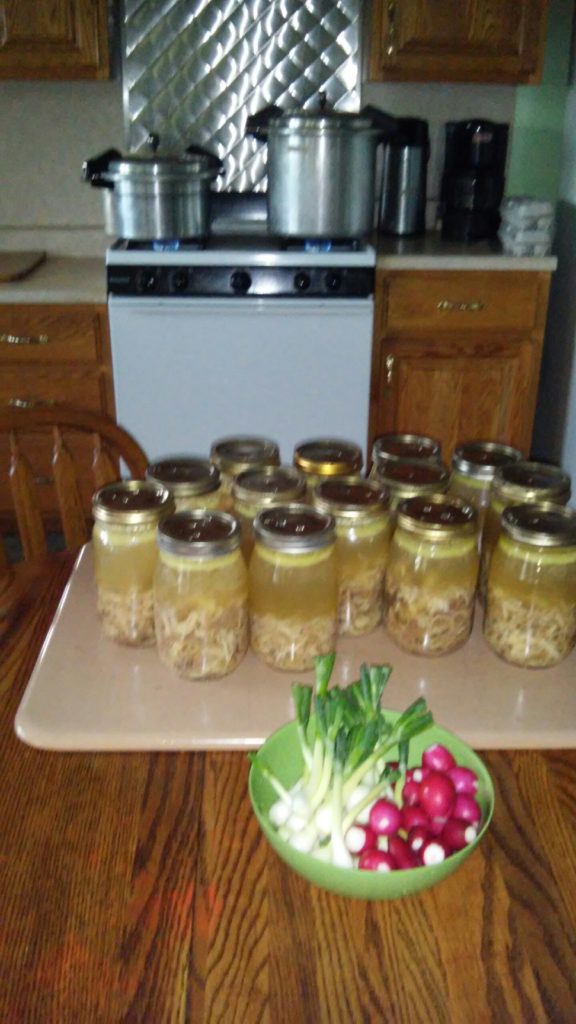 God's blessings to all!
A reader recently requested a recipe for red velvet cake made with beets. Here is the recipe.
Red Velvet Cake with Beets
3 cups flour
2 teaspoons baking powder
1 1/2 cup white sugar
1 cup buttermilk
1 cup pureed, cooked beets
1/2 cup vegetable oil
2 eggs
2 tablespoons unsweetened cocoa powder
1 tablespoon red food coloring
1 teaspoon vanilla
1 teaspoon vinegar
1 teaspoon baking soda
1 teaspoon salt
Preheat oven to 350 degrees. Line a 9 x 13-inch baking pan with parchment paper. Sift flour and baking powder together. In another large bowl, whisk together sugar, buttermilk, beets, oil, eggs, cocoa powder, food coloring, vanilla, vinegar, baking soda and salt. Add flour mixture gradually to the bowl, stirring after each addition. Pour batter into prepared pan. Bake about 35 minutes or until toothpick inserted in center comes out clean.
A reader also requested the recipe for Cherry Delight.
Cherry Delight
1 3/4 cup graham cracker crumbs
1/4 cup melted butter
1/3 cup sugar
2 cups whipped topping
1 8-ounce package cream cheese
1/2 teaspoon vanilla
1 28-ounce can cherry pie filling (or 1 quart canned cherry pie filling)
In a bowl, mix graham cracker crumbs, melted butter and 1 tablespoon sugar. Spread on bottom of a 9 x 9-inch baking pan to form a crust. Beat together whipped topping and cream cheese, adding remaining sugar and vanilla until well blended. Smooth on top of crust. Top with cherry pie filling. Chill at least 3 hours.
Strawberry Rhubarb Muffins
1/4 cup butter
3/4 cup sugar
1/4 cup vegetable oil
2 cups all-purpose flour + 1 tablespoon to coat the berries
1 teaspoon baking powder
1 teaspoon baking soda
1/2 teaspoon salt
1 egg
1 cup plain yogurt
1/2 teaspoon almond extract
3/4 cup rhubarb, chopped
1 cup strawberries, chopped
1/4 cup brown sugar
Preheat oven to 450 degrees. With an electric mixer, cream together the butter, sugar and oil until smooth. Add the egg, yogurt and almond extract to the sugar mixture and mix well. In a separate bowl, combine the first four dry ingredients. Slowly add the dry mixture into the wet mixture. Add the chopped rhubarb and strawberries and lightly mix in. Place paper liners in muffin tins. Use a 1/4 cup scoop to fill the liners. Sprinkle a little brown sugar on the top of each muffin. Bake for 12–14 minutes or until golden on top. Makes 18 muffins.
Sunday Brunch Casserole
1/2 pound bacon, sliced
1/2 cup onion, chopped
1/2 cup green pepper, chopped
12 eggs
1 cup milk
1 16-ounce package frozen hash browns, thawed
1 cup cheddar cheese, shredded
1 teaspoon salt
1/2 teaspoon pepper
1/4 teaspoon dill weed
In a skillet, cook bacon until crisp. Remove with a slotted spoon; crumble and set aside. In the drippings, sauté onion and green pepper until tender; remove with a slotted spoon. Beat eggs and milk in a large bowl. Stir in hash browns, cheese, salt, pepper, dill weed, onion, green pepper and bacon. Transfer to a greased 9 x 13-inch baking pan. Bake uncovered at 350 degrees for 35–45 minutes or until a knife inserted near the center comes out clean. Yields 6–8 servings.
Also, I need to make several corrections to the Blueberry Cobbler recipe that appeared in my column in newspapers and online the week of June 19-23. Several readers alerted me to some problems, and I have made some revisions. Thanks for your feedback!
Blueberry Cobbler
2 cups flour
1 cup sugar
1/2 teaspoon baking soda
1/2 teaspoon salt
2 tablespoons butter, softened
2 teaspoons vanilla
1 cup milk
Topping:
2 cups blueberries
1 cup sugar
Combine ingredients in a bowl, mix together and spread batter in a 7 x 11-inch pan or 2-quart baking dish. Mix together blueberries and sugar; pour over batter and bake at 350 degrees for 45–60 minutes or until done. Try with different types of fruit.
Lovina Eicher is an Old Order Amish writer, cook, wife and mother of eight. She is the co-author of three cookbooks; her new cookbook, The Essential Amish Kitchen, is available from 800-245-7894. Readers can write to Eicher at PO Box 1689, South Holland, IL 60473 (please include a self-addressed stamped envelope for a reply) or at LovinasAmishKitchen@MennoMedia.org.