Canning season is in full swing. This past week we canned hot peppers (Serrano), dill pickles and salsa. I have a lot more tomatoes that need to be used, and I still have plenty of tomato juice, so I will make more salsa. What a blessing to be able to fill all those empty jars again.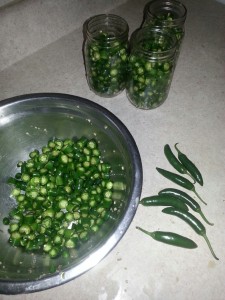 We now have the rest of our little chicks. We had 75 of them for two weeks and now 25 more layers came. We will butcher the 50 butchering chickens in several weeks. The other 50 will be laying hens. Once they start laying eggs we will butcher our old laying hens for chicken broth. That is always a big job!
In our community, which isn't very big, there are five or six weddings coming up in August and September. So bear with me if I am talking a lot about weddings lately!
We have three wedding invitations on our refrigerator right now. Daughter Elizabeth's friend Marietta will exchange vows with Enos on August 28. We were surprised to receive an invitation. Elizabeth and Timothy will be tablewaiters at their wedding. It is a little over two weeks away, and Elizabeth still needs to sew her dress for the wedding.
Yesterday Paul and Edna were published to be married on September 24. When a couple is published for marriage, the bishop announces it in front of the church. Until then it is usually kept secret, with only family members and close friends knowing about it. We are invited to this wedding as well. And we have niece Elizabeth and Samuel's invitation on there for September 19. The youth are usually invited to a 7 p.m. supper at all of these.
It's hard to believe Marietta will be getting married. It seems like she and Elizabeth were just young school-age girls! They had a lot of fun times together, along with friends Linda and Freda. Many nights when they stayed here for the night, I wondered if they ever slept. Now they all have special friends, and Marietta is getting married. All four girls are 20 years old or will be soon. Life goes on!
Son Joseph, 12, will have surgery this week to have his tonsils and adenoids removed. I hope everything will go okay.
My husband, Joe, is working four-day weeks at the RV factory. This week he will only work three days so he can be at the hospital when Joseph has his surgery. Elizabeth, Susan and Benjamin all left this morning for their jobs. Benjamin is helping Susan's friend Mose at his saw mill. He enjoys it!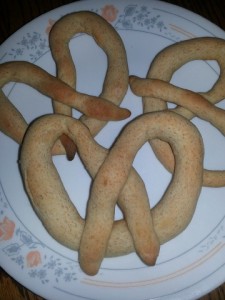 This week I will share a recipe for soft pretzels. Elizabeth asked her friend LeAnna for the recipe and made them one night. We enjoyed them with hot cheese sauce.
Soft Pretzels
2 cups warm water
2 tablespoons yeast
¼ cup butter
½ cup brown sugar
2 teaspoons salt
1½ cup whole wheat flour
5 cups all-purpose flour
Pretzel salt
Dissolve yeast in warm water. Add butter, brown sugar and salt. Mix well. Add wheat flour and mix thoroughly. Add enough all-purpose flour to make a soft, elastic dough (you may not need all of the flour). Knead for 10 minutes and then let rise 30 minutes. Roll pieces into 12–18 long ropes, and twist each into a pretzel shape. Place on well-greased cookie sheet. Bake immediately at 450 degrees for 10–15 minutes or until golden brown. Dip in melted butter and sprinkle with pretzel salt. Makes 12–18 soft pretzels.
Options: You can brush on the melted butter to save on butter. Serve with hot cheese sauce.
Lovina Eicher is an Old Order Amish writer, cook, wife, and mother of eight. Formerly writing as The Amish Cook, Eicher inherited that column from her mother, Elizabeth Coblentz, who wrote from 1991 to 2002. Readers can contact Eicher at PO Box 1689, South Holland, IL 60473 or at Editor@LovinasAmishKitchen.com.