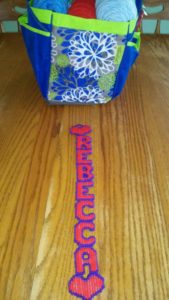 Week after week goes by so fast! Christmas is only five weeks away from Sunday.
Yesterday our children didn't have school due to fog. At first they had a two-hour delay, but cancelled after the fog didn't lift. We have phones in an out building in this community. The school always leaves us a voice mail if school is delayed or cancelled. This makes it so much easier than it was years ago if there was a delay. When we lived in Indiana we didn't have a phone on the property. If there was a delay the girls would still get ready and just wait to see if the bus would come. It was always easy for them to entertain themselves but it would have been nice if they could have slept later on those mornings. We could use our neighbor's phone if they were home but I didn't want to leave the children alone to go call the school. Days like that always seemed short for me.
Now it is 8:00 a.m. and daughter Elizabeth and granddaughter Abigail just arrived by buggy. Izzy also came along so she stays out of Crystal's way. Crystal doesn't let Izzy near her new puppies (see last week's column). Izzy is nosy and tries to go as close as possible until Crystal chases her to the other end of the house.
Daughter Susan is leaving soon to go to work until 2:00 p.m. She was glad she could hold Abigail a little before she leaves. She will take the buggy and our horse Mighty today. The campgrounds are around five miles from here. She does hire a driver to take her some days but then it gives her less income if she has to pay a driver. This job doesn't pay nearly as well as the factory did, but then she isn't as rushed at work either.
Son Joseph, 14, went with son-in-law Mose deer hunting yesterday. His day off of school was enjoyable. They saw an eight-point buck come their way. Then something scared the buck off. Joseph was really hoping to get a shot at it. Maybe next time!
Abigail's smile just gets sweeter! She is full of smiles today. Elizabeth had her to the doctor last week for her two-month checkup. She weighed 12 pounds 3 ounces and is 23 3/4 inches long.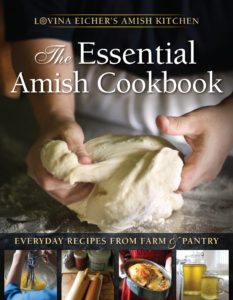 I am excited about my new cookbook coming out next April. It is called The Essential Amish Cookbook: Everyday Recipes from Farm and Pantry. The publisher, Herald Press, comes up with the title. But my family spent a lot of time helping with this cookbook. This is the first cookbook I published without working with a co-author. I have had lots of great help from family and friends. The recipes were all tested since I often cook without measuring ingredients. This will make it easier for those of you that don't cook often and need exact measurements.
I'll share one of the recipes that will be in the book. This recipe will come in handy with leftover turkey after Thanksgiving dinner. It is supposed to be made the day before but if you make it in the morning it will work well also.
We have a nice fall day with the temperature at fifty degrees and sunshine. Looks like the girls will wash laundry today. God bless!
Turkey Casserole (Overnight)
 2 cups cooked turkey, chopped
1/2 cup celery, diced
1/2 cup green pepper, diced
1/2 cup onion, diced
1/2 cup mayonnaise
1/2 teaspoon salt
1/4 teaspoon black pepper
6 slices of bread
1 1/2 cups milk
3 eggs
1 can cream of mushroom soup
1 cup shredded cheddar cheese
In a bowl, combine turkey, celery, green pepper, onion, mayonnaise, salt, and pepper. Cube the bread and place half in a large greased casserole dish or 9×13 inch baking pan. Pour turkey mixture over the top and add remaining bread cubes.
In a bowl, mix milk, eggs, and cream of mushroom soup and pour over top of casserole.
Let stand in refrigerator overnight. Top with cheese and bake uncovered at 350 degrees for one hour.
Lovina Eicher is an Old Order Amish writer, cook, wife, and mother of eight. She is the co-author of three cookbooks; her new cookbook, The Essential Amish Kitchen will be published in 2017. Readers can contact Eicher at PO Box 1689, South Holland, IL 60473 (please include a self-addressed stamped envelope for a reply) or at LovinasAmishKitchen@MennoMedia.org.