We turn another page on the calendar today. Month number six already in 2017!
Tomorrow is the big day for niece Rosa and Menno. I wish them many happy, healthy years together. May God be their guide through the good and bad times in their marriage. It takes effort from both sides to make a marriage happy. And most of all, it takes prayers! Life doesn't get easier as the years speed by. But I do think we get wiser from life's experiences.
I am writing this column a few minutes after 4:00 a.m. Just a few short hours ago I went to bed—or so it seems. After I was in bed last night, it dawned on me that I hadn't written the column this week. So I sat back up and reset my alarm clock for 4:00 a.m. this morning instead of 5:00 a.m. I must admit it has been nice setting our alarm at 5:00 a.m. instead of 3:00 a.m. this week. My husband, Joe, has off from work this week, so he's getting caught up on spring work outside.
This morning at 6:00 a.m. my sisters Verena, Susan, Emma and I will drive the two hours to sister Liz and Levi's house. Today is pie-baking day for Rosa's wedding. It's also the day for finishing everything else that needs to be done before the wedding tomorrow.
Daughter Elizabeth and I are both cooks, but Elizabeth decided not to go today. She thought that, with little Abigail, she might not be so much help anyway. Also it will be a long day for her tomorrow. We are to wear the color beige. Daughter Verena is a tablewaiter and will wear an ocean-blue dress. Son Benjamin is also a tablewaiter and will wear an ocean-blue shirt with black pants and vest. We are hoping for a nice day tomorrow weatherwise.
Our family spent Saturday evening and Sunday at daughter Elizabeth and Timothy's. Sunday we went on a wagon ride. Son Joseph and Lovina would get off the wagon sometimes and ride their RipStiks.
Son-in-law Mose has been taking over duties to get the garden planted this year. We are enjoying radishes and green onions from the garden. Lettuce is almost ready to use. Asparagus and rhubarb are also plentiful. I appreciate Mose's help. This is the first year I have not helped plant the garden since we were married, which was almost twenty-four years ago. I am enjoying it, I must say.
Yesterday we did laundry. We usually wash Mose and Susan's laundry right with ours. After we were finished, we washed my sisters Verena and Susan's clothes for them. They were working, and so was daughter Susan. It was a very nice day to dry clothes.
It was so nice to meet the readers in Battle Creek, Mich., this past Saturday. My husband decided to go fishing, and so did sons-in-law Timothy and Mose. So daughters Elizabeth (and Abigail), Susan and Verena went with me to Battle Creek. And once again my friend Ruth put her duties aside and took the time to take us to the book signing.
Thanks for all the encouragement from readers. I enjoyed meeting all of you. Little Abigail was happy through most of the signing. She is so precious!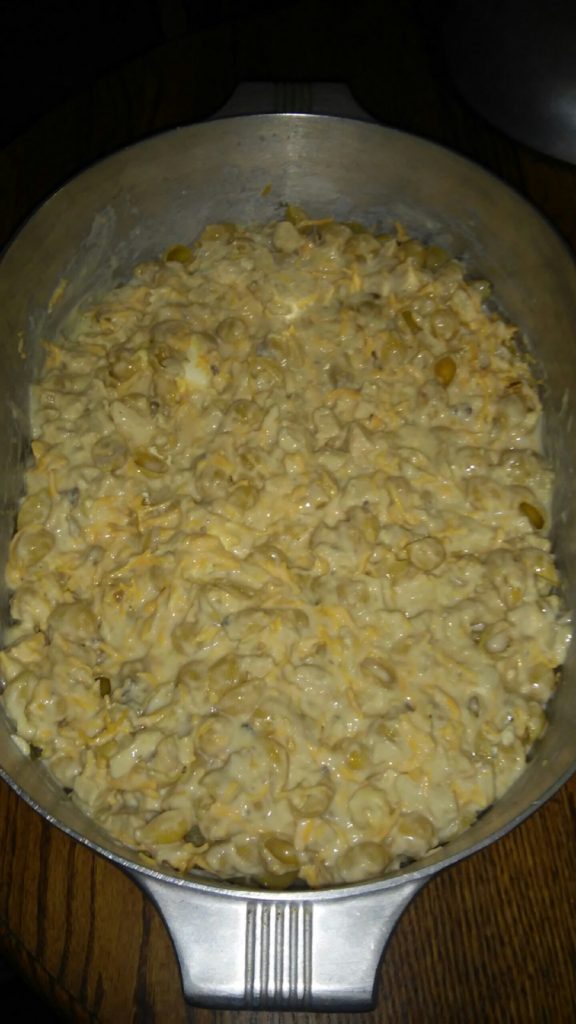 I am making a casserole to take to sister Liz's today. It's called Make-Ahead Casserole. I will share the recipe this week. The instructions aren't detailed; all the ingredients just have to be mixed together well.
God's blessings to all!
Make-Ahead Casserole
4 cups seashell macaroni, uncooked
4 cups cooked chicken, cubed
2 (10 3/4-ounce) cans cream of mushroom soup
2 (10 3/4-ounce) cans cream of chicken soup
1/2 pound cheese, shredded
2 cups milk
1/2 cup onion, minced
1/4 cup butter
In the morning, mix all ingredients well. Put the mixture in a large baking pan and refrigerate until you are ready to bake. Bake at 350 degrees for one hour. Serve with a large lettuce and tomato salad.
Lovina Eicher is an Old Order Amish writer, cook, wife and mother of eight. She is the co-author of three cookbooks; her new cookbook, The Essential Amish Kitchen, is available from 800-245-7894. Readers can write to Eicher at PO Box 1689, South Holland, IL 60473 (please include a self-addressed stamped envelope for a reply) or at LovinasAmishKitchen@MennoMedia.org.