It's Thursday again, and my plan to have this column on its way yesterday failed. The weeks still fly by since the wedding is past!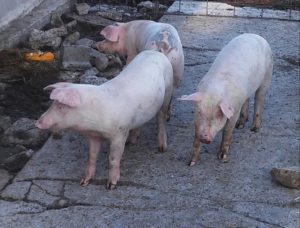 Our refrigerators are finally getting emptier. With all the wedding leftovers, they were packed. The garden is also getting emptied quickly. The boys pulled the rest of the corn, green beans, zucchini and cucumbers. They brought in red beets and hot peppers that are waiting to be canned, as well as tomatoes that need to be made into juice or something. After a busy summer, I really don't mind if the garden is done early. Our tomatoes had blight but are doing better. We made the old-fashioned remedy—a mixture of raw milk and water—and sprayed the plants several times. It seemed to help. Our cow Bessie provides us with more than enough milk to use. We now have three little piggies that help drink the milk and eat all the excess garden vegetables.
Our new chickens still aren't laying, but the old chickens provide enough for us yet. I was glad to have sister Emma and Jacob share their eggs for the wedding. Last year for Timothy and Elizabeth's wedding I didn't have to buy any eggs, as we had plenty of our own. It takes a lot of eggs to make the noodles, pies, dressing and other food at a wedding.
Sunday, August 14, was Timothy and Elizabeth's first anniversary. We took barbecued chicken in and stayed to eat with them. Mose and Susan were also there. Most couples around this community save the top tier of their wedding cake and put it in the freezer until their first anniversary. But Timothy and Elizabeth didn't get theirs out yet, as they still had cake from Mose and Susan's wedding.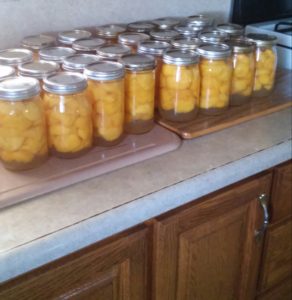 We canned and froze two bushels of peaches for Mose and Susan and us. I have another bushel on order. Last week we went to help daughter Elizabeth on Tuesday and Friday. We cleaned her basement and canned tomato juice and salsa for her on Tuesday. Then on Friday we washed off some walls and ceilings and cleaned her whole house. We also washed windows, curtains and bedding. I think she felt refreshed to have everything cleaned. She had been sewing for the wedding and helping here so much that her cleaning was neglected. Today she comes here to spend the day with us. We will probably do some canning.
We had a lot of rain on Monday afternoon through Tuesday morning. We had a total of 4.25 inches. The ground was so dry and needed it badly. Half of our huge load of laundry on Monday wasn't quite dry when the rain started. Hanging outside in all that rain, it was wetter when we brought it in than when we put it out! Yesterday we had a nice day, so we just rewashed it all. So we ended up having an extra big laundry yesterday. We had a very nice day to dry everything.
My dad's cousin Dave from this area passed away, and his funeral was on the same day as Mose and Susan's wedding. Joe and I took some time the evening before the wedding to go to the viewing and visitation. Our sympathy goes out to his wife, Ruth, and family. Their daughter Sherri was a teacher to several of our children in the recent years. Ruth is a cousin to Joe's dad, so we saw relatives there from both of our families. Dad's cousin Leroy from Ohio stopped in at Mose and Susan's wedding after the funeral to say "Hi" to all my family that was here.
I still remember that when I was a little girl, our family would go to visit dad's uncle Mose and Amanda Coblentz in Hartville, Ohio. Mose and Amanda were Dave and LeRoy's parents. The part I remember the most was the hills in their yard and the fun of running down them.
I will share the green bean recipe we used at the wedding. God bless you all!
Green Beans
2 pounds green beans
1/4 cup onions
salt to taste
3 tablespoons butter, browned
1/4 cup bacon bits
salt and pepper
seasoning salt
Cook green beans and onions until tender. Add salt as desired. Drain. Add browned butter to green beans and stir to coat. Continue to heat until the green beans are steaming hot. Add the bacon bits along with salt, pepper and seasoning salt.
Lovina Eicher is an Old Order Amish writer, cook, wife and mother of eight. Formerly writing as The Amish Cook, Eicher inherited that column from her mother, Elizabeth Coblentz, who wrote from 1991 to 2002. Readers can contact Eicher at PO Box 1689, South Holland, IL 60473 (please include a self-addressed stamped envelope for a reply) or at LovinasAmishKitchen@MennoMedia.org.