This is the final day of 2014 as I write. A brand new year awaits us. May God be our guide as we travel into the unknown future.
Sister Emma, Jacob and family, and sisters Verena and Susan and all the girls' special friends plan to be here for supper tonight. We will then play games such as Aggravation, Mancala, Connect Four, checkers, and various other games to keep 24 people entertained until midnight. The children enjoy staying awake to see the new year arrive. Joe and I would much rather get some extra sleep, but it's fun to see the excitement. Everyone will sleep here and we will have brunch together tomorrow. We will set up beds and air mattresses in the basement for the boys and the rest will sleep upstairs or on the couches. The number of people has grown from last year. We add tables to our big dining room table, making enough room to set it up for 24. We will have a gift exchange too.
Saturday evening the youth in our church district went Christmas caroling to the older people in the church and neighborhood. Instead of having to deal with snow, it was rain. It wasn't too bad until they were all back at our neighbor's. The 30 youth all gathered here earlier in the month to exchange names and play games. How blessed we can be to have such a well-behaved group. Everyone brought snacks and we had hot dog sandwiches. Saturday evening they all took snacks to enjoy after caroling. The girls were happy with the gifts they received.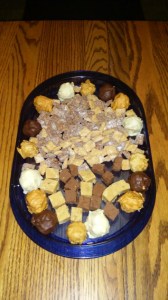 Timothy brought us a deer one evening. It was a big doe and had a lot of meat. Joe wants to make summer sausage and jerky with it. Yesterday Mose sent a 5-gallon bucket full of deer meat from a doe he shot yesterday morning. We are so thankful for the meat. We all love jerky so the children are hoping Joe gets some made before going back to work.
On Sunday our church had its annual Christmas potluck. There was so much food. Pasta casseroles, potato casseroles, ham and cheese sandwiches, a variety of salads, pies, cakes, bars, cookies, puddings, etc. There was more than enough food.
We still don't have snow. We have a few flurries now and then. It's so different than last year.
Yesterday morning the mercury on the thermometer dipped down to a cold 12 degrees for a while. Son Benjamin, 15, left for work around 5:30 a.m. Then around 6 a.m., Joe, son Joseph, 12, and I traveled the eight miles to town to get some groceries. The ride was nice and cozy with the heater going in the buggy. How spoiled we feel since we used to travel in an open buggy when we lived in Indiana. When we made the move to Michigan almost 11 years ago I needed time to adjust to driving in a covered buggy. Now I would have a hard time getting used to driving in an open buggy—especially in the rain and cold winter months.
I made cinnamon rolls and Long John rolls over the Christmas holiday. I'll share the recipe for Long John rolls.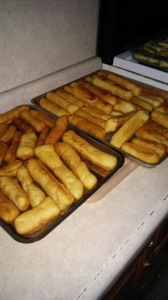 Long John Rolls
1 cup lukewarm water
2 packages active dry yeast
1 cup milk
2 large eggs, beaten
1/2 cup butter or margarine
2/3 cup sugar
1/2 teaspoon salt
Pinch of ground nutmeg
6 to 7 cups bread flour
Vegetable oil for frying
Frosting, optional
Pour the water into a small bowl, and then add the yeast and stir until completely dissolved. Set aside. Scald the milk and let cool to lukewarm. Add the milk to the dissolved yeast.
Blend together eggs, butter or margarine, sugar, salt, and nutmeg until well blended, and then add to the milk and yeast mixture. Gradually add flour until the dough is elastic and easy to handle. Knead until you form a round ball. Put in a bowl and cover with wax paper. Put it in a warm place and let rise until doubled in size, about 2 hours. Punch down and divide the dough into 2 large pieces. Roll out each piece to a 3/4-inch thickness. Cut into 7-inch oblong pieces. Let rise again.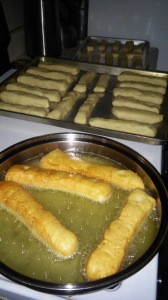 Heat vegetable shortening in a deep pan to a depth of 2 to 3 inches until very hot. Fry the rolls in batches until golden, 2 minutes on each side. Frosting may be added if desired, once the rolls have cooled.
Long John rolls cannot be frozen or stored; they should be eaten the day they are made.
Lovina Eicher is an Old Order Amish writer, cook, wife and mother of eight. Formerly writing as The Amish Cook, Eicher inherited that column from her mother, Elizabeth Coblentz, who wrote from 1991 to 2002. Readers can contact Eicher at PO Box 1689, South Holland, IL 60473 (please include a self-addressed stamped envelope for a reply) or at LovinasAmishKitchen@MennoMedia.org.