We have had a few very warm spring-like days. Son-in-law Mose took advantage of the weather and tapped our maple trees. He also tapped sister Emma and Jacob's trees. They asked him to cook their maple syrup for them. Son-in-law Timothy is tapping their trees to make their own maple syrup.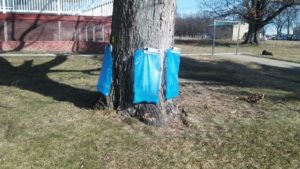 The weather has been colder the last few days, which slowed down the flow of the sap. On those warmer days Mose collected quite a few gallons of sap. He's not looking for a good year for maple syrup though.
My daughters and I assisted sister Emma with her cleaning a few days last week as she prepared to host church services on Sunday. On Saturday, Joe and I plus our sons Benjamin, Joseph and Kevin went to help with the final preparations.
Daughter Susan and I baked ten loaves of bread on Friday to help out for Sunday. I think Emma also had around forty-five loaves of wheat and white bread coming in from some of the ladies in the church. That way we don't have to bake bread for our own church when we host the services. Jacob and Emma hold church services in their heated attached garage that was added to their house a few years ago.
Now that Emma and Jacob's turn to host church is over, we will concentrate on butchering. The temperature shows 19 degrees now, so it is perfect weather for us to butcher. We will butcher three hogs here at our place on Saturday. We will give one to Mose and Susan to help fill their freezer and canning jars since they are newlyweds.
We raised the hogs and they grew fast. They are very big and should make a lot of ham, bacon and sausage for us. And of course the family is looking forward to some pon hoss being added to our menus in the next weeks. We like to make plenty of pon hoss to share with others. For those of you who aren't familiar with pon hoss, it is made with the meat and juice cooked from the bones. We add flour, pepper and salt and it thickens as it cooks. We do this outside in our big black kettle over an open fire. After it has been poured in pans and cooled off and set, it is ready to slice and fry.
Daughters Verena and Loretta attended church in Dustin's church district on Sunday. They were disappointed that they couldn't attend the services at Emma and Jacob's, but they went to Dustin's sister Grace's baptismal services that were held the same day. Four other young souls and Grace were baptized into the Amish faith and are now members of the church. This is a big step for the Amish youth to take, and we wish them God's blessings in life. How pleasing to God when we accept Jesus Christ as our Savior! Life doesn't get easier with time, so it helps to have God lead the way for us.
God's blessings to all of you as well. Take care and stay healthy!
Sister Emma made fajitas similar to this recipe when we were there to assist them with cleaning to host church services.
FAJITAS
Marinade
1/4 cup lime juice
2 tablespoons olive oil
4 cloves garlic, crushed
2 teaspoons soy sauce
1 teaspoon salt
1/2 teaspoon liquid smoke
1/2 teaspoon cayenne pepper
1/4 teaspoon black pepper
Meat
1 pound sirloin steak or boned, skinless chicken breasts
Sauce
2 tablespoons water
1 teaspoon soy sauce
1/2 teaspoon lime juice
dash each salt and black pepper
 Vegetables
1 tablespoon olive oil
1 Spanish onion, thinly sliced
1/2 each green, red, and yellow bell peppers, seeded, thinly sliced
Tortillas and toppings
4 flour tortillas
shredded cheese
sour cream
guacamole
tomatoes
Combine the marinade ingredients, and place with meat in a plastic container with cover or a zip-top plastic bag and refrigerate at least 2 hours or overnight.
Discard leftover marinade. Grill meat over medium flame, 4-5 minutes on each side. Cut meat into thin strips. Set aside and keep warm.
Combine the sauce ingredients in a small bowl; set aside.
Cook onion and peppers in oil until brown. Remove from heat. Pour sauce over onions and peppers. Combine meat with onions and peppers. Serve on flour tortillas with desired toppings. Yields 4 servings.
Lovina Eicher is an Old Order Amish writer, cook, wife and mother of eight. She is the co-author of three cookbooks; her new cookbook, The Essential Amish Kitchen, will be published in 2017. Readers can contact Eicher at PO Box 1689, South Holland, IL 60473 (please include a self-addressed stamped envelope for a reply) or at LovinasAmishKitchen@MennoMedia.org.