We are almost halfway through November. So far we are having beautiful weather for November.
My husband Joe started our coal stove on Saturday for the first time this season. It seemed later than usual to start it. The house is nice and cozy now.
Saturday we were at Jacob and Emma's. Joe and our sons Benjamin and Joseph helped put siding on the new addition they are adding to the house. Things are falling into place. They will be so glad for more space. The windows and doors are in and some of the drywall is hung in the upstairs bedrooms.
Saturday evening Mose (Susan's special friend) grilled chicken and banana poppers while we prepared more food in the house. Daughter Elizabeth and Timothy joined us for supper. It was so enjoyable to have the whole family together. After we ate we sat in the living room and visited and sang some songs. Of course Izzy and Crystal (the Yorkies) were the center of attention. They love the attention they get here.
Son Benjamin, 16, and daughter Verena, 17, left to go to the community building where the youth gather on Saturday evenings to play basketball, volleyball, etc., and enjoy snacks. Two or more sets of parents usually go to chaperone and take the snacks. The building is usually closed at midnight. Verena and Benjamin didn't take the heater in the buggy so they had a cold ride home. It is still warmer with a covered buggy than the open buggy that I was raised with. We had some awful cold rides and the umbrella was a big help to block the wind. I feel spoiled now when we drive in the covered buggies. Some have heaters in them which makes for a warm ride to town and back.
Friday evening Mose helped us make our first cider with a fruit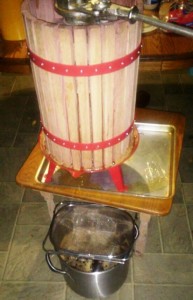 press. He brought us apples from his parents' apple trees. We don't have anything to chop up that many apples so we used our meat grinder and it worked real well. The cider tastes really good. We are enjoying popcorn and cider on some evenings. We want to make more and think we have a better idea of what we are doing now. It is surprising how many apples it takes to press one gallon of cider. But we enjoy working together as a family on projects like that.
We are excited to hear the news of the birth of a baby girl, LaRose. LaRose was born to niece Elizabeth and Samuel on November 10. This makes my sister Liz and Levi grandparents for the first time. We wish them all well. I'm sure they are all excited for the new arrival.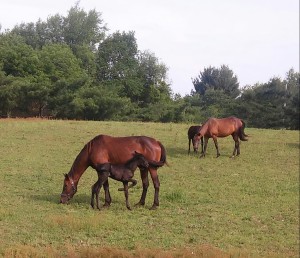 Some readers have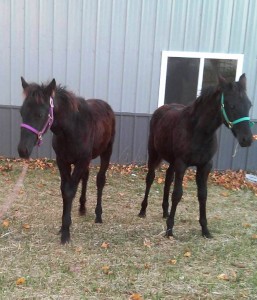 been asking what we named our fillies that were born this past spring (photo on right). Itty Bit's filly we named Black Beauty and for Ginger's filly, we finally decided on Midnight. They are both black and are hard to tell apart. The children are teaching them how to lead. They are calming down a lot. (Recent photo of Black Beauty and Midnight to left.)
I had several requests for the buttermilk brownies recipe so I'll share it this week.
Buttermilk Brownies
2 cups sugar
2 cups all-purpose flour
1/4 teaspoon salt
4 tablespoons unsweetened cocoa powder
1 cup cold water
1/2 cup butter
1/2 cup vegetable oil
1/2 cup buttermilk
1 teaspoon baking soda
2 eggs
1/2 teaspoon vanilla extract
Preheat oven to 400 degrees. Sift the sugar, flour, salt, and cocoa together in a bowl. In a saucepan, bring the water, butter, and oil to a boil. Pour over the sugar mixture and beat until creamy. Add the buttermilk, baking soda, eggs, and vanilla. Stir thoroughly. The batter will be thin and soupy. Pour into a greased 9×13 inch baking pan. Bake for 30 minutes until sides begin to pull away from the pan and a toothpick inserted in the center comes out clean. Makes about 15 (3-inch) brownies.
Lovina Eicher is an Old Order Amish writer, cook, wife and mother of eight. Formerly writing as The Amish Cook, Eicher inherited that column from her mother, Elizabeth Coblentz, who wrote from 1991 to 2002. Readers can contact Eicher at PO Box 1689, South Holland, IL 60473 (please include a self-addressed stamped envelope for a reply) or at LovinasAmishKitchen@MennoMedia.org.