June 14, 2017: Twenty-three years ago today my husband, Joe, and I became parents for the first time. We were blessed with a little girl. We named her after my mother, Elizabeth. Since her marriage on August 14, 2015, she goes by the name Mrs. Timothy (Elizabeth) Bontrager. A little girl, Abigail, was born to Elizabeth and Timothy on September 10, 2016. Time goes on—one generation after another.
We are having a heat wave with temperatures in the nineties, and it's very humid! The girls and I drove the seven miles to Timothy and Elizabeth's house this morning by buggy. We spent the day with her and Abigail. We didn't do much besides relax, which was so nice! My sister Verena gave Abigail a little kiddie pool for a baby gift. Daughter Lovina and son Kevin filled the pool, and Abigail had so much fun under the shade tree, splashing the water. The rest of us sat around the pool. All it took was one person throwing a little water at another and, well, it turned into a big water battle! At least it cooled us off on this hot, muggy day.
Tomorrow we will attend the wedding of our neighbor boy, Melvin, to Rebecca. It is hot weather to prepare for a wedding. Now tonight we are having thunderstorms and rain. It was so dry, and we needed the rain. Son-in-law Mose tilled the garden tonight before the rain. I made quite a few gallons of iced spearmint tea, which is a good thirst quencher on these hot days.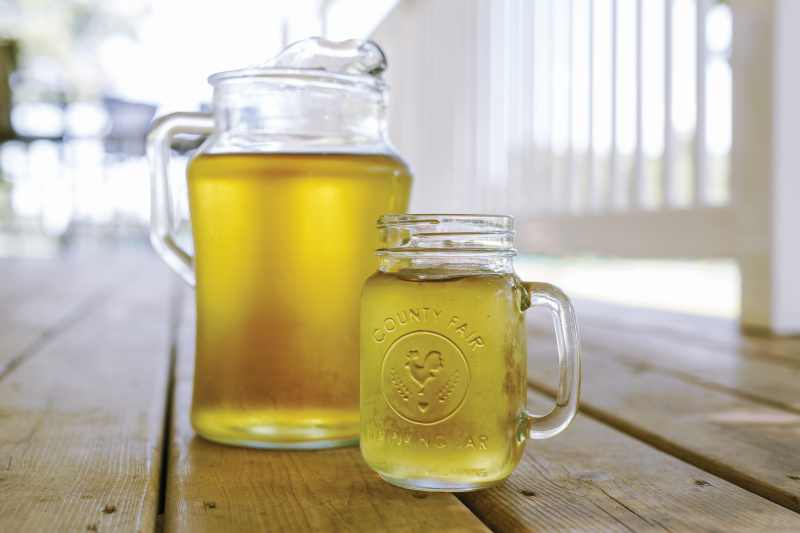 We have our haymow almost filled with hay for next winter. We appreciated all the help we had from family and neighbors to put in over thirteen hundred bales of hay in our barn last Thursday. Lots of hot, hard work! Having hay stored for future use is a good feeling. But it's hard on the pocketbook, with hay still a little pricey.
Construction is finally underway at my sisters Verena and Susan's house, who had a house fire last month. The new roof was put on today. They are still living in our basement.
I want to wish Uncle Jake and Aunt Mary Coblentz a happy 60th anniversary! Wow! That is a long time to be together. I wish them more healthy and happy years together. Jake was my dad's brother. Jake and Mary have three children: Christina, Tabitha and Cornelius. I hardly ever see them anymore. It would be nice to attend the Coblentz reunion again in July.
Tonight daughter Susan and Mose had us over for supper. They also told my sisters to come eat there too. On the menu were sausage patties, French toast and scrambled eggs. How nice to have a break from cooking. Everything was delicious! The French toast tastes real good with fresh maple syrup poured over it. It was the syrup Mose cooked off from our maple trees this spring.
The girls are cleaning out their closets in their spare time. We are getting a head start on cleaning.
Timothy and Elizabeth visited one evening with their new Amish neighbors, John and Norma. They moved nearby from a community in Indiana. They will attend our church district. They have two daughters ages three and thirteen months. I am looking forward to meeting them on Sunday.
It is 11:00 p.m. now and past my bedtime. The rest have all gone to bed. I knew I might not have time to write tomorrow morning so decided to get this written tonight yet.
I wish everyone God's greatest blessings! Good night to all!
Try this recipe while blueberries are in season.
Blueberry Cobbler
2 cups flour
1 cup sugar
4 teaspoons soda
1/2 teaspoon salt
2 tablespoons butter, softened
2 teaspoons vanilla
1 cup milk
Combine ingredients in a bowl, mix together and spread batter in pan.
Topping:
2 cups blueberries
1 cup sugar
1 1/2 cup boiling water
Pour over batter and bake at 325 degrees for 45–60 minutes or until done. Try with different types of fruit.
Lovina Eicher is an Old Order Amish writer, cook, wife and mother of eight. She is the co-author of three cookbooks; her new cookbook, The Essential Amish Kitchen, is available from 800-245-7894. Readers can write to Eicher at PO Box 1689, South Holland, IL 60473 (please include a self-addressed stamped envelope for a reply) or at LovinasAmishKitchen@MennoMedia.org.