It's a nice sunny day for the clothes to dry, and we have the lines filled with laundry. We have been blessed with several rains over the weekend and this past week.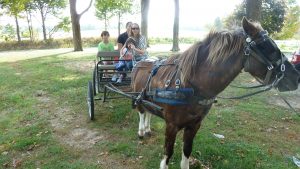 Yesterday was the last day of school for the term. Daughters Verena and Loretta and I picked up my married daughter Elizabeth and attended the school picnic. It was a little chilly until the sun came out. All the pupils were released at 11:30 a.m. Joseph, Lovina and Kevin took our pony Stormy and the pony buggy to school in the morning.
We all headed to Elizabeth's house after leaving the school. We spent the afternoon relaxing on their back patio. They have a woods behind their house, and the river runs close by on their property. They have a new puppy that is a coonhound and Australian Shepherd mix. Hopefully, when it gets bigger, it will help keep the raccoons away from their house. They are having problems with raccoons getting in their flower pots and bird feeders at night, and I am afraid that the racoons will bother their garden.
The new puppy is named Shelia, and Kevin had so much fun with her. He walked her through the woods. He told us he was trying to teach her where to look for raccoons. Kevin has never been coon hunting, but he probably thinks the puppy doesn't know that.
Joseph mowed the yard in an hour and 35 minutes. We bought a big walk-behind mower at the local consignment auction this spring. Joseph loves to mow with it, and he handles it very well. Joseph is tall for his age so he can handle the big mower.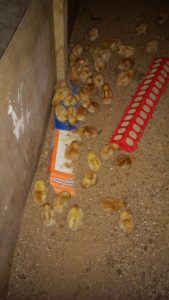 Our 42 baby chicks came this week. We will butcher our hens after these new chicks get bigger and start laying eggs.
On June 14, Elizabeth will be 22. Our family is planning to spend Saturday evening and Sunday at Timothy and Elizabeth's house. Plans are to put tents up in their back yard and cook outside. I am looking forward to all of us being together. It seems the older the children get, the harder it is, because everyone goes different directions on weekends.
Elizabeth is helping to get ready for Susan's wedding by sewing for me at her house. She likes to use her sewing machine to sew. I cut out my dress, cape and apron for the wedding. I hope to get it sewed soon. Mose's mother and I have to wear sage-colored dresses.
Next week I will take Loretta, Joseph, Lovina and Kevin for eye exams. Loretta and Joseph only need glasses for reading. It's been awhile since they had their eyes tested. Last time the eye doctor thought Lovina might need glasses. She has been having headaches when she reads. She's a bookworm. I always loved to read and still do, but time is limited a lot more now. When the children were younger, our six oldest children all had to wear glasses. Elizabeth is the only one who needs to wear them all the time now. Susan, Loretta and Joseph do for reading. Verena and Benjamin are okay to go without now.
I had my eyes tested last week. The eye doctor thinks I will do better with bifocals now, which I'm dreading. Hopefully I'll get used to them quickly.
God bless!
Rhubarb Coffeecake
1/2 cup shortening
1 1/4 cup plus 1/3 cup brown sugar, firmly packed
2 eggs
1 teaspoon vanilla extract
1/2 cup milk
1 1/2 teaspoons lemon juice or apple cider vinegar
2 cups all-purpose flour
1 teaspoon baking soda
1 teaspoon salt
2 1/2 cups fresh rhubarb, finely chopped
2 teaspoons ground cinnamon
1 teaspoon butter, melted
Preheat the oven to 375 degrees. In a large bowl, cream the shortening, 1 1/4 cup brown sugar, eggs and vanilla. In a separate bowl, combine the milk and lemon juice or vinegar. Add this to the sugar mixture and stir well. Add the flour, baking soda and salt, and stir until the flour is moistened. Mix in the rhubarb. Pour the batter into a greased 9-inch square pan.
In a separate bowl, mix together the remaining 1/3 cup brown sugar, cinnamon and butter and sprinkle over the top of the batter. Bake for 35–40 minutes until golden brown in color. Serve warm or cold.
Lovina Eicher is an Old Order Amish writer, cook, wife and mother of eight. Formerly writing as The Amish Cook, Eicher inherited that column from her mother, Elizabeth Coblentz, who wrote from 1991 to 2002. Readers can contact Eicher at PO Box 1689, South Holland, IL 60473 (please include a self-addressed stamped envelope for a reply) or at LovinasAmishKitchen@MennoMedia.org.