It has been rainy and cool all week—not the best weather for the children while they are on spring break from school! I was hoping we could get the yard raked up this week, but I'm sure we will have nicer days to work outside. There is plenty to do otherwise. The boys have been getting the barn cleaned out.
Our cow Bessie decided to have her calf on the last day of March. We had the veterinarian come out and check on her the night before, as she was ten days past her due date. He thought it might be a few days yet. But the next day while Loretta was finishing up with washing the breakfast dishes, she saw that Bessie was trying to deliver out in the field. Son Benjamin was home, so he tried to get her to come up from the field to get her in the barn.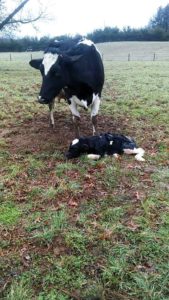 She wouldn't move, so I called the veterinarian and he said to let her where she was and told me we should help her. Benjamin, Verena, and I tried to help her, but we needed another guy to help, so we asked our neighbor. With all three of us, we were able to help Bessie deliver a big bull calf. We were glad all was well with Bessie and the calf. Bessie is a good mother, and the calf is lively out in the field during the days when it's not raining.
The house seems empty this week without daughter Verena home. She is in Rhode Island right now, but they stopped at places of interest on the way to Rhode Island. She traveled through nine states on the way there. They slept in Pittsburgh one night and in New York City the next night. She was able to tour the Crayola Factory in Easton, Pa. I am sure she will have many stories to tell us once she's home. We really miss her!
The house seems even emptier the last few days. Daughter Lovina is at daughter Elizabeth and Timothy's house. I am sure she's having fun entertaining Abigail. They will come here today. I am hoping we can get some wedding clothes sewn. Verena is tablewaiter next week in niece Emma and Johnny's wedding and needs to wear a dress of green apple color. I am a cook and will wear a dark tan dress. It will be nice to see the family again.
I don't have too many details yet, but my oldest nephew Ben (son of sister Leah and Paul) had a scare recently with his wife Rosemarie. Rosemarie had a baby girl (by C-section) named Elizabeth. A few days after she was home, Rosemarie was rushed to the hospital because a blood clot traveled to her lungs. My sister Leah took care of the newborn while Ben stayed with Rosemarie in the hospital. Rosemarie is back home and I haven't heard how she is doing recently. We wish her a speedy and complete recovery. Our prayers are with them.
On Sunday we enjoyed a haystack dinner at my sisters Verena and Susan's. Jacob, Emma and sons Benjamin and Steven, Timothy, Elizabeth, Abigail and Loretta's special friend Dustin were also there.
God's blessings to all!
Overnight Cookies
1 cup white sugar
1 cup brown sugar
1 1/2 cup shortening
3 eggs
4 1/2 cups flour
2 teaspoons cinnamon
1 teaspoon soda
1 teaspoon baking powder
Cream sugars and shortening. Add eggs and mix well. Stir in dry ingredients and blend. Divide into three parts and form into rolls. Chill in refrigerator overnight. Slice off cookie-sized pieces and bake at 400 degrees for eight minutes or until done. Pecans or walnuts can be pressed into center of dough before baking.
Lovina Eicher is an Old Order Amish writer, cook, wife and mother of eight. She is the co-author of three cookbooks; her new cookbook, The Essential Amish Kitchen, will be published in 2017, available from 800-245-7894. Readers can write to Eicher at PO Box 1689, South Holland, IL 60473 (please include a self-addressed stamped envelope for a reply) or at LovinasAmishKitchen@MennoMedia.org.