Another week has passed, and it is time to get this column on its way.
Last Friday around 8:30 a.m. sisters Verena and Susan; sister Emma and her husband Jacob; and my husband, Joe, and I hired a driver with a minivan to take us to Lafayette, Ind., to Uncle Andy's funeral. It took us more than three hours of driving time each way. All but two of Dad's eight siblings made it to the funeral. Dad came from a family of three girls and ten boys, but eight of the boys are left now. It is sad to see the group of siblings get smaller. It was 7:30 p.m. until we made it back home safe and sound.
Baptismal church services were held at Emma and Jacob's house on Sunday to take in two young souls as members. The services were held in a big pole barn. As baptismal church services are usually bigger in attendance, another bench wagon was borrowed from a neighboring district.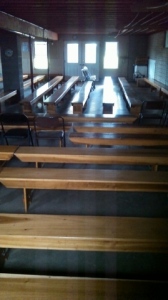 There were a lot of people to serve lunch to, but we had plenty of everything. Sixty-four loaves of white and wheat bread were brought in. Also on the menu were bologna, cheese spread, peanut butter spread, freezer pickles, dill pickles, pickled red beets, sliced tomatoes, strawberry jam, butter, coffee, and iced tea. There were also various kinds of cookies, such as sugar, oatmeal, chocolate chip, and chocolate crinkles.
Some of the church families and the youth were invited back for supper and singing. We had a haystack meal. A haystack is a variety of vegetables, toppings, and hamburger with taco seasoning. Sister Emma's version consisted of layers of crushed Saltine crackers, hamburger, rice, shredded lettuce, diced tomatoes, chopped green peppers and onions, crushed tortilla chips, cheese sauce, and salsa. Dessert was a fresh fruit mixture of watermelon, muskmelon, grapes, and apples, as well as M&M bars, peanut butter swirl bars, Jell-O cake, and ice cream.
Daughters Elizabeth, 20, and Susan, 18, didn't have work at the factory this week. Elizabeth is sewing her dress, cape, and apron and Timothy's shirt for niece Elizabeth's wedding in Berne, Ind., next week. Timothy and Elizabeth will be table waiters at the wedding. Daughter Verena, 16, will also be a table waiter at the wedding. I have her dress suit (the dress, cape, and apron) cut out but still need to sew it. The color they will wear is raspberry. I will help cook and need to wear a burgundy-colored dress suit. I still need to cut them out. It seems the weeks slip by so fast, and the wedding is suddenly closer than you think!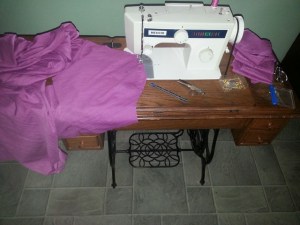 I need to take Joseph to his post-op checkup tomorrow. He still seems to be gaining back his health.
The girls are making bacon, scrambled eggs, and toast for our supper. I should be helping, but wanted to get this column done so I can start sewing early tomorrow morning.
Recently we picked up a lot of potatoes that the potato-picking machine missed from a neighbor's field. They are not keepers, so we needed to get them used up. We shredded some of the potatoes to put in the freezer so that we can use them in casseroles later. This recipe is another good way to use them up. God's blessings!
Seasoned Potato Wedges
 6 large potatoes, sliced into wedges
1 egg
⅓ cup milk
1½ cups flour
1½ teaspoons paprika
1 teaspoon salt
½ teaspoon thyme
½ teaspoon basil
½ teaspoon oregano
½ teaspoon chili powder
¼ teaspoon cayenne pepper
¼ cup vegetable oil
Beat egg and milk. Combine flour and seasonings. Dip potatoes into egg-and-milk mixture. Dust with flour mixture. Place single layer on a baking sheet. Drizzle with oil. Bake at 450° for 20–25 minutes.
Lovina Eicher is an Old Order Amish writer, cook, wife and mother of eight. Formerly writing as The Amish Cook, Eicher inherited that column from her mother, Elizabeth Coblentz, who wrote from 1991 to 2002. Readers can contact Eicher at PO Box 1689, South Holland, IL 60473 (please include a self-addressed stamped envelope for a reply) or at LovinasAmishKitchen@MennoMedia.org.