It's a little after 7:00 a.m. As I look out toward the east, it looks like it will be a beautiful day. The red glow of the sun is beaming over the trees. What a sight to behold. And only our Master Artist can create such wonderful art.
The four youngest children left a few minutes ago for school. My husband, Joe, daughters Elizabeth and Susan, and son Benjamin are all at work. Daughter Verena and I are alone now through the day. I am so glad for Verena's help with laundry, gardening, cooking, and cleaning—and the list goes on. Seems like it doesn't take long for laundry to accumulate with ten people in the family!
Today is September 17—a day that brings sad memories of the passing of my dear mother, Elizabeth Coblentz. It has now been twelve years since she so suddenly left us. Memories—that is all we have left now. She was a great mother and will remain in our hearts forever! How often I would love to talk to her and share the joys and sorrows of my family with her. God has a reason for everything, so let me leave it in His hands.
I can only imagine the busy week sister Liz is having. Her oldest daughter's wedding is this Friday. Daughter Verena and I will travel on Thursday, with some of our relatives, to help bake pies and help with whatever has to be done for the wedding. We leave at 4:30 a.m. on Thursday. We will travel the two hours back home again Thursday evening, and then our whole family will start out at 5:00 a.m. on Friday morning for the wedding. Timothy and Mose, friends of Elizabeth and Susan, will also be going with us.
Elizabeth and Timothy and Verena's clothes are all sewn and ready for the wedding. I still need to sew my cape and apron today. My dress is finished, so it won't take too long.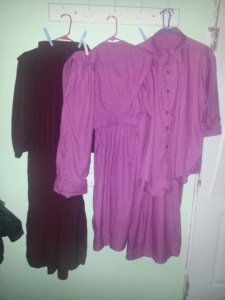 Verena will bake 100 cookies to take along for the wedding. We thought that would be a way of helping sister Liz. Wish we lived closer so that we could help her more with the wedding preparations.
God has a reason for everything, so let me leave it in His hands.
Our thoughts and prayers are with teacher Barbara Kay, 20, and her family. Barbara Kay was in an accident not too far from here, along with some other Amish teachers traveling to Indiana to teach school. Barbara Kay was hurt the worst, and doctors think she will be paralyzed. God is above all and can perform miracles. His will is what we need to pray. I think this was Barbara's first year of teaching school. The Amish van driver, Joe, was also hurt and had a hospital stay. May God comfort all of those that were involved in the accident. The community is having a bake sale to help with hospital expenses for Barbara Kay. Let us all pray that God will give her strength to go on. How suddenly our lives can be changed.
Timothy's brother Alvin, Rhoda, and family took brunch in to brother-in-law Jacob, sister Emma, and family on Sunday forenoon. They invited us to come also. This was in memory of Marilyn, Jacob and Emma's youngest child; she would have been five years old on Sunday. Marilyn died at the sweet, innocent age of eight-and-one-half months. She is missed dearly, but God wanted another angel. Alvin and Rhoda's ten-month-old daughter, Clara, passed away three years ago. The two families can sympathize with each other.
I'm taking this peaches and cream coffee cake along tomorrow to sister Liz's house. I have one baking in the oven right now, and it smells so good!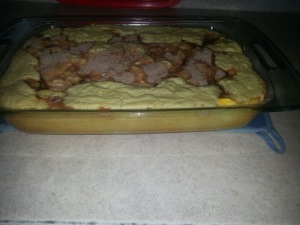 This week's recipe is peaches and cream coffee cake. The photo is of a doubled recipe, to feed a group.
Peaches and Cream Coffee Cake
Batter:
⅔ cup flour
1 teaspoon baking powder
½ teaspoon salt
1 egg
½ cup milk
3 tablespoons melted butter
1 large can sliced peaches or 2½ cups fresh peaches, sweetened with a few tablespoons sugar
Cream Filling:
8 ounces cream cheese, softened
½ cup sugar
3 tablespoons reserved peach juice
Topping:
1 tablespoon sugar
½ teaspoon cinnamon
Mix batter ingredients together for 2 minutes. Pour into a well-greased 8-inch round or square pan. Drain peaches, reserving juice. Arrange peaches over batter. Cream together filling ingredients and spoon over peaches. Mix cinnamon and sugar together. Sprinkle on top and bake at 350° for 30–35 minutes.
Lovina Eicher is an Old Order Amish writer, cook, wife and mother of eight. Formerly writing as The Amish Cook, Eicher inherited that column from her mother, Elizabeth Coblentz, who wrote from 1991 to 2002. Readers can contact Eicher at PO Box 1689, South Holland, IL 60473 (please include a self-addressed stamped envelope for a reply) or at LovinasAmishKitchen@MennoMedia.org.