It is a hot and humid Sunday afternoon. My husband, Joe, and I and our four youngest children are the only ones home this afternoon. Everyone is taking naps. It would be nice to take one too, but I need to get another column written before next week.
Church services were held at our neighbors Joas and Susan's house. The next services will be here in two weeks. Joas and Susan will also host the wedding services for Timothy and daughter Elizabeth in their nice new pole barn on Friday. The receptions will be here.
On the day of the wedding, we serve a meal after the services and marriage, which are usually all done by noon. Then we serve a 5:00 p.m. supper for guests and a 7:00 p.m. supper for the youth and family. The bride and groom usually open their wedding gifts in the afternoon.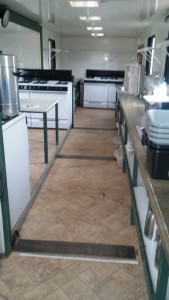 We are renting a wedding wagon, which comes with seven stoves and two sinks, plus all the pots, pans and dishes you need for the wedding. It also has a big cooler/freezer to put all the food in after it has been prepared. An 8×16-foot trailer comes with it, carrying all the tables, shelves and dishes.
Yesterday we had a lot of help to get the tables set for the wedding. There are enough place settings for 350. We have enough room in the new pole barn to seat 350 people at one time plus the bride, groom and their four witnesses. The wedding wagon, cooler, and trailer with dishes and tables have to be ready to leave here at 7:00 a.m. Saturday morning. It will go to another place for another wedding.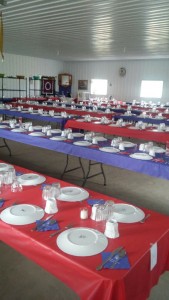 My thoughts and prayers are with my firstborn this afternoon as I think of her taking this big step in life. She will have a lot of changes, but I have no doubt in my mind that they will be good ones. It is just a mother's nature to worry for her children, but there needs to be a time to let them experience life without the presence of their parents.
Elizabeth has been a great daughter and never caused us any trouble. She was always obedient to us, which means so much to parents. My advice to her is to always start her day with her husband in prayer together and to end it with prayer together. What a great way to start and end your day with God being the guide. Every marriage has its ups and downs, but if you have love and respect for each other, things can always be healed. Marriage vows should be taken very seriously. Elizabeth, I pray that you and Timothy will always remain in love as much as you are now. Joe and I were fortunate to have parents who encouraged us and let us make decisions on our own. We asked for a lot of advice, but parents can only give so much advice. It takes husband and wife alone to work things out together, with God as their guide.
Elizabeth and Timothy, may you have a long and happy married life together. May God grant you both good health and a family to care for. I hope and pray your wedding day will be a day you want to remember. My love to both of you. Now we will gain a son, not lose a daughter! God bless!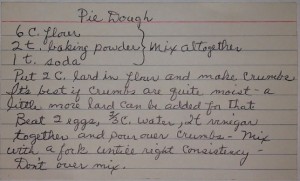 This week I'll share Timothy's mother's pie dough recipe, which we will use to make all the pies for the wedding. I'm not sure yet, but I think we will make 75–80 pies for that day.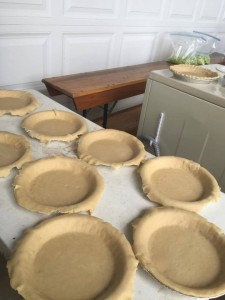 Pie Crust
6 cups flour
2 teaspoons baking powder
1 teaspoon baking soda
2 cups lard
2 eggs
2/3 cup water
2 teaspoons vinegar
Mix together flour, baking powder and baking soda. Stir lard into flour mixture to make crumbs. It's best if crumbs are quite moist; add a little more lard if necessary.
Beat together eggs, water and vinegar and pour over crumbs. Mix with a fork until right consistency. Don't overmix. Roll out and press into pie pans. Makes six single-crust or three double-crust pies.
Lovina Eicher is an Old Order Amish writer, cook, wife and mother of eight. Formerly writing as The Amish Cook, Eicher inherited that column from her mother, Elizabeth Coblentz, who wrote from 1991 to 2002. Readers can contact Eicher at PO Box 1689, South Holland, IL 60473 (please include a self-addressed stamped envelope for a reply) or at LovinasAmishKitchen@MennoMedia.org.