Yesterday we finished up with the rest of the beef. My husband Joe, son Joseph, and sons-in-law Tim and Dustin had dressed two beefs on March 11—that was the day we heard Aunt Lovina passed away. We waited to start on ours until we were back from Ohio. Dustin and Loretta split half of their beef with his brother Clint and Hannah. Clint picked up their two quarters and Dustins cut up their meat here. We had a lot of nice hamburger and steaks to fill our freezer. I canned some beef chunks, and now I want to make beef jerky today. We had another cold spell, which was nice to keep the beefs chilled. This puts an end to our butchering for this season. It sure is a relief to be done, but it is such a blessing to be able to have meat in the freezer and in cans.
Granddaughter Jennifer, 5, is back to good health since she had surgery to remove her tonsils and adenoids. She was very happy to receive a sunshine box from our church on Sunday. She had a lot of nice gifts.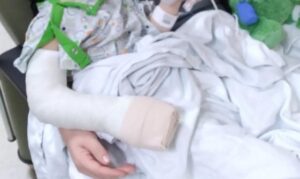 Our church also made a sunshine box for grandson Timothy (T.J.) on Sunday. While we were in Ohio, he had surgery to reattach part of his right pointer finger. He somehow got it in a bike chain, tearing it completely off. Tim and Elizabeth's neighbor took Tim and T.J. to the hospital, but it was bleeding so badly that they didn't know part of the finger was off. After Tim left, Elizabeth found the other part of the finger and had someone take her to the hospital to see if the doctors could reattach it. They did surgery at a bigger hospital and have his whole arm in a cast for six to eight weeks. The doctors hope it will reconnect with the rest of the finger. If not, it will be taken back off. T.J. is an active little four-year-old, so the cast is driving him crazy. He sat beside me Sunday in church and kept trying to scratch the cast because his arm was itchy.
He was very excited for the sunshine box, and he also received nice gifts. Hopefully this will keep him entertained while his right hand and arm are casted.
Brother Albert and Sarah Irene, nephew Albert Jr., sisters Verena and Emma, Joe and I, and daughter Verena traveled to Baltic, Ohio, last Tuesday morning. We attended the viewing/visitation of Aunt Lovina on Tuesday then went to a motel for the night. We attended her funeral on Wednesday, and we arrived back home Wednesday evening.
Aunt Lovina was 83 when she passed. I was named after her. My mother said Aunt Lovina took care of her five older children when I was born at home, so they decided to name me after her. Lovina was married to Uncle Toby for 39 years. She later remarried Abe Raber from Ohio and was married to him for 17 years. Abe passed away in August 2020. Lovina had recently moved to Kentucky to live with her daughter Leah and Elmer.
Uncle Toby and Aunt Lovina had nine children and lived around four miles from us growing up. We were in the same church ever since I was born until Toby died in 1999 and Aunt Lovina later moved to LaGrange, Indiana, and then on to Baltic, Ohio, after getting married to Abe.
I have many so memories of our two families together. I spent many nights over at Uncle Toby's. I was right between their daughters Emma and Verena in age. It was very nice to see all the family again, and also many other cousins and friends. Aunt Emma was also there. She fell somehow while traveling to Ohio, by slipping on ice if I understood right. Aunt Emma is 82. My mother has three sisters living.
My cousin Leah's daughter brought Aunt Lovina here for a day last year. Sister Emma and her daughters and my daughters were all here, too. We had a good day with Lovina. She still had a good mind and was active for her age. She will be missed greatly by all who loved her. I called Aunt Lovina on her 83rd birthday, which was on July 20, and we had a nice talk. She had left me a voicemail on July 18, saying that she was thinking of us on Mother's 86th birthday. Rest in peace, dear Aunt Lovina.
Our sympathy goes to all her nine children and spouses, 87 grandchildren, 67 great grandchildren, 10 stepchildren, step-grandchildren and step-great-grandchildren.
On Friday morning we received word that Joe's Uncle Jake died in Ohio. We regret that we were unable to attend his funeral. We are glad we got to visit with him at his sister's (Aunt Nancy) viewing. Our sympathy goes to Aunt Mary and the family.
On April 1, some of my family and I will be at the Plain and Simple Craft Show selling and signing cookbooks from 9 a.m. to 3 p.m., Lord willing! I would love to meet any readers that can come. The address is 345 South Van Buren Street, Shipshewana, Indiana 46565. God's blessings to all!
I'll share a recipe that is often served at our local funerals. Slips are passed out and there is always a variety of pie fillings and cake used. A great dish and very tasty.
Cake Delight
1 cake mix (any kind)
12 ounces cream cheese
12 ounces whipped topping
1/2 cup powdered sugar
1 1/2 quarts pie filling, any flavor
Mix and bake cake mix as directed on the box. Pour into a greased 11×15 inch jelly roll pan. Then cream together cream cheese, whipped topping, and powdered sugar and spread on cooled cake. Top with pie filling.
Lovina's Amish Kitchen is written by Lovina Eicher, Old Order Amish writer, cook, wife, and mother of eight. Her newest cookbook, Amish Family Recipes, is available wherever books are sold.  Because Lovina is Old Order Amish, she does not have email or a telephone in her home. Lovina does not respond to comments on this website, if you would like to contact her directly, click here.