First of all, a happy 23rd birthday to daughter Loretta! We wish her many more years of happiness.
The month of July is bringing us some hot weather. July 4 was a hot day as well. On July 3, our whole family—except son Benjamin—and sister Emma's whole family and sister Verena all gathered at Emma's house. We are a total of 39 now when we all get together. We all set up tents in her back yard. Her children wanted to do this for Emma's 50th birthday, which will be on July 19. They brought and made all the meals and did all outdoor cooking.
Everyone set up their tents and air beds when they arrived. A total of 11 tents were set up. They also had a 30-foot water slide, which kept the children and some of the adults quite occupied.
There was a water balloon fight that resulted into a big water fight. The men playing cornhole were cooled off with the water balloons as well. The water battle kept going until no one remained dry. It felt good on this hot, humid day. It was fun and reminded me that our families are keeping up the legacy of the "Coblentz" family. There were always water battles at my father's family reunions. It was always so much fun!
We were served a lot of good food, with niece Emma and Menno serving a supper of hot dogs, jalapeño poppers, breaded mushrooms, french fries, shrimp, and frog legs. Plus, all kinds of snacks were brought in, as well as a cake for Emma.
The next morning, niece Elizabeth and Manuel made another good meal of bacon, smokies, tater tots, scrambled eggs, biscuits and sausage gravy, tomatoes, hot peppers, etc. Also, cookies, whoopie pies, peaches, Rice Krispie treats, and fresh fruit (watermelon, muskmelon, strawberries, and pineapples) mixed together. Orange and apple juice, chocolate milk, strawberry milk, and coffee were the drinks. I'm sure I forgot some of the food, but there was more than enough.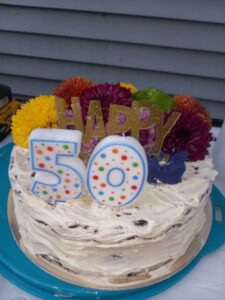 A cake made and decorated by Emma's daughter-in-law Crystal was brought out with "5" and "0" candles on it for Emma. I am sure celebrating her 50th without her beloved husband Jacob by her side was not easy. Emma does well to hide her loneliness for her family's sake. Emma has moved her bedroom to an upstairs bedroom. She let her son Jacob, 23, have her bedroom on the main floor, since he can't get upstairs with his disability (limb-girdle type 2A muscular dystrophy). Emma has two children that use mobility scooters with a disability, and three of our children do as well. With five mobility scooters, we need lots of space.
It was nice to have our tent close by the grandchildren and to hear their cute little chatter in the morning. This was a time where many memories were made that they will cherish for years to come.
Son Benjamin was missed at our family event as well. He left with friends and is spending time in New York. Also missed were sister Susan and son-in-law Mose. Susan would've been the main thrower in the water fight. May they rest in peace. God's ways are not always our way.
It was so cute when granddaughter Kaitlyn, 6, was sitting on my lap at bedtime by the campfire. She said, "Grandma, this is the bestest and favoritest holiday I ever had." Sweet, innocent little ones can melt our hearts. May God always watch above them and guide them in life!
God bless!
Zucchini Pizza
4 cups grated zucchini
2 eggs, slightly beaten
3 tablespoons Bisquick
1 teaspoon salt
1 cup mozzarella cheese, shredded (reserve half)
1 cup cheddar cheese, shredded (reserve half)
Pizza toppings of choice
Mix all ingredients (minus those reserved) together thoroughly and press into a greased 11×15 inch pan. Bake at 400 degrees for 15–20 minutes or until set. Put on your favorite pizza toppings and add rest of cheese. Bake at 375 degrees for 15 more minutes until cheese is melted.
Lovina's Amish Kitchen is written by Lovina Eicher, Old Order Amish writer, cook, wife, and mother of eight. Her newest cookbook, Amish Family Recipes, is available wherever books are sold.  Because Lovina is Old Order Amish, she does not have email or a telephone in her home. Lovina does not respond to comments on this website, if you would like to contact her directly, click here.