The temperature has dropped down to the teens this morning. It sounds windy outside.
Today is Thursday so it's laundry day again. We usually wash laundry on Mondays and Thursdays. Usually by the next morning the clothes are dry on the lines in the basement. Oh, how nice when spring weather comes and we can wash clothes, dry them outside, and have them folded in one day.
Daughter Loretta came home from school sick on Monday forenoon. She hasn't been able to go back yet. I called the doctor and he thinks it is probably the flu.
Tomorrow and Monday there isn't any school, as it's midwinter break. My plans are to take Joseph to the dentist to get a small cavity filled and to get some groceries.
Sons Benjamin, 15, and Joseph, 12, went over to Timothy's house two nights this week to help him with his work. They really enjoy spending time helping him.
Son Kevin, 9, usually takes care of our chickens. He has been bringing in around 40 eggs every day from the new chickens we raised this fall. Kevin still has his run-ins with the mean rooster.
Last Saturday my husband, Joe, and sons helped Jacob and Emma dress a beef. With Loretta being sick, I haven't had time to ask if they need help this week in cutting it up.
Brother Amos is back to work but has still been having dizzy spells. He has seen several doctors, but so far they haven't really been able to figure out what is causing them. He still works construction work—helping build Menards buildings. They have quite a few hours of traveling to do every day. I hope it's nothing serious. Amos has always been a hard worker and it's hard to get him to slow down. He's ten years older than I am and will be 54 this year.
Daughters Verena, 17, and Loretta, 14, recently attended their friend Grace's birthday party. They enjoyed the evening with friends and made some new ones.
Joe plans to smoke the summer sausage this coming Saturday. He is hoping it won't be too cold outside.
We still have lots of snow piled outside. The driveway is cleared off and the roads are dry, which is nice to see.
This week I'll share a recipe that I tried for ham and bean soup. Not too many in our family like ham and beans, but if you do, I would suggest you try this recipe. I sent some over to Jacob and Emma, and they really liked it.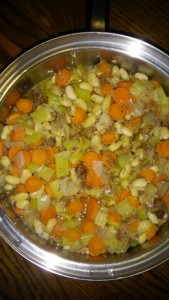 Ham and Bean Soup
1 pound dry Great Northern beans
8 cups water
1/2 teaspoon salt
1 ham hock
1 cup carrots, chopped
1/2 stalk celery, chopped
1 cup onion, chopped
1 teaspoon minced garlic
1 teaspoon mustard powder
2 bay leaves
2 cups ham, chopped
1/2 teaspoon black pepper
Rinse beans; bring water to a boil in a large pot. Add salt and beans and remove from heat. Let beans soak in hot water for at least an hour. Then place ham hock, carrots, celery, onion, garlic, mustard, and bay leaves in the pot and return it to high heat. Stir well and bring to a boil. Reduce heat to low and simmer for 60 more minutes. Remove ham hock, cut off meat, and discard bone. Stir in chopped ham and simmer 30 more minutes. Season with black pepper.
Lovina Eicher is an Old Order Amish writer, cook, wife and mother of eight. Formerly writing as The Amish Cook, Eicher inherited that column from her mother, Elizabeth Coblentz, who wrote from 1991 to 2002. Readers can contact Eicher at PO Box 1689, South Holland, IL 60473 (please include a self-addressed stamped envelope for a reply) or at LovinasAmishKitchen@MennoMedia.org.