I am already a day late in writing this column. December is going way too fast for me! Christmas is almost upon us.
Tonight is the elementary Christmas program at our school. It is the last Christmas program with one of our children in it. Kevin will be in middle school next year—a fifth grader already! Kevin's class is having a gift exchange, so he was excited to take his wrapped gift this morning. They don't have a particular person's name. Instead, the boys take a gift for a boy and the girls take a gift for a girl. This seems easier than keeping a secret from their friends about whose name they have.
We will have our Christmas with our family a day early, on December 24. Susan's friend Mose's family is getting together on Christmas day, so we decided to have it a day earlier. Our children don't have any complaints about getting their gifts early!
Everyone will be here for supper on December 23, and then we give the gifts the next morning. I usually make a breakfast casserole the evening before so I can put it in the oven to heat while we open gifts. Such precious memories we make on a day like that. We need to take time to remember and thank God for sending Jesus Christ as our Savior.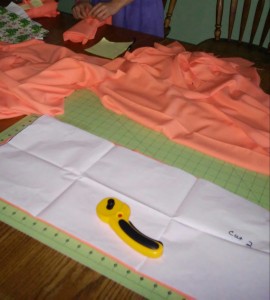 Our day is usually spent enjoying our new gifts, playing games, and just enjoying being all together as a family. Our loved ones who have passed away always remain in our hearts on days like this.
Our family, sister Emma, Jacob and family, and sisters Verena and Susan always exchange names every year. We will get together on New Year's Day for a Christmas dinner together. My parents always had our family home on New Year's Day for breakfast and dinner and snacks before everyone left. Some of us would go the evening before and spend the night there. Since my extended family usually gets together in the summer months, it is nice for us four sisters here in Michigan to get together around the holidays.
Our church on Sunday will be at neighbors David and Barb. We will have our annual potluck dinner after the Christmas services on Sunday. I will take a tater tot casserole. Sister Liz had this recipe in our family cookbook that sisters Verena and Susan put together. I have made it a few times and the children enjoy it.
God bless you all!
Tater Tot Casserole
2 pounds tater tots
1 pint sour cream
2 cans cream of chicken soup
1 1/2 soup cans milk
1 teaspoon salt
1/2 teaspoon pepper
1 pound Velveeta cheese
1/2 cup onion, chopped
2 pounds ground beef
2 cups cornflakes or crushed Ritz crackers
1/2 cup melted margarine
Put tater tots in bottom of casserole dish. Mix together sour cream, soup, milk, salt and pepper. Pour over tater tots. Fry ground beef and onion together. Top casserole with cheese, ground beef and onions. Sprinkle with cornflakes or cracker crumbs mixed with melted margarine. Bake at 350° for 45–60 minutes.
Variation: Cooked potatoes can be used instead of tater tots. This makes a large casserole. You can't go wrong with a recipe like this—more or less of anything won't hurt. Sometimes I put taco seasoning in the ground beef and crush Doritos on top instead of cornflakes.
Lovina Eicher is an Old Order Amish writer, cook, wife and mother of eight. Formerly writing as The Amish Cook, Eicher inherited that column from her mother, Elizabeth Coblentz, who wrote from 1991 to 2002. Readers can contact Eicher at PO Box 1689, South Holland, IL 60473 (please include a self-addressed stamped envelope for a reply) or at LovinasAmishKitchen@MennoMedia.org.