Family spreads out, barn needs fixing
The last few days have been warmer and we sure enjoyed the sunshine! Now this morning it rained, but the sun is out again.
Son Joseph is harnessing our horse Mighty, so I can take the buggy to a garage sale. The sale is being held by a neighboring Amish family. They're selling clothes, so I thought I might be fortunate and find some, to save time in sewing. Fabric seems to go up in price so it pays to buy garage-sale-priced clothes.
Last Thursday we attended the wedding reception of niece Lisa and Matthew in Berne, Indiana. It was cold and rainy. We arrived there about 2 p.m. I helped fill the peanut butter pies so my job was pretty easy.
On the menu were mashed potatoes, gravy, chicken, noodles, dressing, mixed vegetables, grilled sausage links homemade bread, butter, and strawberry jam. Desserts were tapioca pudding and angel food cake topped with a mixture of whipped topping, cream cheese, and strawberry glaze, as well as pecan, cherry and peanut butter pies. "Nothings" [pastries] lined the tables on plates, a tradition in that area.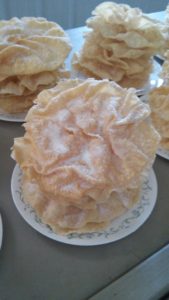 My brother Amos was raising hogs to make fresh sausage for this wedding meal; after he died, his sons Ben and Sam took over butchering the hogs to make the sausage. We enjoyed seeing the family but there was an empty spot without brother Amos there. It just doesn't seem possible that Amos isn't here anymore. We must accept God's plan, but I can understand why it's hard for Nancy (Amos's wife) to go on. The wedding reception especially made us miss Amos even more.
We arrived back home that night around 11:30 p.m. It was a short night as we had to be up by 3 a.m. for Joe to leave for work at 3:45.
On Friday evening, Timothy, Elizabeth, Abigail, Mose, Susan, Jennifer, and Loretta' special friend Dustin joined us for supper. We played games afterwards.
Saturday morning early, my husband Joe and I went to Menards to get lumber to rebuild part of our haymow. It was getting weak from all the hay and needed more support. Joe also is making more space for hay. Our barn is old so it always needs some fixing up somewhere, but I guess it still works. Joe and the boys would like to build a few more horse stalls in there and move the chickens to a coop outside the barn. Dustin, nephew Henry, sons Benjamin and Joseph, and husband Joe worked on the haymow the rest of the day. They accomplished quite a bit.
Later, Dustin and Loretta, and daughter Verena left for a friend's house for supper. Henry and Benjamin went to a birthday supper as well. Daughter Lovina was helping at Mose and Susan's house and stayed the night. Lovina then came to church with them on Sunday. So that left just four of us home for supper: Joe, Joseph, Kevin and me. We had grilled cheese sandwiches and fried eggs, an easy meal.
A few families from church took supper in to Mose and Susan's on Sunday evening. They wanted to visit after Jennifer was born but didn't get around to it sooner. I left Lovina go home from church with Susan and Mose to help her with Jennifer. Susan was glad for Lovina's help. Saturday afternoon and evening, Jennifer was being fussy, which makes it hard for Susan to get much done. The baby loves having her gums rubbed. At three months old, I really hope she isn't pushing through teeth already.
Yesterday Elizabeth and Susan and their little girls came for the day. Our breakfast was biscuits and gravy. For lunch we had leftover Tater Tot casserole from the night before. The girls took Abigail outside in the afternoon. It was so nice and she enjoyed being outdoors again.
I'm eager to get outside myself and look for dandelion greens. These warm days should be bringing them up. Rhubarb is peeping through and so are spring flowers. I think I'm having a bout of spring fever.
Take care and God's blessings to all!
Pecan Pie Muffins
Ingredients:
1 cup packed brown sugar
½ cup all-purpose flour
2 cups chopped pecans
2/3 cup butter, softened
2 eggs, beaten
Directions:
Preheat oven to 350 degrees F. Line mini or regular muffin pan with liners. Mix brown sugar, flour, and chopped pecans. Stir. Add eggs and butter until combined. Spoon batter in muffin cups about ½ full. Bake for 12 minutes for mini, or 16 minutes for regular size muffins.