We have entered the month of June already. It looks like we had just a little bit of rain during the night. We are really in need of rain! Last night we watered the garden, as it was getting really dry. Everything is coming up really well. We are still enjoying radishes, green onions and lettuce from our first planting earlier this spring.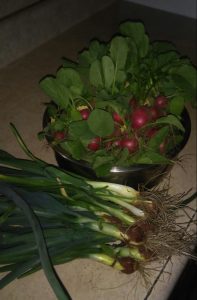 We had a nice three-day weekend. A lot of fishing was done. On Friday evening some went fishing on the lake, and then they went again Saturday and Monday.
On Sunday evening we ate outside around the fire. The men deep-fried fish and French fries. How nice to just sit and watch.
Timothy and Elizabeth went to church at his sister's house in another church district. We kept their dogs, Izzy and Crystal, here while they were gone. Crystal doesn't like to be separated from Elizabeth, but Izzy loves staying here. She will go hide when she knows they are leaving for home!
Saturday we had a short visit from sister Liz, Levi and family. Their daughter Elizabeth and Samuel and baby LaRose were also along, as was their daughter Rosa's special friend, Menno.
LaRose is around six months old and looks like she doesn't lack attention. She is Liz and Levi's first grandchild, and she's a sweetie. Daughter Elizabeth was here and got to see LaRose for the first time. Sister Liz is doing a great job at being a grandma and spoiling her.
Joe's sister Salome and Morris are also first-time grandparents now. Their daughter Katie Edna and Ben had a son named Benjamin. Joe went to visit them while we were at niece Lovina's wedding. I was a cook so I didn't go with Joe. Hopefully I'll get to meet little Benjamin soon—maybe at the family gathering in July. Joe's sister Christine and Jake are planning to have all of Joe's family there on July 2. They live about three hours north of here. We are looking forward to seeing everyone again. It's been awhile since we've seen some of the family. Hope everyone will make it!
On Monday, everyone went fishing except daughters Elizabeth, Lovina and I. Timothy had his boat out, and both of ours were out as well. When they started filleting fish, they had more than 200 bluegills! Timothy's nephew was also fishing and helped clean the fish. Everyone was here for a pizza supper before leaving Monday evening.
I usually have a bunch of bananas hanging on a banana holder on my countertop. Elizabeth took a banana and started eating it. Son Kevin, 10, told her that everyone needs to ask him for a banana, since that's why Mom buys them. He said that since she's married now, she doesn't have to ask him. Elizabeth and I had a good laugh about that after he went outside. I don't know where he got the idea that the bananas are his. I think he likes eating bananas more than anyone else does. When he was a little boy, he always asked for bananas when he saw them at the store. He wasn't very old, and he would call them "monkey." I think it was because we would call him a monkey when he was eating them.
I want to make rhubarb juice this week. Daughter Elizabeth made several batches and brought us a taste—delicious!
Susan is still working on getting her wedding invitations out. She said she didn't realize there was that much work to get ready for a wedding. She said it looked easier when Elizabeth did it.
I must get back to work. God's blessings!
Zucchini Soup
 2 tablespoons butter
1/2 cup carrots, sliced
1/2 cup celery, sliced
1 small onion, chopped
2 cups chicken broth
2 cups zucchini, grated
1 small potato, peeled and cubed
2 tablespoons fresh parsley, chopped
1/4 teaspoon seasoned salt
salt and pepper, to taste
In a 2-quart pot, melt the butter over medium heat and then add the carrots, celery and onion. Sauté the vegetables, stirring frequently, until the onion becomes translucent. Add the remaining ingredients and bring the soup to a boil. Reduce heat and simmer until the vegetables are fork-tender, 30–45 minutes.
Lovina Eicher is an Old Order Amish writer, cook, wife and mother of eight. Formerly writing as The Amish Cook, Eicher inherited that column from her mother, Elizabeth Coblentz, who wrote from 1991 to 2002. Readers can contact Eicher at PO Box 1689, South Holland, IL 60473 (please include a self-addressed stamped envelope for a reply) or at LovinasAmishKitchen@MennoMedia.org.