It is Thursday already, and this column should have been written yesterday! The sun is shining brightly, with the thermometer showing 62 degrees this morning.
Son Benjamin is home, as he doesn't have work today. I hope he can clean up the remainder of the garden. We still have hot peppers, green peppers and cabbage in there.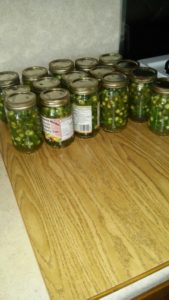 Tonight we will go pick Concord grapes at the local U-Pick. We will also get our apples for applesauce. We are out of grape juice and applesauce, so it will be good to fill some jars with both. Timothy and Elizabeth and Mose and Susan will also go along to get grapes and apples.
Baby Abigail will be four weeks old on Saturday. She is sweeter than ever!
Daughter Elizabeth and Abigail came here for the day yesterday, and of course Crystal and Izzy (the Yorkies) came along. So Elizabeth has a handful as she gets Abigail and the dogs into the buggy! Abigail loves buggy rides, so at least she isn't crying while they travel the almost seven miles. Their horse, ShiAnn, is a safe and sound horse for Elizabeth to drive. I keep reminding Elizabeth to take it easy, but she has a hard time not working too long. Since she became a mother, she has found out how your all nights of sleep are gone.
Monday was a cold, rainy day, so we put off laundry until Tuesday. Since we skipped washing clothes I cut out daughter Loretta's dress, cape and apron for an upcoming wedding. I sewed most of it yesterday.
Tuesday we did our laundry, and after it was all washed and hung on the lines, we went over to Timothy and Elizabeth's house to wash their laundry. It was a nice sunny, breezy day, so the clothes dried really well. It was almost dark by the time we made it home.
Mose had grilled hamburgers and Susan had heated up leftover pizza casserole for supper. Susan had made pizza casserole and baked five loaves of bread on Monday after she came home from work. She made a small casserole for us to take to Elizabeth's. We took it along to her on Tuesday so she had an easy supper for her and Timothy.
Last Thursday Joe and I, along with daughter Verena and my sisters Susan and Verena, traveled to a wedding in Berne, Indiana. It turned out to be a beautiful day for the wedding of niece Arlene and Robert. Daughter Verena was a tablewaiter at the wedding. I was a cook and had to help make the lettuce salad. My five sisters—Leah, Verena, Liz, Emma and Susan—and I, and also sister-in-law Sarah Irene, were all on the job of making salad. It is always enjoyable to work with family.
On the menu were barbecued chicken, mashed potatoes, gravy, chicken and noodles, dressing, mixed vegetables, lettuce salad, cheese, homemade bread and cinnabutter (peanut butter with cinnamon flavor). Niece Susan made it but I didn't get the recipe. Desserts were tapioca pudding, mixed fruit salad, pecan, cherry, blueberry and pumpkin pie and angel food cake with strawberry topping. Wedding Nothings were on the menu as well.
Crispy Chicken
1 1/2 cup crispy rice cereal, crushed
2 tablespoons flour
1/2 teaspoon salt
1/4 teaspoon thyme
1/4 teaspoon poultry seasoning
1/4 cup melted butter
4 skinless, boneless chicken breasts
Combine the first five ingredients. Dip chicken in butter and then into cereal mixture. Put in an 11 x 7-inch pan. Drizzle with remaining butter. Bake at 400 degrees for 20–25 minutes.
Lovina Eicher is an Old Order Amish writer, cook, wife and mother of eight. Formerly writing as The Amish Cook, Eicher inherited that column from her mother, Elizabeth Coblentz, who wrote from 1991 to 2002. Readers can contact Eicher at PO Box 1689, South Holland, IL 60473 (please include a self-addressed stamped envelope for a reply) or at LovinasAmishKitchen@MennoMedia.org.