A brand new year lies before us! 2018 is here, and I want to wish all of you a blessed new year, lots of love and good health! We do not know what the new year holds, but we know God is in control. Let us trust him to lead the way.
I had a nice two-week break from writing this column. It went so fast, though, that I can't believe it is time for me to pen it again! I appreciated the girls giving me a break over the busy holiday season. I still have a few late Christmas cards to get out in the mail for family. I am wanting to enclose a letter before sending the cards. To me, a letter with a Christmas card is worth more even if it is late.
Tomorrow my husband, Joe, will take off from work to go with daughter Verena and me to a children's hospital in Ann Arbor (Mich.) for an appointment for Verena. She is meeting with the surgeon. We aren't sure if they will plan a surgery or not. The roads aren't in the best shape and it keeps snowing, so we pray for a safe journey there and back. It's over a two-hour drive and with the traffic, sometimes more.
We had a nice Christmas Eve with our children here all day. The married girls and family came home the evening before and spent the night here. We had a big breakfast brunch: fried eggs, potatoes, bacon, cheese, toast, butter, strawberry jam, hot peppers, coffee, vegetable juice, orange juice, milk, hot chocolate, oranges and cookies. We set our table for fourteen with Abigail in the high chair. Nephew Henry is still staying with us, so he had Christmas with our family.
We ate our brunch around 9:30, and then we washed dishes after that before opening our gifts. We had a lot of fun with a big ball of plastic wrap. Everyone stood around the table and took turns unwrapping the plastic wrap, which was filled with little gifts. The dice was passed, and the person rolling a six could unwrap the plastic and keep whatever gifts were falling out until the next person got a six. Then the dice was passed, on and on around the table, until the ball was all unwrapped and the "grand prize" was won at the end of the ball. It is an exciting game and included the whole family—except for Abigail, who just stared at us with big eyes trying to figure out what all the excitement was about!
After our gifts were opened, everyone brought out snacks, which was quite a variety of food. There were veggies and dip, cheeseball and crackers, bologna and cheese roll-ups, party mix, peanut butter balls, chocolate-covered pretzels, peanut butter fudge, chips and salsa, peanuts and M&M's mixed together and probably more than I can't remember now. We played games such as Aggravation, Phase 10, Life on the Farm, and Corn Hole all afternoon.
Time went too fast, though, and before we knew it, it was time for everyone to leave. Daughter Loretta went home with Dustin, as his family was having Christmas together on Christmas day. I made a soup for anyone who was still hungry enough in the evening to eat.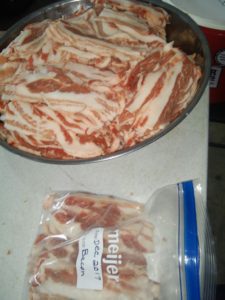 On December 26, Joe and our sons, plus Timothy, Mose, Dustin and Henry butchered our two hogs. I never had to go help, as they did it all in good time. Pon hoss was made in the big kettle outdoors. It was a cold morning of nine degrees when they started. Joe and the boys and Dustin ground the sausage and sliced the pork chops and ham the next day. Joe sure enjoyed using his new meat slicer. The bacon is sliced nice and thin as well. The meat slicer was Joe's birthday gift. His birthday was December 22, and everyone came for grilled hot wings, deep fried jalapeño poppers, French fries and mushrooms—and of course, ice cream and cake. On butchering day, then, we had mashed potatoes, gravy, dressing, corn, salad, French-fried tenderloin, peanut butter pies, cherry delight and cake.
Next week I will write about our day with my three sisters and the gift exchange we had on New Year's Day at Jacob and Emma's house.
Foremost on our minds is Jacob's dad, who is also Joe's uncle. He is in very bad shape, suffering from a stroke he had on New Year's Day. We were all at Jacobs' when they received the call. Jacob and Emma left that evening for Berne to visit with him, but there isn't much hope for recovery. We pray and let it all in God's hands.
God bless!
Pork Chops with Mushroom Gravy
1/2 cup all-purpose flour
1 1/2 teaspoon paprika
1 1/2 teaspoon salt
1/4 teaspoon pepper
6–8 boneless pork chops
Mushroom gravy:
1/4 cup butter
1 medium onion, chopped
1/2 cup chopped green peppers
4 ounces mushroom stems and pieces
2 cups milk
Combine the first four ingredients in a large resealable plastic bag. Reserve three tablespoons of mixture. Add pork chops one at a time and toss to coat. In a large skillet, sauté chops in butter until golden brown. Transfer to a 9 x 13-inch baking pan.
To make the gravy, sauté the onions and green peppers in the same skillet. Drain the mushrooms. Add and sauté with the onions and peppers until tender. Stir in reserved flour mix; gradually add milk until blended. Bring to a boil. Cook and stir for 2–3 minutes until thickened. Pour over chops. Cover and bake at 350 degrees for 50–60 minutes. Serves 6–8.
Lovina's Amish Kitchen is written by Lovina Eicher, Old Order Amish writer, cook, wife and mother of eight. She is the co-author of three cookbooks; her newest cookbook, The Essential Amish Cookbook, is available from 800-245-7894. Readers can write to Eicher at PO Box 1689, South Holland, IL 60473 (please include a self-addressed stamped envelope for a reply) or at LovinasAmishKitchen@MennoMedia.org.