Daughter Lovina, 19, is making supper as I get caught up with some odd and end jobs. The menu includes fried eggs, fried potatoes, bacon, cheese, tomatoes, toast, butter, and fresh strawberry jam. A delicious breakfast for supper. The strawberry jam tastes so good. My friend Ruth brought us a dish of some she made.
Daughter Elizabeth and Tim and their four children came for a while. They needed to pick up something and decided to all come. I told them they should've planned to be here for supper.
Nephew Benjamin, Crystal, and their son Isaiah also stopped in for a while. Abigail and Isaiah were glad to get to play together for a while. They were in the same grade and had a lot of fun at school.
I had to laugh when I heard that grandson Timothy (T.J.), four, wanted to hatch chicks from their eggs. Daughter Elizabeth discovered an egg from their chickens hidden in the couch cushions one day. Timothy finally said he had hidden it there. He said he wanted it to keep warm so it would hatch out a baby chick. I imagine daughter Elizabeth was so glad she discovered it before it broke or spoiled.
On June 14, Elizabeth, my firstborn, will be 29. Her last year in her twenties. She will be married to Tim for eight years in August. They were blessed with four children: Abigail, six; Timothy (T.J.), four; Allison, three; and Andrea, 16 months. They have a sweet, precious family. They recently went camping at the lake for two nights and slept in a tent. They made a lot of memories. They enjoyed swimming, fishing, and cooking over the open fire. Children remember these family events forever. I am surprised at all the memories of our vacation times the children remember from their younger years. Happy 29th birthday, dear daughter. May you have many more happy, healthy years.
Neighbor Beth and Mervin had a lovely day for their wedding last week. The morning was cool, which was nice for us cooks. My job was to help peel potatoes and cook and mash them all day. The cook wagon had the Bosch mixers, which makes for some much easier work. They are run from the generator powering the cooler. Some might use solar power as well. The other ladies and I made 28–30 eight-quart kettles of potatoes for the whole day. Also on the menu besides mashed potatoes was bread, butter, strawberry jam, gravy, buttered noodles, meatballs, green beans, dressing, broccoli and cauliflower salad, cupcakes, mixed fruit, and strawberry and peanut butter pies. Pecan pie and ice cream were added to the evening meal. Mervin and Beth moved to a place in our church district. We wish the couple many happy years together.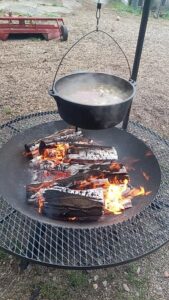 Friday evening, our family has "Family Night" at Dustin and Loretta's house. I have to make the hot food, so I'm undecided yet if I want to make a casserole. My husband Joe says he could make soup over the open fire in the kettle and grill some chicken. That might be a better idea. He is enjoying using his new campfire pit with accessories to hang a kettle and grill over the fire. It was his Christmas present from our children. He loves to cook outdoors, so it was a much-appreciated gift and very useful to him.
June 15 is sister Emma and Jacob's wedding anniversary. They were married on June 15, 1995. Daughter Elizabeth was a year old the day before their wedding. I'm sure it's a sad day for her to not have Jacob here to celebrate with. May God give her the strength she needs to travel into the unknown future. God's blessings to all!
Muffin Pan Meatloaf
1/2 cup ketchup
1/2 cup barbeque sauce
2 tablespoons mustard
1 pound ground beef
1/2 cup diced onions
1/2 cup diced green peppers
1/3 cup oatmeal
1/3 cup parmesan cheese
1 egg
1/2 teaspoon garlic powder
1 teaspoon Worcestershire sauce
salt and pepper to taste
Preheat oven to 350 degrees. Mix ketchup, barbeque sauce, and mustard in a small bowl. In a separate bowl, mix the rest of the ingredients with 1/2 of the ketchup mixture. Press the meat into muffin cups. (You should get 8–10 muffins from this amount.) Top with the remaining ketchup mixture. Bake for 30–35 minutes.
Lovina's Amish Kitchen is written by Lovina Eicher, Old Order Amish writer, cook, wife, and mother of eight. Her newest cookbook, Amish Family Recipes, is available wherever books are sold.  Because Lovina is Old Order Amish, she does not have email or a telephone in her home. Lovina does not respond to comments on this website, if you would like to contact her directly, click here.