It's Tuesday morning around 5:30 a.m. and son Benjamin is getting ready to go to work. Yesterday was his first day of work in over two months. He certainly is looking forward to a paycheck again. He was pretty sore last night after work. His leg is still in a boot—the doctor told him to come back in four weeks. He is doing home therapy, and he is allowed to wear his shoe several hours a day and gradually get out of the boot. Benjamin wants to thank everyone for their lovely cards, letters, and gifts. He always looked forward to opening his cards. Yesterday I even received a letter from sister Leah with their card to Benjamin. I haven't seen Leah since daughter Susan and Ervin's wedding last year, on December 30. Hopefully I get to see her soon. Leah is the oldest of us eight siblings—she is 64. We miss our two siblings Amos and Susan. They both left us way too soon. May we all meet again someday.
Our thoughts and prayers go out to neighbor Amy as she mourns the death of her dear husband. They moved in shortly after we did in 2004 and have been great neighbors. May God help and comfort Amy as she goes though this difficult time. Rest in peace Ed—you will be missed!
On Sunday our church services were at our neighbors Dave and Barbara's. If I'm not mistaken, there were 25 families visiting from other church districts. Church services were held in their basement, and it was filled to capacity. Our church has over 40 families, so we are big already.
At night our church had a carry-in farewell supper for a young couple, Samuel and Wilma, and their two children. They moved in close to daughters Susan and Verena several years ago and now will move to Tennessee. They live down the road a quarter mile from daughter Verena since Susan moved in with Ervin after their marriage last year. On the menu was a haystack dinner and lots of desserts. We sang songs for them after supper. We wish them the best as they start life in a different state.
I quite well remember almost 20 years ago moving to another state and having six children, with the seventh one born soon after our move. It was a challenge, and sometimes I don't see how I managed, but we did and we have made this home. Home is where the heart is!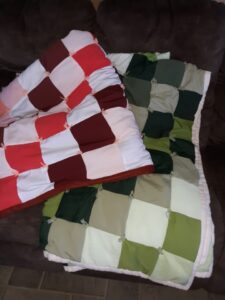 My plans for today are to go to the community building for a comfort knotting. Several ladies from our church are going, including sisters Verena and Emma. The comforters are made to give away to those in need. We all pack a sack lunch. I told sister Verena I'll pack her lunch with mine. With her living alone and not getting to town too often, she doesn't always have much on hand to pack a lunch.
Tomorrow gun season opens for the deer hunters, which brings a lot of excitement for them. For me, I am well contented staying in the warm house. Sons-in-law Tim and Ervin have both shot deer with bow and have meat for their freezer. Ervin shot a nine-point buck. Both men can hunt on their own property, which makes it handy for them.
Our plans for Thanksgiving Day are to go to sister Emma's house. We take turns hosting Thanksgiving dinner. This year, she hosts Thanksgiving and we host Christmas dinner. Next year we will exchange holidays. Wish you all God's blessings.
Broccoli Cheddar Brunch Bake
8 cups chopped fresh broccoli
1 cup chopped onion
6 tablespoons vegetable oil or butter
12–13 eggs, beaten
1 1/2–2 cups shredded cheddar cheese, divided
2 cups milk
1 teaspoon salt
1 teaspoon pepper
Garlic salt to taste
Sauté broccoli and onion in oil or butter until crisp-tender. Combine the eggs, 1 cup cheese, milk, and seasonings in a large bowl; stir in broccoli mixture. Pour into a 3-quart baking dish coated with cooking spray. Bake uncovered at 350 degrees for 40–50 minutes or until a knife inserted near the center comes out clean. Sprinkle remaining cheese on top and let set 10 minutes.
Lovina's Amish Kitchen is written by Lovina Eicher, Old Order Amish writer, cook, wife, and mother of eight. Her newest cookbook, Amish Family Recipes, is available wherever books are sold.  Because Lovina is Old Order Amish, she does not have email or a telephone in her home. Lovina does not respond to comments on this website, if you would like to contact her directly, click here.