January 24! First of all, happy birthday wishes to sister Liz, who turns 54 today, and also to daughter Susan, who shares the same birthday. She turns 27 today. It's unbelievable that our secondborn is that old already. A lot has happened in her young life, but with God's help she was able to go on and accept his plan for her. It hasn't been an easy road, but with God's help it's so much easier to handle.
My husband Joe also had a birthday on December 22 and he also turned 54. Daughter Lovina and I made lunch for the 50-plus workers who work where Joe does at the Metal Shop. After lunch Joe gave us a tour of where he works and what he does. He works with my brother Albert. Joe has been there two years now. It was interesting to see what he does every day.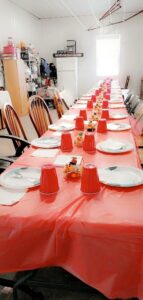 Last Saturday our whole family, sister Verena, and sister Emma's family all gathered at Emma's house for a delicious brunch. This was a late Christmas gathering. Emma and I take turns hosting it each year since our move to Michigan 19 years ago in March. We were a small group back then but now are a total of 39. The tables were set for 36 in their attached garage and the babies were in high chairs, with the youngest of all, Jazlyn (daughter of niece Emma and Menno), who is 12 weeks old, in her bouncer.
On the menu was fried eggs, potatoes, scrambled eggs, biscuits, sausage gravy, bacon, sausage patties, cheese, homemade bread, butter, strawberry jam, hot peppers, orange juice, apple juice, chocolate milk, coffee, and donuts. Everyone helped bring something for brunch and/or snacks.
After dishes were washed, we played bingo. Emma had a table with nice gifts for the winners.
Then we exchanged gifts. We first made everyone guess to see if they knew who had their name. I didn't have any idea who had my name. It was son-in-law Dustin. He gave me a board that you can put puzzles together on. It has drawers on the side to put the pieces in. I always wanted one like this, since I like to put puzzles together and so does the family. With more grandchildren, though, the puzzles tend to get messed up or lost. Now I can easily put it away until we want to work on it again.
Everyone enjoyed snacks and pizza before going home. It was an enjoyable day, but our loved ones were missed. This was the first time Emma hosted our Christmas gathering without her dear husband there.
Once again God has called some family members home. On January 11, Joe's cousin Barbara's husband Johnny died after losing his battle to cancer. He was 55 and left his wife and family to mourn. We were unable to attend, but our thoughts and prayers were with Barbara. They live in Ohio. Then on January 20, Joe's uncle Roman from Berne, Indiana, passed away. Joe and I attended the funeral. When we arrived at the funeral, we found out that Joe's aunt had unexpectedly died out in Berne that morning. Nancy was 72. She had been to the viewing of her brother-in-law Roman (his wife Flossie is her sister) the day before and went to the motel for the night with her brother and wife (Uncle Johnny and Susie). Nancy was never married but lived on the same property as Johnny's do.
Lord willing, our plans are to attend Nancy's funeral in Dundee, Ohio, on Saturday. It is almost five hours from here.
Our sympathy goes to Aunt Flossie and her family and to Nancy's many relatives.
Our children all remember who Nancy was. When she came overnight here one time, she kept them entertained. I remember Joseph was just a young boy, and I had told him he had to fix his bed, as I had washed sheets that day. It was bedtime, and Aunt Nancy was here. She told Joseph she'd help him. He was so glad he didn't have to fix the sheets himself. The next morning Nancy was out playing basketball with the children. There was never a dull moment when she was around.
May they all rest in peace and may God help their families through this difficult trial in life. We know the feeling well of losing close loved ones. God bless!
I will share the Taco Salad recipe used at the wedding.
Taco Salad
1 pound hamburger
1 package taco seasoning
1 cup chopped onion
1 head lettuce, shredded
1 8-ounce package shredded cheese
1 cup diced tomatoes
1 15–16-ounce can kidney beans, drained
1 16-ounce bottle Thousand Island dressing
1/4 cup sugar
1 9.75-ounce bag Nacho Cheese Doritos, crushed
Brown the hamburger with chopped onions and 1/3 of the taco seasoning. Drain the hamburger mixture. In a bowl, mix lettuce, cheese, tomatoes, beans, and hamburger mixture. In a separate bowl, mix the Thousand Island dressing, sugar, and the rest of the taco seasoning. Just before serving, mix the dressing with the lettuce mixture then top with the crushed chips.
Lovina's Amish Kitchen is written by Lovina Eicher, Old Order Amish writer, cook, wife, and mother of eight. Her newest cookbook, Amish Family Recipes, is available wherever books are sold.  Because Lovina is Old Order Amish, she does not have email or a telephone in her home. Lovina does not respond to comments on this website, if you would like to contact her directly, click here.