A lovely Tuesday evening! It was a chilly 41 degrees this morning but warmed up into the 70s.
Right now it is pretty quiet in this house. Six of our children decided to go the four miles to sister Emma and Jacob's house. Some rode the ponies and some biked. They wanted to go see Jacob's new pony.
Joseph volunteered to stay home and do the evening chores. Elizabeth stayed to help me with supper. On our menu tonight will be fish, French fries and onion rings. That is always a favorite meal around here.
The wedding for niece Elizabeth and Samuel is now over. We wish them God's blessings as they join hands for life. They had a beautiful wedding day. On the menu for dinner were barbecued chicken, mashed potatoes, gravy, chicken and noodles, dressing, mixed vegetables, lettuce salad, carrot salad, homemade bread, butter, strawberry jam, celery sticks and Nothings. Nothings are a sweet, thin pastry that has been deep-fried. Dessert was cake, cinnamon pudding, zucchini bars, a variety of cookies, mixed fruit and pies—cherry, Dutch apple, pecan and vanilla crumb. In the evening smoked sausage was added to the menu. My job was to help with the dressing. One hundred eggs were put into the dressing. I will share the recipe with you readers, but I had to reduce the recipe of 20 eggs down to 5 eggs so it will be easier for smaller batches.
There was plenty of food left over. It's always easier to have too much than not enough. It is probably a big relief for sister Liz and Levi to have this over with. A lot of work is involved in preparing for a wedding.
The day before the wedding, daughter Verena and I traveled the two hours to Berne, Indiana, to help prepare food for the wedding. The group of us who helped made the Nothings, baked 80 pies, peeled potatoes, and chopped a lot of vegetables such as celery, carrots, onions, cauliflower, broccoli and radishes. This makes it easier to prepare salads, dressing, etc. On the day of the wedding, carrot salad was also prepared in serving bowls.
My husband, Joe, and sons Benjamin, Joseph and Kevin cleared out one of our gardens and hauled manure on it. It is now ready to till, and we will plant a cover crop. In the other garden we still have tomatoes, but otherwise I think everything is done for the season. We had a nice crop of cabbage this year, but our potatoes didn't do so well.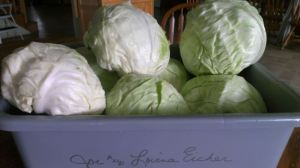 The boys and daughter Lovina built a campout area by the big tree in the middle of our cornfield earlier this summer when the corn was short. They had a path through the corn to their camp. If I called for them, they could hear me. Sometimes they would go back there to read. Since it won't be too long before the corn is harvested, they decided to take down their "camp" for the winter.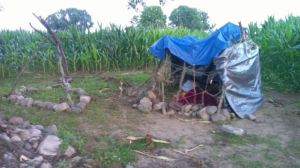 God's blessings to all!
Wedding Dressing
 5 eggs
¾ cup powdered chicken soup base
1½ cups hot water
18 slices bread, cubed
1 cup chicken, cut up
1½ cups onions, chopped
1½ cups celery, chopped
1 cup carrots, shredded
½ cup peas
3¾ cups water
1 teaspoon black pepper
½ cup chicken fat or butter
Beat eggs. Dissolve chicken soup base in hot water. (I buy powdered chicken soup base in bulk, but you can substitute 3 or 4 chicken bouillon cubes.) Add this mixture, along with remaining ingredients, to eggs and mix well. Pour into a greased 9×13-inch pan. Bake at 375° for one hour or until well set.
Lovina Eicher is an Old Order Amish writer, cook, wife and mother of eight. Formerly writing as The Amish Cook, Eicher inherited that column from her mother, Elizabeth Coblentz, who wrote from 1991 to 2002. Readers can contact Eicher at PO Box 1689, South Holland, IL 60473 (please include a self-addressed stamped envelope for a reply) or at LovinasAmishKitchen@MennoMedia.org.