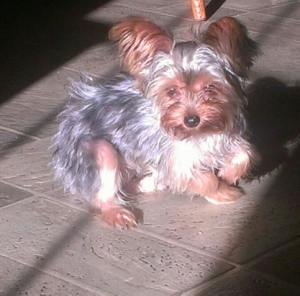 First of all, I would like to thank all the readers for their support and many kind words of encouragement I have received. Including a self-addressed stamped envelope helps to get a reply back to you. It is so nice to be able to receive mail directly from my readers now.
Hundreds of leaves have already fallen from the trees around our house and we have such a beautiful array of colors on the trees. I love to drive the horse and buggy at this time of the year and take in all the beauty that only our Master Artist can create. The local farmers are busy in the fields harvesting the seed corn.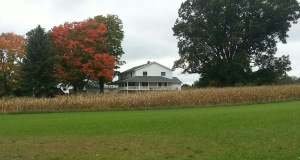 Last night we had a thunderstorm that brought some wind and hail. It is also deer hunting season with bow and arrow. Son Benjamin is eager to get his license to hunt with his bow. He has been doing target practice with Mose (daughter Susan's friend). Mose said he thinks Benjamin is good enough to hit a deer with his bow.
Saturday we all attended the hog roast that our local feed mill had for customers. They had lots of good food that was prepared by some of the Amish women in our community. It was a cold day with the temperature staying under 50 degrees all day. The wind made it seem even colder.
My husband Joe is getting the stove ready to set up again for the winter. He had moved it when we had church services to make more room for benches. We have a coal stove in the basement and heat the whole house with it. There is a big vent in the floor that allows the heat to come up to the main floor. Our open staircase to the upstairs bedrooms allows the heat to travel up there as well. It is nice to have the mess from the coal and ashes down in the basement.
Daughter Verena and I plan to cut fabric for some pants for son Kevin, 9. I would like to teach her how to sew them. Kevin is getting so tall that he is in need of more pants. Then we also want to make son Benjamin some new pants. Since he is working every day he wears them out pretty fast. Benjamin was off work one day this week as the sawmill broke down. He is back to work as Mose has it running again.
Verena is almost done with the breakfast dishes and morning work so I best hurry around so we can start cutting out fabric and sewing.
We are enjoying cider and apples from the apple farm close by. Popcorn with that makes a good snack on cold evenings.
This week I'll share a recipe for raw apple cake. God bless!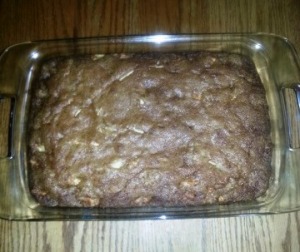 Raw Apple Cake
2 cups sugar
4 cups chopped raw apples
1/4 teaspoon salt
1 cup vegetable oil
2 eggs, beaten
Combine these ingredients and allow to stand 20 minutes.
Add:
3 cups flour, sifted
1 teaspoon cinnamon
2 teaspoons baking soda
1 cup chopped nuts
Mix all ingredients and pour in a 9 x13 greased cake pan. Bake at 350° for 1 hour or until set.
Lovina Eicher is an Old Order Amish writer, cook, wife and mother of eight. Formerly writing as The Amish Cook, Eicher inherited that column from her mother, Elizabeth Coblentz, who wrote from 1991 to 2002. Readers can contact Eicher at PO Box 1689, South Holland, IL 60473 (please include a self-addressed stamped envelope for a reply) or at LovinasAmishKitchen@MennoMedia.org.