Yesterday, January 24, was daughter Susan's twenty-first birthday! My sister Liz also has a birthday on the same day. She turned forty eight. A happy birthday to both!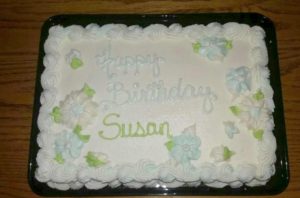 Friday evening, Mose's family brought in supper here at Mose and Susan's. It was a surprise for Susan. They wanted us to join them for supper. On the menu were a variety of homemade pizzas, lettuce, salad, and ice cream cake. Mose will have a birthday on February 5 so this was in honor of both of their birthdays. Mose's brother Joe and wife Mary came for the event and spent the weekend with Mose and Susan. They live around an hour and fifteen minutes north of here.
Last night Timothy, Elizabeth and baby Abigail, Loretta's special friend Dustin, and our family had supper over at Mose and Susan's also in honor of her birthday. That night we had chili soup, banana pepper poppers, hot wings, macaroni salad, sliced cheese, cake, and applesauce. Mose and Susan have had their share of birthday cake.
Saturday Timothy and Elizabeth attended a late Christmas gathering for his family at his sister's house. They are busy preparing to host church services on Sunday. Joe and I and some of the children assisted them with their work late afternoon and evening. We finished cleaning the basement where church services will be held. After we were done Timothy grilled venison burgers on the grill while we helped Elizabeth with the rest of the meal. We also enjoyed watching daughter Verena give Abigail a bath. Oh what fun to watch her kick in the water! She loves to play with the little rubber ducks in the water. She is growing so fast. She just jabbers away trying to "talk" to us. She has naturally curly hair and after it's wet her curls are so cute.
Last week Loretta and I helped Susan with some organizing in their quarters in the pole barn. Loretta sewed curtains for some windows. Son Benjamin hung the curtain rods for us. Mose built a shelf for them to store some of their excess belongings. It makes it look a lot more organized and easier to find what they are looking for.
Tonight we made bacon, ham, and cheese omelets for everyone for supper. We told Mose and Susan to come eat with us. We added onions for those who wanted onions in theirs. We have lots of eggs so that makes an easy supper. Timothy and Elizabeth have a few chickens so their eggs are accumulating too. Elizabeth wants to make egg salad for the church lunch. I will make cheese spread for her. We have "dried up" our cow Bessie because she will be calving in March. If you wonder how that's done, you basically just stop milking her. We first slowed down by skipping a milking every few days and then stopping. It's different to have to buy milk again.
I will share the cheese spread recipe with you. This recipe will be in my cookbook this spring. I don't always use the brand name Velveeta cheese. You can buy cheaper brands and it still works.
God bless you!
Homemade Church Cheese Spread
6 pounds Velveeta cheese
1 1/2 cups butter
8 cups cream
Put everything in a big roaster and bake at 150 to 200 degrees stirring every 15 minutes until all is melted. Remove from oven. Cover with plastic wrap to prevent it from getting a crusty top while cooling. The spread is served on a sandwich with or without meat. It is good just spread on bread with some pickles.
Lovina Eicher is an Old Order Amish writer, cook, wife, and mother of eight. She is the co-author of three cookbooks; her new cookbook, The Essential Amish Kitchen, will be published in 2017. Readers can contact Eicher at PO Box 1689, South Holland, IL 60473 (please include a self-addressed stamped envelope for a reply) or at LovinasAmishKitchen@MennoMedia.org.