I am already a day late in getting this column to my editors. I appreciate their patience.
Tomorrow morning we leave at 5:30 a.m. for nephew John and Arlene's wedding day. Everything is sewn as needed for this wedding. I am making Verena's dress, cape, and apron for nephew Ben's wedding next week. It is the color peacock. I need to cut out and sew mine yet. I am supposed to wear periwinkle.
I want to thank all the readers for their happy birthday wishes. My 44th birthday was on Friday May 22. My husband Joe took the family and I out to eat at Ponderosa. What a treat! The children asked the waitresses and waiters to sing "Happy Birthday" to me. Joe also gave me a gas grill for my birthday. I have always wanted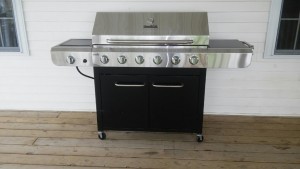 one but Joe prefers to grill on a charcoal grill. I have it on my front porch and have used it to grill hamburgers and pork steak. It has a burner on the side which I'm sure I'll use a lot this summer to cook on to keep the house cooler and cleaner.
Daughter Elizabeth is enjoying her week off from the RV factory. She is getting a lot of sewing done. She has two more weddings to sew dresses for, where Timothy and she will be table waiters.
Saturday the younger children helped me get most of the garden planted. I wasn't going to put out as many plants since I'm short in space with the pole barn going up where my other garden was. I went to get my plants at the green house and should have been counting how many tomato and pepper plants I was getting. I like to try different varieties and before I knew it I had 80 tomato plants and 40 green pepper plants to squeeze in one garden. It looks like I'll be canning lots of salsa, pizza, and spaghetti sauce, V-8, tomato juice, etc. That is if they all produce well.
The men are here today finishing the pole barn. It is looking really nice! Neighbors Joas and Susan walked over here last night to look at it. Their son is getting married next week and they will be our new neighbors. The wedding is at Joas and Susan's house so they are really busy right now.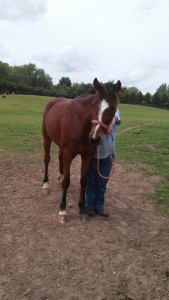 The horse "Mighty" that we bought from brother Amos is still doing great for us. Daughter Susan drove him to work one day. She picked up my sister Susan and another girl on her way to work. Susan is still training Prancer every chance she gets. They are putting in longer hours at nephew Emanul's woodworking shop so her time is limited in the evenings.
Our thoughts and prayers are with a family in our community. The 49-year-old mother died of that dreadful disease, cancer. She was laid to rest last week. Her daughter is getting married in a few weeks. Our sympathy goes out to the lonely husband and children. May God help them through this difficult trial in life.
Readers of my mother's former column requested that I share her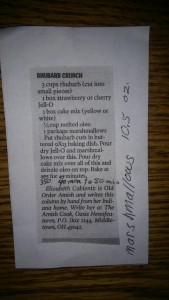 recipe with my new readers. They sent me a copy marked with several changes. They say it's a winner!
Blessings to all you readers!
Rhubarb Crunch
3 cups rhubarb (cut into small pieces)
1 box strawberry or cherry Jell-O
1 box cake mix (yellow or white)
3/4 cup melted margarine or butter
1 10.5-ounce package marshmallows
Put rhubarb cuts in buttered 9×13 baking dish. Pour dry Jell-O and marshmallows over this. Pour dry cake mix over all of this and drizzle margarine on top. Bake at 350 degrees for 40 to 50 minutes.
Lovina Eicher is an Old Order Amish writer, cook, wife and mother of eight. Formerly writing as The Amish Cook, Eicher inherited that column from her mother, Elizabeth Coblentz, who wrote from 1991 to 2002. Readers can contact Eicher at PO Box 1689, South Holland, IL 60473 (please include a self-addressed stamped envelope for a reply) or at LovinasAmishKitchen@MennoMedia.org.