Spring has arrived—or at least that's what the calendar says! We did have some nice sunny days, with the mercury on the thermometer reaching almost 60 degrees. We have taken advantage of the weather and dried the laundry outside on the clotheslines. It sure makes it so much fresher than when it's dried in the basement. Monday the air was chilly, and I was cold by the time I had hung everything outside!
It is almost 4:30 a.m. here at the Eicher home. I think we have adjusted to the Daylight Savings Time now. Son Benjamin, 18, is waiting on his ride to go work at the RV factory. My husband, Joe, left 45 minutes ago for work. I almost forgot that this column needs to be written before we leave this morning at 6:30 a.m. for Ann Arbor, Michigan. Daughter Verena and son Kevin have appointments with the doctor who did Verena's surgery. This doctor's office is located at C. S. Mott Children's Hospital in Ann Arbor. We always like to start out early enough. It takes time finding a place to park, etc., once we get there.
Verena's surgery was five weeks ago. She is getting impatient to have her cast off. She is hoping the doctor will let her take the cast off and give her a walking boot. I'm not so sure that will happen, but we will find out today. It all depends on how well it is healing. Verena sure enjoys all the cards and letters she has received. She looks forward to mail time! On Friday evening some of her friends are bringing snacks after supper and will stay to play games.
On Sunday we attended church in a neighboring church district. Church was held in the basement of Dustin's brother's house. (Dustin is Loretta's special friend.) We took Verena along. Timothy, Elizabeth, little Abigail, Mose, Susan and baby Jennifer also went to church there. They wanted us to all stay for supper, but we decided to come home in the afternoon to do our evening chores. Our children, except for Verena and Kevin, and nephew Henry stayed for supper.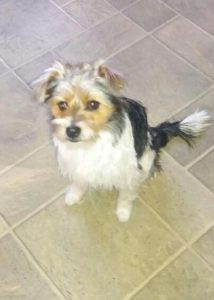 The weather was so nice that Verena and Kevin said they were going for a ride with our pony Stormy and the pony cruiser. Joe and I decided to also go for a ride with our almost three-year-old horse, Midnight, and the buggy. We all went to Mose and Susan's. Timothys showed up there as well. We loaded Verena's battery-operated scooter on the pony cruiser, and she and Susan went for a walk with Kevin and Tippy (Mose and Susan's dog) trailing behind. Because he lived with us for so long, Tippy is always excited to see us come, especially Kevin. When he sees Kevin is along, Tippy jumps into the buggy and goes crazy over seeing Kevin! Kevin spends a lot of time with Verena's Yorkies also.
I volunteered to watch Jennifer when the girls went on their walk. She is always full of smiles, and it's just so much fun watching her. I went with Susan to Jennifer's doctor appointment on Tuesday. She weighs almost 13 pounds and is 23 3/4 inches long. The doctor said she is doing great!
Daughters Elizabeth and Susan take their little girls to the same pediatrician I took my children to after we moved to Michigan. He is a good doctor and has been a great help to us. He was the first one to notice that some of our children have muscular dystrophy. He noticed the signs even before we did. I remember how upset I was, and how he encouraged me to put it all in God's hands. Life goes on, and we must take one day at a time and put our trust in God. Where would we be without God's help?
I wish God's richest blessings to each of you and good health as well!
Easy Mashed Potatoes
3 pounds potatoes
1/4 cup butter
2 eggs, beaten
1/2 cup milk
8 ounces cream cheese
1/4 cup onion, chopped
1/2 cup sour cream
salt and pepper to taste
Cover potatoes with water and boil until soft. Mash and add remaining ingredients. Put in a greased baking dish and refrigerate overnight.
Hamburger topping:
2 pounds hamburger
1 can cream of mushroom soup
Brown hamburger; drain. Add can of soup. Put everything on top of the mashed potatoes. Bake at 350 degrees for 45 minutes.
Lovina's Amish Kitchen is written by Lovina Eicher, Old Order Amish writer, cook, wife and mother of eight. She is the co-author of three cookbooks; her newest cookbook, The Essential Amish Cookbook, is available from 800-245-7894. Readers can write to Eicher at PO Box 1689, South Holland, IL 60473 (please include a self-addressed stamped envelope for a reply) or at LovinasAmishKitchen@MennoMedia.org.