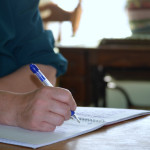 Pull up a chair and sit for a spell while Old Order Amish cook Lovina Eicher dishes up homespun warmth and charm—along with hearty and mouth-watering recipes—in her new weekly column, "Lovina's Amish Kitchen."
Lovina's winning combination of tasty family recipes and writings about her daily life and faith as an Amish mother, wife, and cook have already earned a loyal audience—reaching thousands of readers across the United States.
Her authentic Amish voice brings together inspiration and friendship—truly you will feel right at home at Lovina's table.
---
Lovina Eicher, an Old Order Amish cook, writer, and mother, penned The Amish Cook newspaper column that her mother, Elizabeth Coblentz, began in 1991. Now writing her column under a new name, Lovina's Amish Kitchen, Eicher is the coauthor of several cookbooks, including The Amish Cook at Home, The Amish Cook's Anniversary Book, and Amish Cooks Across America.