Today (Sept. 22) autumn officially begins! My garden is definitely showing all signs of it. We have been enjoying cabbage out of the garden. Son Joseph brought a head of cabbage in one night and out of curiosity I weighed it. It looked so big—and it was! It weighed ten pounds after the outer leaves were off.
Monday our school doors were closed due to the opening of the county fair. So our day at home was filled with doing laundry. We wanted to help daughter Elizabeth get her clothes washed as well as do ours. A few of the children and I went to Timothy and Elizabeth's to wash their clothes. Son-in-law Mose wasn't working that day so he and Joseph did our laundry. They did a very good job, but I really wish I could have been home to see them hang up all the clothes on the lines. We had a huge laundry and they did a great job!
Daughter Verena, 18, is still staying at Timothy and Elizabeth's house helping out with house hold chores. Elizabeth has a well-organized house—a place for everything and everything in its place. That makes it so much easier for the one taking over. Elizabeth was the oldest of eight children so she had lots of experience in babysitting and helping out with her siblings.
Yesterday Elizabeth had another doctor appointment. The doctor said she is doing great. What a relief to hear! All is well that ends well!
After her appointment we talked Elizabeth into coming to our house for the rest of the day. We had so much fun having her here with Abigail. Needless to say the work we had planned was put aside and we just enjoyed Abigail! She is 12 days old and such a precious part of our family.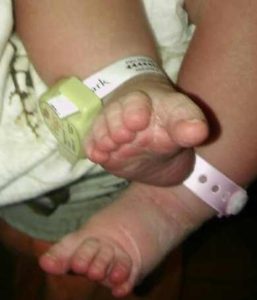 Son Benjamin, 17, came home early from work and we were surprised that he even stopped to pick up Abigail and hold her. She is so alert and acts so much older than 12 days. I could tell she won Benjamin's heart. Son Kevin, 11, didn't want to hold her at first but Elizabeth told him he should just hold her a little bit. Now yesterday he came home from school and asked to hold her. So lately our world has been revolving around Abigail. Need I mention that I feel so blessed to be her Grandma!
And now there is more sewing waiting to be done. Daughter Verena is table waiter at niece Arlene and Robert's wedding next week. She has to wear the color hunter green. I was asked to help cook and also need to wear hunter green. I was happy to have that color already and no sewing for me.
Loretta and her friend Dustin have part in his cousin's wedding on October 6 so we have that material here and needs to be sewn.
Next Friday Joe and I were also invited to my friend Ruth's daughter, Jori's wedding. We regret that we won't be able to attend this wedding. Niece Arlene's wedding is the day before and both weddings are a two-hour drive one way. With Joe working so much overtime it would be hard for him to take off more work days. May God bless both couples as they unite in holy matrimony!
A note to readers who have written letters to me in the past months: I am trying my best to answer as time allows. Sorry for the delay!
Cabbage Casserole
2 cups crushed corn flakes
1/2 cup melted butter
4 cups raw chopped cabbage
1 onion, diced
1 can cream of celery soup
1/2 cup milk
1/2 cup mayonnaise
1 cup grated cheese
Mix corn flakes with melted butter. Spread half in a greased 8×12 casserole dish. Layer cabbage and onion on top of corn flakes. Combine soup, milk, and mayonnaise and pour over all. Top with remaining corn flakes and cheese. Cover with foil. Bake at 350 degrees for 45 minutes.
Lovina Eicher is an Old Order Amish writer, cook, wife and mother of eight. Formerly writing as The Amish Cook, Eicher inherited that column from her mother, Elizabeth Coblentz, who wrote from 1991 to 2002. Readers can contact Eicher at PO Box 1689, South Holland, IL 60473 (please include a self-addressed stamped envelope for a reply) or at LovinasAmishKitchen@MennoMedia.org.