We have had quite a few inches of snow this week. Along with the snow we have also had colder temperatures. The mercury on the thermometer dipped down to 13 degrees this morning.
Yesterday daughters Verena, Loretta and I spent the day at daughter Elizabeth's house. We helped her process 38 quarts of vegetable soup. She told us to come for breakfast so we did all our morning work and headed for her house. She made Egg Dutch for our breakfast. It was delicious. My mother fixed Egg Dutch a lot. It's a simple and easy breakfast dish.
For our lunch Elizabeth made chili soup along with crackers, chips, dirt pudding, and ice cream. We were done with the soup around 2:00 p.m. We spent a few hours relaxing and visiting with her before coming home.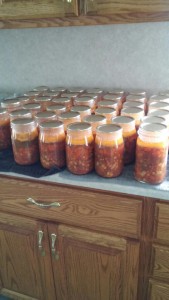 Earlier in the week we processed 46 quarts of vegetable soup for us. It is so handy to open up a few quarts of soup for a meal when you're in a hurry. It also is nice to have on hand for school or work lunches.
After we came home, Elizabeth called and said Timothy had come home from work with a cut-up foot. Somehow he cut it at the sawmill where he is working. He will be off work for a few days. It sounds like it was pretty painful last night. It's hard for Timothy to have to take it easy! I hope it will heal fast.
Our three school-age children will be home tomorrow and Monday. It's their midwinter break. The girls are making deer jerky, which can be time consuming. Every batch takes a few hours of baking in a 200 degree oven. We are making several different kinds, such as hickory, cajun, and jalapeño. Joe wants to make summer sausage with the venison sausage too. He will add sausage from our hogs we butcher.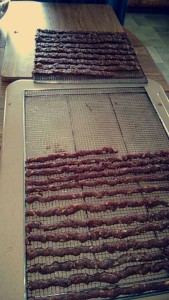 Our plans are to butcher our hogs February 20 since Joe has to work this Saturday. Last Saturday we attended a funeral of a local Amish man, so we postponed the hog butchering.
Last Friday, February 5, was the birthday of Mose, daughter Susan's friend. A happy birthday to him. Also, I want to wish my friend Ruth a happy birthday, which was on February 9. I won't mention her age in the column but she is getting to that "over the hill" part of life. I owe Ruth a big thank you for all she has done to help me with this column and in a lot of other ways. True friends like her are hard to find.
It is a relief that all the beef is done now. Once the pork is done I hope to find time to start sewing again. I still didn't get all the clothes sewn that were given as Christmas gifts.
I hope all of you readers are staying healthy this winter. We can't complain too much. So far we've been only battling colds. I started with a nagging cough a few days ago. I'm trying all my home remedies to get rid of it, and it seems better today.
I'll share the Egg Dutch recipe for the readers who are new to the column. God bless all of you!
Egg Dutch
5 eggs
1 heaping tablespoon flour
1 cup milk
1 teaspoon salt
pepper to taste
Put into a bowl in the order given and beat. Pour into a heated, greased skillet and cover with a tight lid. Place over medium low heat. Cut and turn when half done and finish baking. I usually put cheese on top when almost done. Bacon bits can also be added.
Lovina Eicher is an Old Order Amish writer, cook, wife and mother of eight. Formerly writing as The Amish Cook, Eicher inherited that column from her mother, Elizabeth Coblentz, who wrote from 1991 to 2002. Readers can contact Eicher at PO Box 1689, South Holland, IL 60473 (please include a self-addressed stamped envelope for a reply) or at LovinasAmishKitchen@MennoMedia.org.