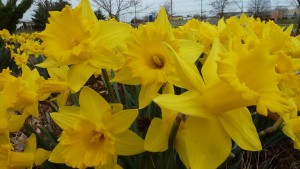 Friday is Good Friday and we look forward to Easter on Sunday. Good Friday we traditionally keep as a holiday, so no one in our family will go to work or school. The Amish churches in this community have "Fast" (no eating) and prayer until noon. Our family will all be here and have family time. Then we'll gather here for the noon meal.
On Easter Sunday we will go to church. Easter is the time to rejoice and be thankful for the gift of life Jesus gave for someone like you and me.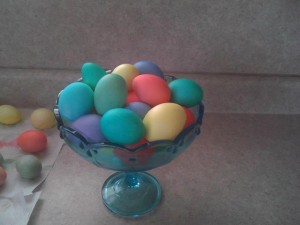 The younger children still enjoy coloring eggs for Easter. As I was growing up we always colored eggs. The bright colored eggs always remind me of the colors of the rainbow. Our parents taught us the true meaning of Easter. May we all remember the true meaning of Easter.
Son Benjamin always gathered the eggs when he was a little boy around four and five. One Easter morning Jacob and Emma and family were here. My husband Joe knew Benjamin and Jacob would go gather the eggs from the hen house as soon as they were awake. Joe took all the eggs out and replaced them with colored eggs. I still remember the excitement those two little boys had when they discovered the colored eggs.
Dandelion greens are getting bigger every day. We had our first meal of dandelion salad this week, and I shared that recipe last week. This is a good way to use up the extra colored eggs since it takes hard-cooked eggs. I keep watching for the asparagus to pop through. The rhubarbs are looking good.
I love spring and all the signs of it. I know it brings more work but it is so nice to go out on a nice warm and sunny day and feel the gentle breeze blowing. I enjoy hanging the clothes outside again. What a wonderful creator God is!
Last Friday (the week before Good Friday), sister Verena had a Tupperware party in the forenoon. She and sister Susan made lunch for all who attended. They served hash brown casserole, potato salad, jello cake, golden M&M bars, apple and strawberry slices with fruit dip, punch, and coffee. After everyone else left, sister Emma and my daughters Elizabeth, Susan, Verena, and Loretta stayed and spent the afternoon with sisters Verena and Susan. Daughter Elizabeth came here in the morning and went with us to the party. Susan biked and Elizabeth, Verena, Loretta and I took Stormy our pony and the pony buggy. The ride was a little chilly but we didn't have far to go. Stormy was eager to run and was a little rowdy. He doesn't get out too much in the winter months.
Saturday evening Timothy and Elizabeth came for the evening and stayed here all night. Daughter Verena left them sleep in her bedroom, which was Elizabeth's room before she was married. It seemed really good to have them here for the night. Mose (Susan's friend) went home with Timothy to do their chores Sunday morning while the girls and I made breakfast.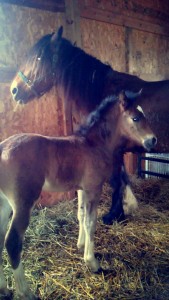 On our menu were eggs, potatoes, bacon, cheese, toast, strawberry jam, butter, and hot peppers, with chocolate milk, orange juice and coffee for drinks.
Timothy and Elizabeth stayed all day. We played games in the afternoon and enjoyed each other's company.
I'll share the recipe for golden M&M bars. We like them!
God bless and I hope you all have a blessed Good Friday and Easter.
Golden M&M Bars
1/2 cup butter, softened
3/4 cup sugar
3/4 cup brown sugar
2 eggs
2 teaspoons vanilla
1 1/2 cups flour
1 teaspoon baking powder
1/2 teaspoon salt
1 cup vanilla chips
1 3/4 cups M&M's, divided
Cream together sugars and butter. Add eggs and vanilla; beat well. Stir together flour, baking powder, and salt. Stir into butter mixture. Fold in chips and M&M's, reserving 3/4 cup M&M's. Spread in 9 x 12 greased pan. Sprinkle reserved M&Ms on top. Bake at 350 degrees for 25 to 30 minutes.
Lovina Eicher is an Old Order Amish writer, cook, wife and mother of eight. Formerly writing as The Amish Cook, Eicher inherited that column from her mother, Elizabeth Coblentz, who wrote from 1991 to 2002. Readers can contact Eicher at PO Box 1689, South Holland, IL 60473 (please include a self-addressed stamped envelope for a reply) or at LovinasAmishKitchen@MennoMedia.org.