Our four youngest children just left on the bus for another school day. It is a little after 7 a.m. and since the time is turned back an hour, it is now daylight when they get on the bus. It won't be for long though, with each day getting shorter.
Thursday afternoon and evening will be parent-teacher conferences. On Friday there won't be school. It is hard to believe the first quarter of this school term is over.
On Friday, we plan to attend the wedding in Berne, Ind., of Solomon and Rosanne. The children are excited that there is no school that day so they can go along to the wedding.
Last Friday we had snow flurries and it was very cold and windy. On Saturday the temperature didn't go over the mid-40s. Then on Monday we had a nice, sunny day. Daughter Verena hung all the laundry outside. It was all dry by late afternoon. Days like that are going to be few from now on. It was so nice to be able to fold the clothes and put them away all in one day again.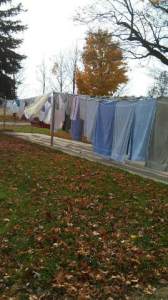 Son Benjamin isn't working this week. Mose shut his sawmill down this week to get some deer hunting done. Mose and Benjamin went Monday but didn't have any luck. Mose shot a deer last week with his bow and arrow.
Today Verena, Benjamin, and I plan to drive to town with the buggy and our horse Itty Bit. In his free time Benjamin likes to bike and collect aluminum cans. Here in Michigan there is a 10 cent deposit on the cans. He has saved up quite a bit of money doing this and it helps keep the countryside cleaner.
Saturday evening those that were at Jacob and Emma's for supper in honor of Jacob's 42nd birthday were: my sisters Verena and Susan; our family, along with the girls' friends Timothy, Mose, and Marvin; and also Menno and Manuel (Jacob and Emma's daughters' friends). We had a delicious supper of barbequed pork steak, potluck potato casserole, macaroni salad, pickled green beans, homemade bread, butter and strawberry jam, hot pepper butter, hot peppers, strawberry pie, dirt pudding and ice cream cake.
A reader asked for the recipe for the homemade bug exterminator. Take an empty plastic soda bottle, add 1 cup white sugar, 1 cup vinegar, and a banana peel. Fill the bottle three-fourths full of water and hang uncovered in a tree. It may take a week for the trap to start attracting bugs. It collects all kinds of insects. This was the only thing Dad would do for our apple trees. He didn't like using chemicals so he did it this natural way.
With Thanksgiving Day only several weeks away, I will share the dressing recipe I use to stuff my turkey. We call it dressing if it's baked in a baking dish. But we called it stuffing if we use it to stuff a turkey.
God's blessings to all!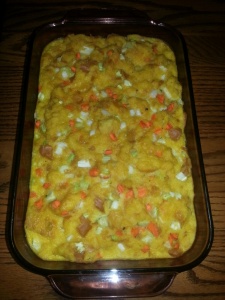 Homemade Dressing
2 tablespoons chicken soup base
2 cups hot water
4 large eggs, beaten
1/4 cup diced carrot
1/4 cup diced celery
1/4 cup chopped yellow onion
10 slices bread, crumbled
1 teaspoon seasoning salt
Preheat the oven to 350°F. Grease an 8-cup casserole dish or cake pan. Dissolve the soup base in the water. Alternately, use 2 cups hot water, potato water, or chicken broth. Add all the remaining ingredients and mix well. Pour into the prepared dish and bake for 40 to 45 minutes.
Lovina Eicher is an Old Order Amish writer, cook, wife and mother of eight. Formerly writing as The Amish Cook, Eicher inherited that column from her mother, Elizabeth Coblentz, who wrote from 1991 to 2002. Readers can contact Eicher at PO Box 1689, South Holland, IL 60473 (please include a self-addressed stamped envelope for a reply) or at LovinasAmishKitchen@MennoMedia.org.