Dear Readers,
This is Verena, age 19. My mother asked me to write the column this week. Recently my life has been so busy with working Mondays, Wednesdays, and Fridays at the daycare. I also babysit for my friend's three little boys whenever they need a sitter. I love children, so it makes me happy that my job includes taking care of many sweet little angels! With most of the children at the daycare being age five and under, it takes lots and lots of patience. The children are at such a tender, young, innocent age. I feel blessed to be able to care for them.
I recently took a trip to Rhode Island with a lady I work for at the daycare center. We traveled with a group. Our trip started on April 2. We left Michigan before daylight, traveling through Indiana, Ohio, and on into Pennsylvania. We stayed the first night in Pittsburgh. We had such beautiful scenery from our eleventh-floor hotel room. The hotel was twenty stories high.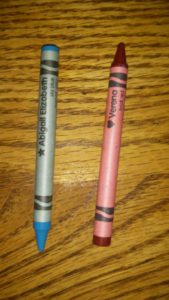 On Monday, we traveled to Easton, Pa., and toured the Crayola factory. We were able to play a few games and work with art. I was able to make two crayons of my own and could name the color on the crayon. I chose the names Abigail Elizabeth and Verena for my colors.
That evening we slept in New York City. The lights after dark are absolutely amazing. There is such a big difference between the lifestyles in a big city and the lifestyle I know as an Amish country girl!
On Tuesday, we left New York City around 6:00 a.m. and drove to Newport, R.I. By the time we reached Rhode Island we had traveled through nine states. We drove along the Atlantic Ocean and then crossed the bridge to Rhode Island. The scenery was such perfect artwork created by our wonderful God. The ocean is always amazing to see and makes us feel so small.
We stayed in Rhode Island two nights (Tuesday and Wednesday) in a nice hotel. We enjoyed swimming and relaxing in the hot tub. A few from our group took a three-mile walk along the ocean. I walked along the beach and saw seashells scattered about.
While in Rhode Island we went to the Audrain Auto Museum. It was quite something to see. We then drove to Shawnee on Delaware, in Pennsylvania. Shawnee on Delaware is an unincorporated community on the Delaware River, a part of Smithfield Township in Monroe County. We stayed in a cabin in the woods at the Shawnee Village Resort. It was a very nice place to stay.
Saturday, April 9, we started out and were going to stay the night in Ashland, Ohio, but decided to drive all the way home instead. I was so glad to reach home that night yet. I missed my family so much. It is nice to go on a vacation, but there is nothing like home and family. I was thankful that we had safe travels and a safe driver. I will forever remember this trip.
On Sunday I stayed home and rested all day while the rest of the family went to church. Later in the day our family—sister Elizabeth, Timothy and Abigail, Mose and Susan, Dustin, and aunts Verena and Susan—all went to Uncle Jacob and Aunt Emma's for supper and an egg hunt. I was happy to see my little niece Abigail again. It was a great night with family. Like usual, we all enjoyed looking for the eggs. Supper was campfire stew, fresh grilled ham, cheese, crackers, cherry delight, Swiss roll bars, fruit dip, apples and grapes.
I'm getting excited for Saturday. I will be getting my Teacup Yorkshire Terrier puppy, Ricky. I have his bed and everything set up for him.
I hope you enjoyed reading about my adventure. God bless!
I will share the recipe for skillet casserole. I made if for our supper tonight. I don't add the carrots and I wait to add the cheese until the potatoes are soft. It's a very good casserole!
Skillet Casserole
1 pound raw ground beef
5 medium potatoes, grated
1 onion, diced
1 can cream of mushroom soup
6 or more cheese slices
Spread the ground beef on the bottom of a large skillet. Place potatoes on top of meat and then add a layer of onions. Pour the soup over top, and add slices of cheese over the whole casserole. Cover skillet and simmer for 40 minutes. Optional: diced carrots can also be added as a layer on top of the potatoes.
Lovina Eicher is an Old Order Amish writer, cook, wife and mother of eight. She is the co-author of three cookbooks; her new cookbook, The Essential Amish Kitchen, will be published in 2017, available from 800-245-7894. Readers can write to Eicher at PO Box 1689, South Holland, IL 60473 (please include a self-addressed stamped envelope for a reply) or at LovinasAmishKitchen@MennoMedia.org.