This day is going way too fast for me. I finished sewing daughter Susan's cape and apron for the wedding of niece Lovina and Benjamin tomorrow. Susan had her dress almost done so I also finished sewing that.
Last night I finally finished my dress, cape, and apron. I will be cook at the wedding and was asked to wear smoke blue. Susan and her friend Mose will be table waiters and Susan has to wear periwinkle. None of us had a color like that so it meant more sewing. With Susan working at the factory and training her pony in the evenings, she had a hard time getting to her sewing. And we can all guess which job was more interesting and important to her. She's a fan of being
outdoors.
Today, May 18, daughter Lovina is 12 years old. She brought her friend Marianna home with her from school last night. They enjoyed each other's company. Lovina got up earlier than usual so she could pop some popcorn to treat her classmates. Her classmates like the sour cream and cheddar popcorn she makes.
This morning while sewing, my thoughts traveled back to Lovina's birth 12 years ago. We had moved in March and were still not unpacked. Sister Emma and Jacob were in the process of getting ready for a public auction on their property in Berne, Indiana. Life was not very settled yet after moving a family of eight to Michigan. I had been having trouble with gall bladder attacks and ended up having Lovina three weeks early by emergency C-section.
Due to complications I was in the hospital for seven days. I spent my birthday in ICU and wasn't allowed to go see the baby for a few days due to a high fever. My husband Joe spent his day visiting me and then holding and feeding Lovina her bottles. We weren't on the same floor in the hospital. At night Joe tried to sleep on chairs in the waiting room. He would go home every day to check on our other six children and do the chores, where my sisters Verena and Susan stayed with them day and night. Our oldest daughter Elizabeth was almost ten at that time. My doctor was thinking of sending me to a bigger hospital, but I took a turn for better and was transferred out of ICU the last few days.
I had our first six children at home with Joe's Aunt Sylvia as my midwife. This was so different to not have all the family together as soon as the baby was born. It was hard not to see my baby for those few days, but I was so sick I didn't really feel up to anything. Seven weeks later I had my gall bladder removed and felt so much better. Lovina has grown into a sweet young girl. She does very well in school and loves to read and write. She is outside helping Susan with her ponies every chance she gets. Washing dishes is probably her least favorite thing to do.
I am more than blessed with the family I have. They made me feel so loved on Mother's Day. I was given flowers, and lots of thoughtful gifts from Joe and the children. My sister Emma and her husband Jacob had council meeting (which our churches have prior to communion) on Mother's Day. Everyone was treated to ice cream in honor of all the mothers there. What a thoughtful and kind deed!
Our asparagus crop is slowly dying off. Joe picked a few radishes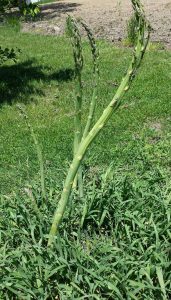 from the garden last night. Usually I beat him to the first radishes. Those first ones of the season are always the best. Green onions are almost ready. Rhubarb is ready and so is the spearmint and peppermint tea. We are enjoying ice tea. It will taste even better once it warms up outside.
We had a few snow flurries Sunday forenoon on May 15. I don't remember seeing that in May. Sunday we were at sisters' Verena and Susan for a delicious meal in honor of Susan's fortieth birthday which was May 10.
God bless!
Asparagus with Homemade Cheese Sauce
2 cups fresh asparagus, chopped to 1-2 inch pieces
1 1/2 cups milk
seasonings to taste
3/4 cup soft cheese, cut-up
Thickening:
2 tablespoons cornstarch
4 tablespoons water
Mix together.
Cook fresh asparagus just until tender. Add milk, then add seasoning to taste. When hot, add soft cheese. When cheese is melted, stir in the thickening. Vary thickness by using more or less cheese.
Lovina Eicher is an Old Order Amish writer, cook, wife and mother of eight. Formerly writing as The Amish Cook, Eicher inherited that column from her mother, Elizabeth Coblentz, who wrote from 1991 to 2002. Readers can contact Eicher at PO Box 1689, South Holland, IL 60473 (please include a self-addressed stamped envelope for a reply) or at LovinasAmishKitchen@MennoMedia.org.