Tomorrow is Thanksgiving Day. The children have their Thanksgiving feast at school today. Their cooking class teacher has to have a lot of patience to show all the students how to prepare this meal. Daughters Verena, Loretta, son Benjamin, and I plan to attend the feast. It is rainy here so Benjamin doesn't have construction work today. Daughters Susan and Elizabeth and baby Abigail plan to go too.
Then on Thursday, our family is invited to have Thanksgiving dinner at sister Emma and Jacob's house. A few of the children have other plans, but the rest of the family will go.
We have so many blessings to be thankful for, and not just on Thanksgiving but all year long. Do we thank God enough for all our blessings? How thankful we should be to have a warm house to live in and a bountiful harvest stored for the coming year. And also to be able to spend the day with family.
Unfortunately not everyone will be spending their day this way. Our thoughts and prayers go to the families of the two young girls that were instantly killed in a buggy wreck this past Sunday evening. The girls, and two boys who were giving the girls a ride home, were hit from behind by a truck traveling at a high rate of speed. The girls, Michelle, age 16, and Rebecca, age 17, were cousins. (Cousins of each other, not cousins of my family.) They leave to mourn their parents, brothers and sisters, grandparents and a lot of extended family. One of the boys is in the hospital in critical condition and the last we heard has not responded. I just can't imagine how the families must feel. Let us keep them in our prayers so that God can help them through this difficult trial in life. We do not understand why things like this happen but we do know God makes no mistakes when bad things happen. The funeral for the girls will be on Thanksgiving Day.
Also in our prayers is cousin Leah as she is in the hospital in critical condition. She and her husband Joe and their two sons were in a buggy when they were also hit from behind. Leah landed in front of the car, which stopped on top of her. She has extensive head injuries. We talked to her sister Martha's husband, David, yesterday. We haven't heard many details so we were glad to talk with him and find out what really happened. Leah lives in the Berne, Indiana, area and is Uncle Emanuel and Aunt Leah's oldest daughter. Her sister Martha was my age and we had so many good times growing up. Now we hardly see or hear from each other. Life gets busy with our own families.
I had another doctor appointment this week. The blood clot is still improving and I'm doing as well as can be expected since the surgery four weeks ago. I can tell my energy level isn't normal yet but it all takes time to heal. The girls do a wonderful job helping me. I have to keep reminding myself to be careful and remember that the work won't run away (although it would be nice if it would sometimes. Ha!).
Son-in-law Timothy brought us a deer that he shot. He had it all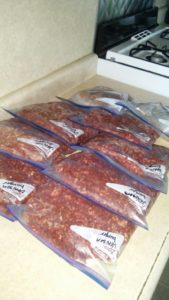 ground up and ready for the freezer. The family was all here Sunday evening for supper, so husband Joe grilled deer steaks on the charcoal grill, which we all enjoyed.
God bless all of you this holiday and keep you safe.
Jerky
 12 pounds lean meat (optional: beef, venison, pork)
1 cup Tender Quick
8 teaspoon black pepper
1 teaspoon red pepper
1 tablespoon plus 1 teaspoon garlic powder
1 teaspoon salt petre
1 tablespoon Accent or meat tenderizer
1 cup brown sugar
Slice meat 3/16 inches thick. Mix remaining ingredients thoroughly in a bowl. Use entire seasoning for 12 pounds of meat.
Layer your meat in a tub or on trays. Using a shaker with large holes, sprinkle seasoning between each layer. Let set 24 hours. Bake at 325 degrees for 15 minutes. Flip over, bake another 15 minutes.
Hint: We use parchment paper on bottom of trays. When finished baking, meat still looks wet. Take your meat out of tray and discard remaining juice. Meat will dry up and still be moist. Good luck!
Lovina Eicher is an Old Order Amish writer, cook, wife, and mother of eight. She is the co-author of three cookbooks; her new cookbook,
will be published in 2017. Readers can contact Eicher at PO Box 1689, South Holland, IL 60473 (please include a self-addressed stamped envelope for a reply) or at LovinasAmishKitchen@MennoMedia.org.