Tim's sister-in-law lands 17 point buck with a bow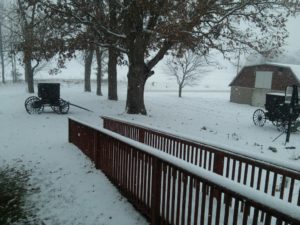 We awoke this morning to more snow, adding to our already snow-covered white world. It has been snowing all morning. We had our first snow earlier than usual and it is staying with all the cold temperatures.
Last Friday, November 9, we had a snow-covered ground. Traveling the two hours plus to Ann Arbor and back seemed to go well even with the snow still coming down. Saturday morning we awoke to around five more inches of snow. The snow is very pretty this morning and sticking to everything. Thanksgiving Day is next week but our children say the snow makes it seem like we are closer to the Christmas season.
Today is also a very important day for deer hunters. It's opening day for shotgun season to hunt deer. Daughter Susan and Mose and baby Jennifer are spending a few days at Mose's brother's house an hour-and-a-half north of here. Mose will go hunting with his brothers.
Son-in-law Timothy was excited last week when he was deer hunting with bow and arrow. He shot a 12-point buck. Although I do not understand all the deer-talk they were saying this buck had a 21 1/2-inch spread. I think if you are a deer hunter you will know what that means. So after Timothy let us know about the buck our three boys thought they had to go see this buck. He will make some nice meat for their freezer.
Timothy's sister-in-law has also been hunting which I'm sure is nice for her after having 12 children. I can imagine the excitement when she shot a 17-point buck with her bow. That is a nice rack to have for helping put meat up for the winter.
Last Saturday our family helped Jacob and Emma with cleaning and preparing for the December 7 wedding of their daughter Emma and Menno. Some of Menno's family plus Timothy's and Moses's were also there helping.
Saturday evening after we were done at Jacob's house, Joe and I stopped by Mose and Susan's house. They decided to pack their clothes and come to our house for the night and be there on Sunday. Of course Grandpa and Grandma offered to bring 10-month old Jennifer back with us. How sweet to have her cuddle in my arms on the way home. She fell asleep as we traveled the snow-covered roads with our covered buggy and our horse Midnight.
Midnight was a hard horse for my husband Joe to train. Now she has proven to be a safe and sound horse for us except she still needs to get used to water puddles in the road. She doesn't mind the smaller puddles but if there is a bigger puddle she gets scared of going through it.
Before Jennifer fell asleep she was saying in Dutch (high German), "Horsey, horsey." She already loves horses and when she sees one she gets excited and will make a clip-clop noise with her tongue. How precious! As she slept in my arms I thought of how it was when I held our first six children when they were that age. In weather like that with open buggies we wanted their face protected from the wind so they didn't get to watch the horse running through the snow at a young age in the winter months. On Saturday evening we didn't have our heater going but it was still fairly warm in our buggy.
My editors sent me a copy of emails and comments from readers. I do not get to see those so they are kind enough to copy and send them to me. The day I received this pack in the mail had not been a good day for me. After sitting down and reading all these encouraging words from you readers, I felt so much better and refreshed. If the column encourages you in any way, please give God the honor and glory as without his help I couldn't do it. It seems at times that I do not have time to write but it makes it well worth it, too, when I read your kind words.
God bless you all and stay safe in this weather if you are having snow and ice.
Mystery Bars
1/2 cup margarine
1/2 cup brown sugar
1 cup sifted flour
Mix together for two minutes. Pat into bottom of 9 x 12 inch pan. Bake at 325 degrees for 20 minutes. Remove from oven. Meanwhile, mix the following together:
2 eggs
1/8 teaspoon salt
1 teaspoon vanilla
2 tablespoons flour
1/2 teaspoon baking powder
1 cup nuts (optional)
Beat for two minutes. Add nuts. Beat enough to blend. Spread over partly baked dough. Bake at 325 degrees for 25 minutes. Cut while warm. Makes 2 dozen.
Lovina's Amish Kitchen is written by Lovina Eicher, Old Order Amish writer, cook, wife and mother of eight. She is the co-author of three cookbooks; her newest cookbook, The Essential Amish Cookbook, is available from 800-245-7894. Readers can write to Eicher at PO Box 1689, South Holland, IL 60473 (please include a self-addressed stamped envelope for a reply) or at LovinasAmishKitchen@MennoMedia.org.