Hello! I hope you are all doing well. This is Lovina's nineteen-year-old daughter, Verena, writing. Mom was so tired so I told her I'll take her place for this week.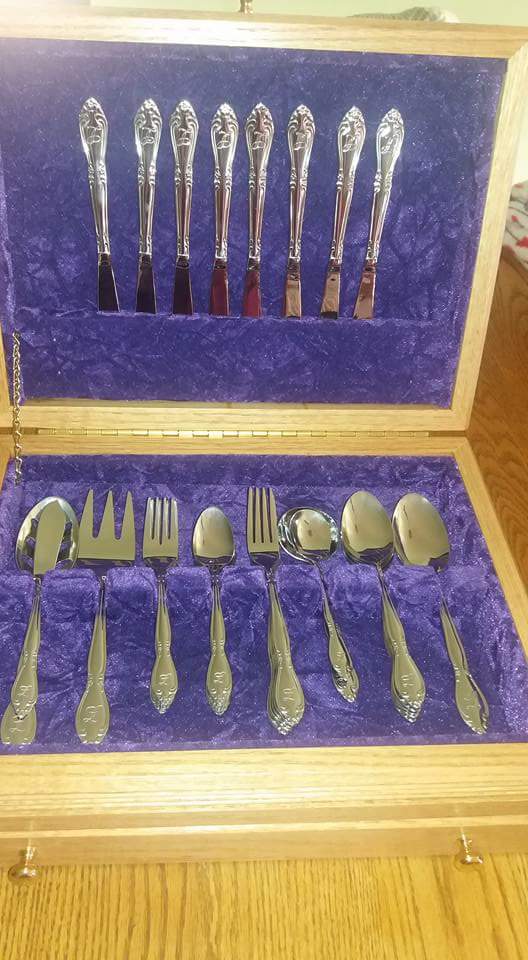 Loretta, 17, Joseph, 14, Kevin, 11, and Mom cleaned Joseph and Kevin's bedroom—washed the walls and ceiling, cleaned their windows and closet. I don't think I'm wrong when I say that their bedroom is probably the worst room in the house to clean. It's always surprising what all we find in there. All the clothes they are missing show up in the room somewhere. You could say we were all relieved to check that room off our "to do" list. Now it's just trying to keep it that way. Kevin collects everything. With Loretta cleaning in there I'm sure a lot of his collection ended up in the trash.
My bedroom is done except for a little dusting and my windows need to be cleaned. We are having church services here once in August and twice in September. One turn will be for Mose and Susan. We skipped our turn last year so that's why we will have it twice this year.
On July 4 our family went on a hay ride. It's always fun to have the whole family on the wagon. Especially ten-month-old Abigail. She chatted and said "hi" to everyone we passed. She is really getting into everything. She stands up along furniture and loves to take our hands and walk. She discovered our stairs and we see how far she goes up. We stay behind her to make sure she doesn't fall back. She also discovered the kitchen cabinets.
Brother Benjamin will be eighteen years old on Friday, July 14. Hard to believe how fast time flies. I remember how slow time seemed to be while I was in school. Now time seems to not be slow enough.
Dad and brothers Benjamin and Joseph are in the process of training two-year-old Beauty and two-year-old Midnight. The horses look very much alike. Beauty is a gift to Benjamin from Mom and Dad for his eighteenth birthday. Benjamin is driving her in the buggy and she's doing very well. Midnight is a different story. She is being difficult to train. She does well hitched double with another trained horse but after they put her alone in the buggy she doesn't want to go.
My four-month-old Yorkshire Terrier puppy, Ricky, is doing very good. I taught him to sit, shake his paw and lay down. Now I'm teaching him to roll. He's so playful and so much fun. Abigail gets very excited when Ricky runs to greet her when she comes.
Wednesday, July 5, our whole family rented two pontoons at a campground and spent all day on the lake. We did a lot of fishing. I discovered that I would rather fish for blue gill instead of bass. We also did a lot of swimming. It was so much fun to have Abigail in the water with us. So much laughter and fun makes great memories.
At lunch time we docked our pontoons and sat beside the lake. Dad grilled on a little grill we took along. He could only grill three big pieces of pork steak and a few hot dogs at a time. It sure was tasty as we ate it right after it was off the grill. Dad had a hard time staying ahead but he grilled meat until we all had enough. We also had chips, pickles, watermelon, macaroni salad and cookies. We didn't have a table so we spread a blanket on the ground to put all the food on.
Sister Susan and I made supper tonight. We made cooked potatoes, BLT and sloppy joe sandwiches; fresh garden goodies always make it easier to get a meal together.
I like quotes so I'm going to share this one: "The difference between a good day and a bad day is your attitude." And a verse from the Bible: "Give thanks in all circumstances for this is God's will for you in Christ Jesus." 1 Thessalonians 5:18
Cream Cheese Chocolate Cupcakes
1 8-ounce cream cheese, softened
1/3 cup sugar
1 egg
1/8 teaspoon salt
1 cup semi-sweet chocolate chips
1 cup peanut butter chips
Cupcakes:
1 1/2 cup all-purpose flour
1 cup sugar
1/4 cup baking cocoa
1 teaspoon baking soda
1/2 teaspoon salt
1 cup water
1/3 cup vegetable oil
1 tablespoon white vinegar
1 teaspoon vanilla extract
In a bowl beat the cream cheese until smooth. Add the sugar, egg, and salt; mix well. Fold in the chocolate and peanut butter chips, set aside.
For cupcakes, in a bowl, combine the flour, sugar, cocoa, baking soda and salt. Add the water, oil, vinegar and vanilla; mix well.
Fill paper-lined muffin cups half full with batter. Top each with about 2 tablespoons of the cream cheese mixture. Bake at 350 degrees for 25–30 minutes or until toothpick inserted into cupcake comes out clean. Cool for 10 minutes before removing from pans to wire racks to cool completely. Yield: 18 cupcakes Note: The filling will partially cover the top of the cupcakes.
Lovina Eicher is an Old Order Amish writer, cook, wife and mother of eight. She is the co-author of three cookbooks; her new cookbook, The Essential Amish Kitchen, is available from 800-245-7894. Readers can write to Eicher at PO Box 1689, South Holland, IL 60473 (please include a self-addressed stamped envelope for a reply) or at LovinasAmishKitchen@MennoMedia.org.