Camping with the Eichers: Horses, wagons, boats and even a pontoon
Our whole family is spending this week (July 4) at a lake about 11 miles from our house. Timothy and Elizabeth and Mose and Susan's places are only half that far from here. They came with horses and wagons. Timothy and Mose brought their boats and Loretta's friend Dustin brought his pontoon.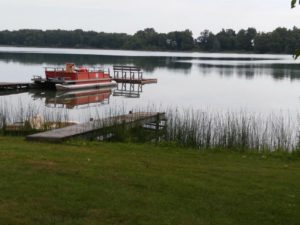 This is July 5 and I'm sitting inside the canopy writing. The ducks are quacking away and I hear a bull frog croaking. My husband Joe went fishing with Dustin. Timothy and Mose are in their boat out on the lake. The rest are still asleep.
It was a long day yesterday. We traveled one-and-one-half hours with a driver to the community where nephew Levi and Arlene exchanged vows. It was a very hot day, but we can't pick the weather for wedding days. I think I would rather deal with the heat than have cold rain all day long. When so much of a wedding is held in pole barns and tents it is always nicer for the ones preparing when its not cold or rainy. But we aren't in control of the weather so we must take what we get and make the best of the situation.
I want to make breakfast after everyone is gathered. For me camping like this is more of a chore, but the memories we are making as a family are precious. Little 22-month-old Abigail is having the time of her life. She is such a busy body. She loves "swimming" in the lake with the rest. Six-month-old Jennifer is enjoying all the attention and they took her in the water too. We were all excited when her mother discovered Jennifer has two teeth popping through. Jennifer kept sticking her tongue out across her gums so we knew she was feeling something different.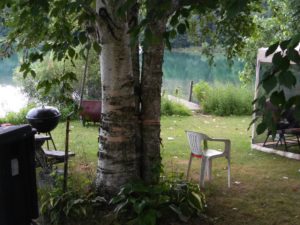 This lake doesn't have a public access so its very quiet and peaceful here. We cook with the grill and open fire a lot. We divided the family into six groups so that every day someone different cooks the main meal which is usually between lunch and supper.
I was just getting started writing this column on a picnic table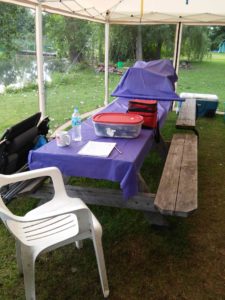 outside when it started sprinkling so I decided to move under the canopy just in case it decides to rain harder. The sun was peeping through earlier but now it's cloudy. We are catching a variety of fish such as bass, bluegill, pike, and perch.
Joe and I went home Tuesday after I came home from helping prepare for Levi and Arlene's wedding. We did the laundry and Joe checked on all the animals. Jacob and Emma's sons are taking care of Verena's Yorkie dogs this week (Ricky and Ruby). They are also keeping daughter Elizabeth's Yorkie dogs there so they have an extra chore. We told Jacob's family to come for a cookout with us here at the lake one evening.
Sisters Verena, Emma, and I traveled the one-and-one-half hour on Tuesday to help get ready for the wedding. Sister Susan wasn't feeling well enough to go with us. We think she overheated while mowing their grass Friday evening. There was an excessive heat warning out. After sister Verena and Susan came home from cleaning a lady from our church's house, Susan went and mowed yet. It was very hot and humidity was high. Susan was able to attend the wedding yesterday but still feels very weak from it. The ride home from the wedding felt very good in our driver's air-conditioned van. The trip went fast with our family all singing together on the way home.
Do I appreciate the life we have enough? So many broken families—let us pray for peace and contentment in this world. God does help those who trust in him.
It was so nice to see all my siblings at the wedding but someone special was missing. Brother Amos was greatly missed. I felt so sad for sister-in-law Nancy; she must feel so lonely at a place where we all are together. Her 13-month-old granddaughter Christine was admitted to the hospital a few days before the wedding. Nancy and her family left before supper to go visit with her daughter Lovina and Benjamin at the hospital which wasn't too far from the wedding.
Space is running out here—maybe more about camping and the wedding next week. God be with you all!
Campfire Stew*
2 cups beef stew meat (may substitute a roast, cut into chunks)
4 cups unpeeled red potatoes, cleaned and diced
2 cups green beans, cut into small pieces
1 whole onion (used to flavor the soup; remove before eating)
4–5 beef bouillon cubes
1 teaspoon garlic powder
Salt and pepper, to taste
Put beef chunks in kettle or large pot with enough water to cover; bring to a boil and boil for 10 minutes. Add potatoes, green beans, and onion, adding enough water so that vegetables are well covered. Add bouillon. Boil until vegetables and meat are tender. Season with garlic powder, salt and pepper. Remove onion if you wish.
[*Recipe featured on p. 109 of The Essential Amish Cookbook]
Lovina's Amish Kitchen is written by Lovina Eicher, Old Order Amish writer, cook, wife and mother of eight. She is the co-author of three cookbooks; her newest cookbook, The Essential Amish Cookbook, is available from 800-245-7894. Readers can write to Eicher at PO Box 1689, South Holland, IL 60473 (please include a self-addressed stamped envelope for a reply) or at LovinasAmishKitchen@MennoMedia.org.