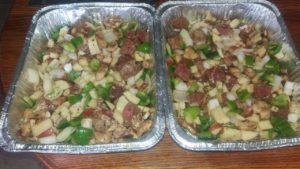 Verena's view from camping week, plus super easy supper on the grill
This is Verena, 20, writing for Mom this week. Mom isn't home and I know she needs this written.
I'm off work on Wednesdays every week. I work the other four days for my cousin Emanul. He owns a woodworking shop so I work in the office. I really enjoy it and it seems to be working so far with my handicap. I really enjoy doing office work.
My sister Loretta, 18, Lovina, 14, and Kevin, 12, are also home so Loretta is getting lunch for all of us. Dad and Mom left to go do some shopping so Dad can do some repairs around here. He is off on vacation this week yet.
Loretta is heating up leftovers from last night's supper for our lunch which is fried chicken, mashed potatoes, and gravy.
Mose and Susan (sister) and niece Jennifer drove in last night just as we were getting ready to eat so we told them to stay and eat with us. Jennifer is full of smiles every time I see her. I love being Aunt to Jennifer and Abigail! They are my whole world!
We are back home getting settled after spending last week camping at the lake. My siblings and I told Dad and Mom that next time we do a camping trip we want to be far enough away from home so they can't always be running home to check on things and doing laundry and chores.
We were at the lake from Sunday, July 1 to Saturday, July 7. It was very enjoyable with the entire family together. I will always cherish these memories we made.
We rented three older model RV's from the campsite owner. They didn't have electricity in them but the water for the toilet and the lights worked from being hooked up somehow to a 12-volt battery. It beat not having to sleep in tents. We divided up between the three RV's and had a screened-in canopy for our cooking spot.
We all gathered once a day at least to have a meal together. Otherwise, some were fishing; some were swimming; and others were enjoying the little ones and visiting and relaxing together. The owner treated us very well and always was willing to do whatever he could to make our stay go smoother. We had a few very hot days but found comfort in cooling off swimming. Although we did use sunscreen, a few of us had sunburns which is not fun.
Abigail loved the water but Jennifer preferred only having her feet in the lake water. I loved spending time with Abigail and Jennifer on the swings, slides, etc.
Uncle Jacob and Aunt Emma and family took care of my Yorkie dogs (Ricky and Ruby) while we were gone. They also had sister Elizabeth's dogs (Izzy and Crystal) so they had a handful of extra chores. We all appreciated it very much.
Thursday evening we invited Jacob and Emma and family, also their daughters Emma and Elizabeth's boyfriends, Menno and Manuel, to the camp to spend the evening with us. The men went fishing after supper. Aunt Emma brought a wet burrito casserole for all of us. Dad grilled some brats to go along with it.
Sister Loretta turned 18 while we were at the lake (July 1). We had cupcakes in honor of her birthday. Brother Benjamin and Loretta are both the same age now until Saturday, July 14, when Benjamin will have his 19th birthday.
July 4 we attended cousin Levi's wedding. I was a tablewaiter and had to wear a light gray dress, cape, and apron. It was nice to see family again!
We all packed up to leave the campground on Saturday evening.
Sunday we attended the viewing of our former bishop, John, who passed away. Our church became too large so we divided in two districts and John was bishop for the other district. He was 75 and a cousin of my deceased grandmother Elizabeth Coblentz, the original writer of this column. I stayed home from work on Monday so I could attend the funeral with my family. It was a big funeral!
On Tuesday I went back to work. We were busy catching up from our week's vacation. It's always enjoyable to have time off but I love when everything is back to a routine.
Well, you all take care and God bless! I'll share a recipe with you the best I can of what Loretta and I made for supper Monday evening.
Supper on the Grill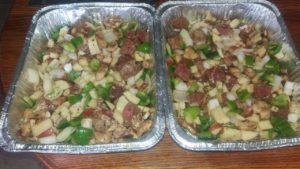 1 pound steak cut into 1-inch cubes
1 pound bacon cut into small pieces
1 package shrimp de-tailed (optional)
1 medium onion cut up in chunks
1 green pepper chopped
1 box fresh mushrooms
6 medium potatoes cubed
1 cup olive oil
Mix all together and add seasonings of your choice. Toss until seasoning is well mixed with all ingredients. Grill in tin foil on grill until meat is cooked and potatoes are soft. Serves about 12.
Lovina's Amish Kitchen is written by Lovina Eicher, Old Order Amish writer, cook, wife and mother of eight. She is the co-author of three cookbooks; her newest cookbook, The Essential Amish Cookbook, is available from 800-245-7894. Readers can write to Eicher at PO Box 1689, South Holland, IL 60473 (please include a self-addressed stamped envelope for a reply) or at LovinasAmishKitchen@MennoMedia.org.