Last week was a busy one, with attending two weddings. Daughter Elizabeth and Timothy are table waiters in a wedding again on Friday. Elizabeth has her dress done but needs to finish her cape and apron.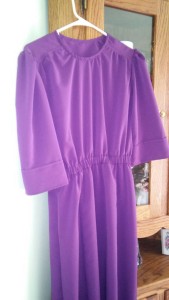 This week we are trying to get caught up with the work around here. On Saturday we filled the rest of the garden. We didn't have enough space for some of the vegetables I usually plant. I have a small garden beside the house, but I can't plant anything in it for now. We need to level some ground around the new building before we can plant. Hopefully there will be time for some late vegetables.
Joseph, 12, Lovina, 11, and Kevin, 9, are cleaning strawberries that Jacob and Emma's boys brought over. The strawberries come from their plants. Verena is baking and Loretta is washing dishes. I am sewing again!
We canned 21 quarts of rhubarb juice this week too. We are enjoying iced tea from the spearmint tea plants out of the garden. We have been having nice rains this last while, which makes everything in the garden grow faster.
Timothy (Elizabeth's friend) has been slowly moving his belongings to his new home. We went to see his new home, which is very nice. He has more acreage, a bigger, newer house and outbuildings. He does have to build horse stalls for the horses and put up fence around the pasture. On Saturday my husband, Joe, will probably have to work at the factory, but the rest of us will go help move the rest of Timothy's things. Some of his family will help as well. Elizabeth and some of the girls were cleaning the house last Saturday.
We attended church services at Mose's (Susan's friend) parents' on Sunday. Mose's sister Hannah and Leroy furnished the lunch, as it was their turn. They are doing some remodeling, so they couldn't host church services at their house. Wednesday evening the girls had so much fun babysitting for little six-week-old Caleb Lee. Caleb is Mose's brother Alvin and Suzy's little baby. It was Alvin's birthday, so Suzy went fishing with him. Needless to say, that sweet little Caleb didn't lack attention. It was so enjoyable to have a baby in the house to care for once again. I am sure that Suzy, being a new mother, was glad for a break for a while.
On Sunday, June 14, twenty-one years ago, our first child was born to Joe and me. Where have the years gone? We feel blessed to call Elizabeth our daughter. She has been such a loving daughter and always willing to help with the work. Being the oldest in the family made her mature at a younger age. I could always depend on leaving the little ones in her care when she was old enough to watch over them. May God be her guide through all her years and bless her richly.
At a wedding, my cousin Esther shared a recipe that a friend gave her to give to me. Her friend is a reader of my column. With all the rush, rush of the two weddings, I completely forget her friend's name. So if she reads this, I want to say thank you! Daughter Verena made it today, and it is delicious!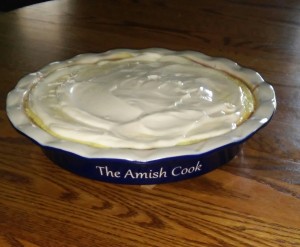 Rhubarb Cheese Cake
Crust:
1 cup flour
1/4 cup sugar
1/2 cup butter
Rhubarb layer:
3 cups fresh rhubarb
1/2 cup sugar
1 tablespoon flour
Cream layer:
12 ounces cream cheese, softened
1/2 cup sugar
3 eggs
Topping:
1 cup sour cream
2 tablespoons sugar
1 teaspoon vanilla
For crust, mix flour, sugar and butter. Pat into a 10-inch pie plate. Set aside. For rhubarb layer, combine rhubarb, sugar and flour. Toss lightly and pour into crust. Bake at 375° for about 15 minutes. Meanwhile, prepare cream layer by beating together cream cheese and sugar until fluffy. Beat in eggs, one at a time. Pour over hot rhubarb layer. Bake at 350° for about 30 minutes or until almost set. For topping, combine sour cream, sugar and vanilla. Spread over hot layers.
Lovina Eicher is an Old Order Amish writer, cook, wife and mother of eight. Formerly writing as The Amish Cook, Eicher inherited that column from her mother, Elizabeth Coblentz, who wrote from 1991 to 2002. Readers can contact Eicher at PO Box 1689, South Holland, IL 60473 (please include a self-addressed stamped envelope for a reply) or at LovinasAmishKitchen@MennoMedia.org.