The calendar tells us spring is here but the weather thinks differently. It has been cold so far this week. Son-in-law Mose is boiling maple syrup as fast as he can keep up in the evenings. Son Benjamin keeps the fire under the cooker going all day and adds more sap as it cooks down. The weather is perfect right now to get the sap running from the trees.
As soon as it warms up I have lots of windows that need to be cleaned. I really look forward to the warmer days ahead.
Our hearts are saddened since we received the shocking news yesterday of our cousins Samuel and Lydia's granddaughter's death. Samuel is Joe's cousin and Lydia is my cousin. Their thirteen-year-old granddaughter, Lovina, was biking to school yesterday morning (March 22). She was hit by a passing truck that did not see her because of the blinding sunlight. Oh, I cannot grasp the feeling this family had when they heard the news. We also have a daughter Lovina just a few months younger than her and also in the sixth grade. I keep asking myself how I would have felt had it been my daughter. God doesn't make mistakes and we pray that this family will find comfort in that; let God be their guide as they will have many lonely days of grief ahead.
Left to mourn her are father and mother Daniel and Lydia, three sisters, three brothers, grandparents and many more. She was the second child, oldest daughter out of the seven siblings. Visitation will take place tonight (Thursday) and Friday all day at the family residence. The funeral is Saturday at 9:30 a.m. They live in a community around thirty minutes from here by car. We have a hired driver to take us there. Our most heartfelt sympathy goes out to the family.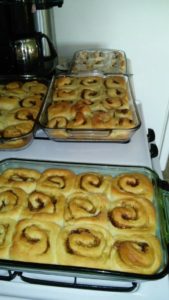 Yesterday daughter Elizabeth and baby Abigail came to spend the day here. It was a cold morning with the temperature around nineteen degrees. Abigail kept warm on the ride over and had a big smile when she woke up in Grandma's house. Elizabeth helped me make sugar cookies and cinnamon rolls. It was a good day to bake with the cold temperature. I need to get some baby things around such as a high chair, walker, etc., that would be nice to have whenever Abigail comes.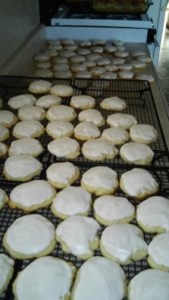 After eleven years of small children, I didn't need much of anything around so I gave my stuff away or sold it at a garage sale. Being grandparents is another change in life and so much fun. Abigail is always a day brightener when she comes.
I had a visit Monday morning from Ruth Coblentz (a relative). She has many lonely days since her husband Dave passed away last August. She brought me several cookbooks compiled by the Schwartz families. I am always glad for new recipes but this is special coming from family—Joe's late grandmother Mae, on his dad's side.
Daughter Susan tried a different casserole for supper one evening. It can be made for breakfast or any meal. I will share it with you readers this week. God bless you all!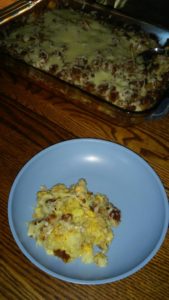 Sausage Casserole
1 pound loose sausage
1 pound Tater Tots
1/2 teaspoon onion powder
3/4 cup shredded cheddar cheese
1 tablespoon mustard
3 eggs, beaten
1 cup whole milk
1/4 cup shredded mozzarella cheese
Brown sausage until no longer pink; drain. Layer Tater Tots in a greased 2-quart baking dish. Sprinkle with onion powder. Top with cheddar cheese. Top with browned sausage mixed with mustard. Mix together eggs and milk; pour over all. Bake uncovered at 375 degrees for 45 minutes. Top with the mozzarella cheese and heat until cheese is melted.
Lovina Eicher is an Old Order Amish writer, cook, wife and mother of eight. She is the co-author of three cookbooks; her new cookbook, The Essential Amish Kitchen, will be published in 2017, available from 800-245-7894. Readers can write to Eicher at PO Box 1689, South Holland, IL 60473 (please include a self-addressed stamped envelope for a reply) or at LovinasAmishKitchen@MennoMedia.org.