We are halfway through June! It is a lovely but warm evening. Everyone has retired for the night except daughter Verena, who is reading on the porch swing, and me. I am also on the porch, writing at the patio table. I'm enjoying the peacefulness. God has created such a wonderful world, and people do not appreciate it enough. How often we get so caught up in the busyness of life that we don't even notice the beauty of it all. I'm watching two hummingbirds that are buzzing by the feeder. They are such tiny birds but can make quite a lot of racket!
Today was a warm day to travel to town with the buggy and our horse, Mighty. Daughter Lovina, 12, and son Kevin, 10, had appointments at the eye doctor. Lovina needs glasses now, but Kevin's eyes test very well yet. I was able to pick up my new glasses as well.
My husband, Joe, made supper on the charcoal grill tonight to keep the heat out of the house. I appreciate that, especially after coming home from town late in the day. Verena and Loretta had cleaned out some more cabinets while I was gone.
Yesterday, June 14, was daughter Elizabeth's twenty-second birthday. How can it be that our firstborn is already that old? Lovina has been spending Monday night and Tuesday with Elizabeth. Timothy and Elizabeth brought her home last night, and I made one of Elizabeth's favorite meals, since it was her birthday. On the menu: mashed potatoes, beef gravy, macaroni and cheese, corn, lettuce salad, sliced cheese and strawberries and ice cream.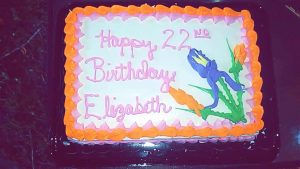 Our whole family went to Timothy and Elizabeth's house on Saturday in honor of Elizabeth's birthday. We all spent the night there and stayed until Sunday evening. It was an in-between Sunday, and so we didn't have a church service that morning. We had such a good time as a family—making memories.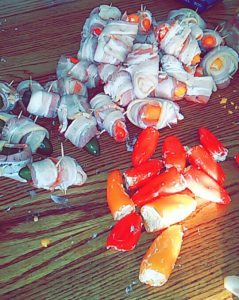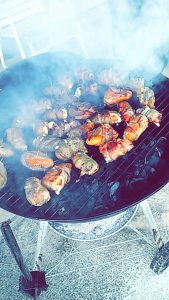 Timothy had the grill going to make supper outside. We all gathered around the fire after supper and made s'mores. We took a cake for Elizabeth, but I forgot the candles at home. I think Elizabeth was glad I did! She thinks she's too old for that.
On Sunday morning, Elizabeth put in the oven a big breakfast casserole, which she had prepared the day before. She also had biscuits to go with it. Also on the menu were sliced cheese, tomatoes, hot peppers, watermelon, cake, strawberries, rolls, brownies, grape and orange and rhubarb juices, coffee and chocolate milk.
After dishes were washed, we all went for a wagon ride in Timothy and Elizabeth's big two-seated wagon. We put some chairs on to make room for all of us. We went to the lake and enjoyed snacks under the shelter there. Some went swimming in the lake. They have a nice beach area. Then we headed back to Timothy and Elizabeth's house. The sun was out, but there was a good breeze blowing so the ride was pleasant.
We all enjoyed pizza before we headed home. The day went so fast, and I enjoyed it so much. How different to have someone else doing most of the cooking! Elizabeth does a good job. She has been blessed with a good husband. Seeing that our daughter is happily married means so much to us as parents.
Twenty-one years ago today, sister Emma and Jacob were united in marriage. Happy anniversary to them!
We cleaned 32 quarts of strawberries that we will make into jam tomorrow. Some of it will be for Mose and Susan's wedding in August, and the rest will be for the freezer so we have some for another year. Strawberry jam is our favorite jam.
God's blessing to all!
Frozen Strawberry Dessert
1 cup flour
½ cup packed brown sugar
½ cup cold butter
½ cup pecans, chopped
2 cups strawberries, fresh or frozen and thawed
1 cup sugar
1 teaspoon lemon juice
1 cup heavy whipping cream, whipped
Combine flour and brown sugar; cut in butter until crumbly. Stir in pecans. Press into an ungreased 9 x 9-inch baking pan. Bake at 350 degrees for 14–16 minutes, or until lightly browned. Cool. Crumble the baked pecan mixture. Set aside ½ cup for topping. Sprinkle remaining mixture back into the baking pan. In large bowl, beat strawberries, sugar and lemon juice until blended. Fold in whipped cream. Spread evenly onto dish. Sprinkle with reserved pecan mixture. Cover. Freeze for eight hours or overnight.
Lovina Eicher is an Old Order Amish writer, cook, wife and mother of eight. Formerly writing as The Amish Cook, Eicher inherited that column from her mother, Elizabeth Coblentz, who wrote from 1991 to 2002. Readers can contact Eicher at PO Box 1689, South Holland, IL 60473 (please include a self-addressed stamped envelope for a reply) or at LovinasAmishKitchen@MennoMedia.org.