Another week has passed, and it is time to write another column.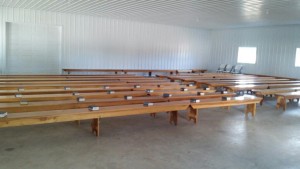 Church services were held here Sunday in our new pole barn. Made a lot more room than when we had it in the basement. Benches were all filled, even though some of our church families were attending baptismal services in another church district. We had quite a few visitors from northern Indiana.
Our menu for lunch consisted of homemade wheat and white bread (out of 50 loaves, we had only a few left), smoked sausage links (which we heated up in the oven before serving), cheese spread, peanut butter spread, dill pickles, freezer pickles, red beets, hot peppers, butter, strawberry jam, coffee, iced tea and cookies. We had butterscotch, chocolate chip, sugar and ranger cookies.
We served seven tables at one time and four of them were reset, so we had eleven tables to serve altogether. I didn't have anyone back for the evening meal like we usually do. We were all worn out from having Elizabeth's wedding here a week before!
This week we are busy canning. Yesterday we canned 34 pints of salsa. We still have more tomatoes that need to be canned into something. I would like to make pizza and spaghetti sauce, and I also want to can some salsa for daughter Elizabeth, who just got married. She went back to work and is working ten-hour days. It wears her out to get much done in the evenings.
Our cabbage heads are ready to be harvested. We made coleslaw and chili soup for our supper last night. Sons Benjamin, 16, and Joseph, 13, took some garden goodies over to Timothy and Elizabeth. They don't have a garden, so we want to share with them. We have green beans and hot peppers waiting here to be put into jars. I might freeze the green beans. Also have peaches coming next week.
I did take a half-day break and went to neighbor Barbara's for a Tupperware party one day. It was a Tupperware shower for neighbor Susie, who was married on June 4. They served lunch to us before we left. Sometimes getting away from home for a while boosts your energy.
Tomorrow we plan to attend the wedding of Leander and Karen. The wedding will be about six miles from our house. Leander is a son of Joe's cousin Leander and his wife Rosina. Son Leander recently moved to our community.
School doors will open on September 8. Our three youngest are ready for that day. Joseph will be in seventh grade, Lovina in fifth (and in middle school), and Kevin will be in fourth grade (his last year in elementary). The years keep going by way too fast!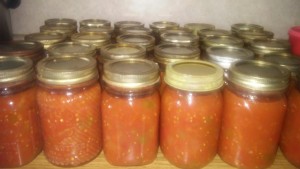 This week I'll share my salsa recipe with you readers. God's blessings to all!
Salsa
14 pounds tomatoes, scalded, peeled, and diced
5 cups onions, chopped
10 green peppers, chopped
4–6 jalapeño peppers, chopped
1 cup vinegar
1/2 cup brown sugar
4 garlic cloves, minced (or 1 teaspoon garlic powder)
1/4 cup salt
2 teaspoons oregano flakes
3 teaspoons chili powder
10–12 tablespoons Clear Jel (not instant)
Mix all of the ingredients except Clear Jel in a big pot. After the mixture boils, cook for 45 minutes, stirring occasionally. Then mix Clear Jel with 1–2 cups of water before adding to the rest of the ingredients to thicken. More jalepeño peppers can be added to desired taste, and more Clear Jel can be added for a thicker salsa. Cold pack according to your canner's instructions. Makes about 15 pints.
Lovina Eicher is an Old Order Amish writer, cook, wife and mother of eight. Formerly writing as The Amish Cook, Eicher inherited that column from her mother, Elizabeth Coblentz, who wrote from 1991 to 2002. Readers can contact Eicher at PO Box 1689, South Holland, IL 60473 (please include a self-addressed stamped envelope for a reply) or at LovinasAmishKitchen@MennoMedia.org.