Another week has gone by, and it's time to get another column on its way. This will wrap up June already. Half of 2017 is now history.
We are invited to a wedding in Berne, Ind., tomorrow for Lana, the daughter of one of Joe's cousins. She is getting married to my cousin's son, Abe. It doesn't look like it will work for us to go. It will be Joe's last day of work before a week's vacation. We appreciated the invitation, though.
Saturday will bring us into July. Daughter Loretta was born to us on July 1, 2000. Her birthday goes with the year, so it's always easy to remember her age! She will be 17. Son Benjamin is 17 until July 14, when he turns 18. Loretta always teases Benjamin that she caught up with him in age—although that only lasts for two weeks.
That was a few rough years when those two were toddlers! Growing up that close in age meant there was a lot of competition between the two.
I remember one day when Loretta and Benjamin were young and we were still living in Indiana. We had an attached garage, where I did my laundry. Back then I had to heat all my water on the stove in the house and carry it to the washing machine in the garage. Joe would fill up big garbage cans with cold water for me so I didn't have to carry all the cold water. At first we had a washing machine without a motor, so it had to be operated by hand. But that is what I had grown up with, so I was used to that.
Still, I was pretty excited the day Joe brought me home a Maytag washing machine with a motor. We had only one motor, so Joe would take it off the pump jack that pumped the water from our well and hook it up to my washing machine. So if I decided I wanted to do laundry when Joe wasn't home, I couldn't. Finally, I figured out how to switch it myself. If there's a will, there's a way!
Now to get back to the story I started: on laundry day, I would put Loretta in the playpen while I carried hot water. She could crawl by that time, and I didn't want her to get in the way. She didn't like not being able to get out of the playpen. One day I went in to check on her and Benjamin. He had climbed up on a chair, reached my scissors in my desk and cut a hole in the playpen netting so Loretta could crawl out.
It still makes me shudder to think how easily he could have cut himself or Loretta doing that! Loretta was all smiles about the fact that her big brother helped her escape. Needless to say, the playpen didn't work very well after that, what with a hole in it.
Another time, after we moved to Michigan and Loretta was three and Benjamin four, I was hanging out laundry. It was chilly that day, and I thought Benjamin and Loretta were entertained enough with their toys. Joseph was taking a nap, and the three oldest were in school. I would hang out one basket of laundry and then come in the house to check on the little ones. That day I found Benjamin and Loretta scrubbing my brand-new oak kitchen table with dish soap and scouring powder! They told me they wanted to "help" me. They had managed to use up almost a bottle of dish soap and a big can of scouring powder. I caught it before it did too much damage to the finishing on the table.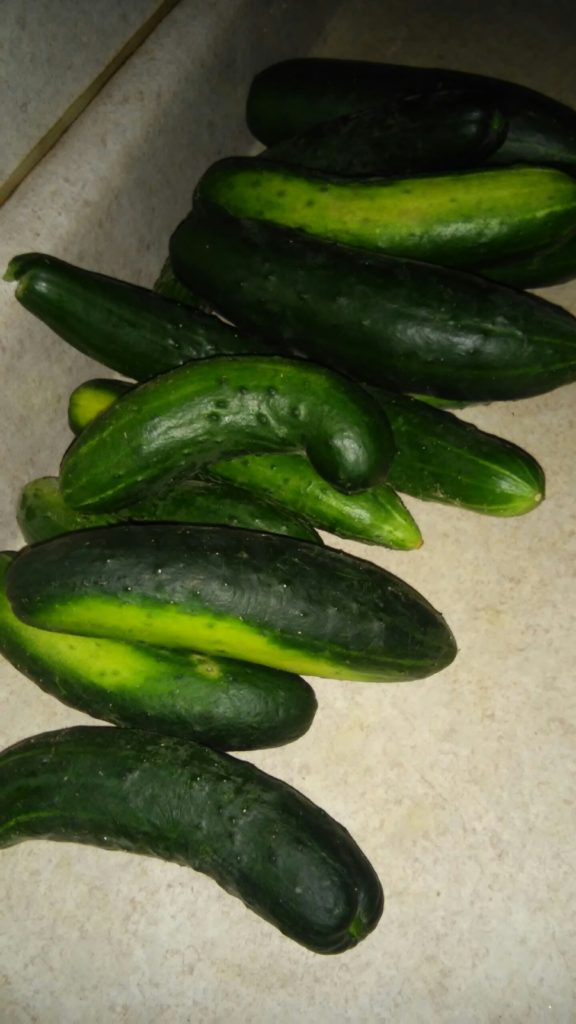 I must say that Benjamin and Loretta have both grown up to be kindhearted young teenagers. But they are typical teenagers, so life still isn't dull with the two of them. We have five teenagers in the house, so there's never a dull moment!
So a happy birthday to Loretta! We wish her many more happy years. We plan to get together somewhere for pizza with the family of Dustin, Loretta's special friend, in honor of Loretta's birthday.
My daily prayer is that God will give Joe and me guidance to show our children a good example of serving such a wonderful God that we have, in good times and bad times.
May God bless all of you!
Italian Cucumber Salad
2 cups cucumbers, peeled and sliced
1 cup cherry tomatoes, halved
1 cup onions, sliced
1/2 cup green peppers, chopped
1/2 cup Italian dressing
Mix vegetables together. Add dressing and toss.
Lovina Eicher is an Old Order Amish writer, cook, wife and mother of eight. She is the co-author of three cookbooks; her new cookbook, The Essential Amish Kitchen, is available from 800-245-7894. Readers can write to Eicher at PO Box 1689, South Holland, IL 60473 (please include a self-addressed stamped envelope for a reply) or at LovinasAmishKitchen@MennoMedia.org.