It is Wednesday evening and I should be in bed already but this column has to be written.
Today, sisters Emma, Verena, Susan and I traveled the two hours to Berne, Indiana and picked up sister Liz and headed to nephew Levi's fiancée's house for final wedding preparations. Levi is the son of my oldest sister Leah and her husband Paul, so Leah was there too. My sister-in-law Nancy was also there so it was so nice to all be together which doesn't happen very often.
We were also glad to see Paul and Leah's son Ben, his wife Rosemarie and four children, who all live in Wisconsin. Paul and Leah greeted their newest grandchild for the first time. She is two months old and was named after her grandma Leah. Paul and Leah's daughter Elizabeth and her two little girls were there helping too. Her little girls had on dresses that Elizabeth and her younger sister Mary used to wear at that age. Leah saved the dresses. Mary died at the sweet, young, innocent age of five. She died suddenly and I still remember the shock we all had when Mary left us. God has plans we don't always understand, but we know God makes no mistakes, so let us trust God completely.
The ladies baking pies today did a lot of fast work and had all the pies in the ovens baking when we arrived. They were rolling out the dough for the knee patches (some call these "elephant ears"). Women toasted bread for the dressing tomorrow, mixed up fruit, baked bread and more. Many hands make light work.
It brought back lots of memories to be in our old neighborhood. We went past the place we were born and raised. Dad and Mom had a 104 acre farm which is now split into three parcels and three sets of buildings. It doesn't seem the same. Next week, May 20, it will be 15 years since dear father passed on. How can it be that long? But then again it seems forever since we could talk to him. He was a great father and left us a legacy of faith, love, and many good memories.
Uncle Elmer and Aunt Salome were there today, which helps fill some of the emptiness of our parents not being here anymore. Always appreciate your parents while you still have them to honor, love, and cherish. I can't count the times I have longed to have one more talk with my parents. They always had such great advice.
I also want to wish sister Susan a happy birthday which was on Sunday. She treated us to a delicious haystack dinner!
I need to bring this to a close. We will start out at 5:30 a.m. for Berne to attend Levi and Barbara's wedding. I will be a cook and daughter Verena will be a table waiter. We wish them God's blessings as they join hands together in Holy Matrimony. I'll write more about the wedding next week. Until next week—God bless!
This week I'll share my sister Susan's recipe for rhubarb nut bread.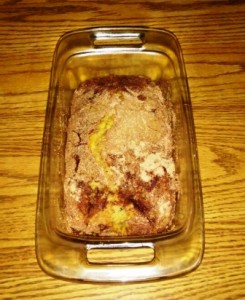 Susan's Rhubarb Nut Bread
1 cup brown sugar
2/3 cup salad oil
1 egg
1 cup buttermilk
2 1/2 cups flour
1 teaspoon salt
1 teaspoon baking soda
1 teaspoon vanilla
1 1/2 cups diced fresh rhubarb
1/2 cup chopped nuts
Topping:
1/2 cup sugar
1 tablespoon butter, melted
1 teaspoon cinnamon
Preheat oven to 325 degrees. Beat brown sugar and oil together until well blended. Stir in egg and buttermilk. Sift together flour, salt, and soda and combine with first mixture. Stir in vanilla, rhubarb and nuts. Pour into two greased loaf pans. Mix sugar, melted butter, and cinnamon and sprinkle over top of batter. Bake at 325 degrees for one hour.
P.S. This being rhubarb season and having mentioned being anxious to have a chance to make rhubarb custard pie for Joe, here are those pies!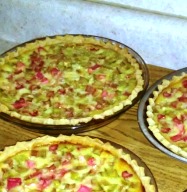 P.S. We wish Lovina a wonderful happy birthday today, May 22. Here are two beautiful baskets of flowers her daughter gave her! We may here more about her birthday in a follow-up column, we hope!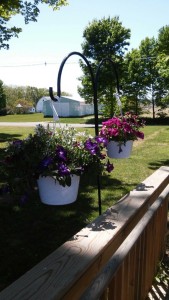 Lovina Eicher is an Old Order Amish writer, cook, wife and mother of eight. Formerly writing as The Amish Cook, Eicher inherited that column from her mother, Elizabeth Coblentz, who wrote from 1991 to 2002.
Readers can contact Eicher at PO Box 1689, South Holland, IL 60473 (please include a self-addressed stamped envelope for a reply) or at LovinasAmishKitchen@MennoMedia.org.