In order to take a little time off from writing this column, I'm sharing three recipes from my cookbook coming out in April,
(Herald Press). I, and about half my family, were down with the flu as my deadline for the column approached this week, so this "vacation" comes at a good time. There is a lot of stuff going around and I know many who are sick. It is that time of year. I hope your family is well.
Enjoy trying one or more of these: the first one for caramel corn we enjoy when we have time to play games as a family, such as on New Year's Eve or Day. The second is for a salad using uncooked frozen peas that might make you think ahead to spring; finally, an easy recipe for BBQ chicken sandwiches using chicken you've cooked and cut into pieces.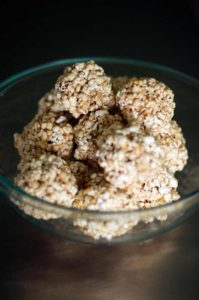 Party or family gathering
QUICK CARAMEL CORN
1 cup butter
2 cups dark brown sugar, packed
½ cup light corn syrup
½ cup molasses
1 teaspoon vanilla extract
½ teaspoon salt
2 teaspoons baking soda
6 quarts popped popcorn
Melt butter in a 4-quart saucepan. Add brown sugar and corn syrup.
Heat to boiling and boil for 3 minutes, stirring frequently. Add the molasses and boil for an additional 2 minutes, continuing to stir frequently.
Remove from heat and add vanilla, salt, and baking soda, stirring briskly.
Pour over popped corn and stir until popcorn is thoroughly coated.
Salad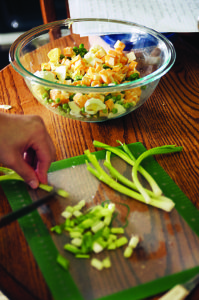 PEA AND CHEESE SALAD
1 (12-ounce) package frozen peas, thawed, or an equivalent amount fresh peas, cooked until just tender
1 cup celery, chopped
2 hard-cooked eggs, chopped
1 cup Colby cheese, cubed
½ cup radishes, sliced
¼ cup green onion, chopped
1 cup mayonnaise
1 tablespoon prepared mustard
2 tablespoons sugar
1 teaspoon seasoned salt
In a medium bowl, combine the peas, celery, eggs, cheese, radishes, and green onion. In a small bowl, stir together the mayonnaise, mustard, sugar, and salt. Pour mayonnaise mixture over the vegetable mixture and mix well.
Refrigerate until ready to serve.
Make sure the peas are well drained or the salad will be watery.
Meat
BBQ CHICKEN SANDWICHES
2 cups celery, diced
1 cup onion, diced
1 cup green bell pepper, diced
1 teaspoon salt
1 teaspoon pepper
4 tablespoons butter
6 cups chicken, cooked and diced
¼ cup brown sugar, packed
2 cups ketchup
2 teaspoons prepared mustard
2 cups water
1 tablespoon Worcestershire sauce
Salt and pepper, to taste
In a Dutch oven or large pan, sauté celery, onion, bell pepper, salt, and pepper in butter until tender, about 5 minutes. Add the remaining ingredients and simmer over low heat for
1 hour, stirring occasionally. Serve on buns.
Makes 15 good-sized sandwiches.
Lovina Eicher is an Old Order Amish writer, cook, wife, and mother of eight. She is the co-author of three cookbooks; her new cookbook, The Essential Amish Kitchen, will be published in 2017. Readers can contact Eicher at PO Box 1689, South Holland, IL 60473 (please include a self-addressed stamped envelope for a reply) or at LovinasAmishKitchen@MennoMedia.org.