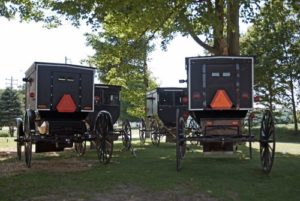 Missing loved ones at a family reunion
It was another hot and humid day with temperatures in the 90's. Now we are having a thunderstorm. It might cool off after this. We are also getting a good soaking rain which we needed.
On Saturday we all attended the family gathering for my family at sister Emma and  Jacob's. They had roasted a hog for the meat. I will try to remember some of the other foods brought in. Emma made several casseroles and then there was overnight salad, taco salad, cucumber salad, sliced tomatoes, hot peppers, cheese (several varieties), salsa, chips, venison, summer sausage, apple, cherry and bread pies, doughnuts, a variety of cookies, puddings, cakes, watermelon, cinnamon bread and so much!
I probably forgot to mention Sister Leah made the bread pie. I remember Mother making this pie a lot when she had an extra pie crust that needed to be filled when she was making pies. I will share her recipe of bread pie at the end of the column. It isn't very hard to make at all and tastes better than you would think. It was always named Poor Man's Bread Pie, probably because of the simple ingredients it takes.
If I counted right, the total of all our family members would be 133 without counting the ones that have passed away such as my dear parents, brother Amos, nieces Mary Shetler and Marilyn Schwartz. I counted around 75 (more or less) of our family who made it to the gathering. It was a low attendance this year. It is so hard to pick a day that suits everyone to come.
Also, it was my brother Amos and Nancy's 35th wedding anniversary on Saturday. Although he has passed away our minds still were with him and Nancy. Nancy and family didn't come for the gathering except their oldest daughter Susan, husband Joe, and family. They live in a community nearby, around 18-20 miles from here. We were glad to see them come but I know the day was hard on Susan. We all felt the emptiness and missed the presence of Amos and family.
Jacob and Emma had three big balls of gifts wrapped by plastic wrap to open; one was for the siblings, one for the nieces and nephews, and one for the great nieces and nephews. This is where one person is given the ball to unwrap and keep whatever little gifts fall out until the next person throws a certain number on a dice and then the ball gets passed on and on and at the end is the grand prize. It was exciting once the ball came close to being totally unwrapped.
Sister Liz won the grand prize for the siblings' game which was $50.00 in a Tupperware container. Brother Albert's daughter Sylvia won the same prize for the nieces and nephews' game and LaRose (granddaughter of sister Liz and Levi) won the grand prize of the great nieces and nephews' game which was a Tupperware tea set and $20. This was generous of Jacob and Emma to do this for everyone. Emma said she thought we might not feel like singing with brother Amos's recent passing so she thought this would be better.
Before the six of us sisters parted, our daughters talked us into at least yodeling together for them so we sang a few yodeling numbers. What just made it worthwhile was little Abigail standing there trying to help us. When we would finish a song she would tell us to sing more.
Snacks were set out that everyone brought to enjoy before we all left for home. Next year, sisters Verena and Susan will take their turn hosting. Will we still all be together? Only God knows the future. Live every day as though it is your last.
On Sunday, September 2, son Kevin had his 13th birthday. We now have five teenagers in this house. Kevin had several friends come home from school with him Tuesday night and spend the night and go back on the bus with him the next day in honor of his birthday. The boys had a lot of fun!
On Sunday those here for an outdoor brunch were Jacob and Emma and family, Menno and Manuel, Timothy, Elizabeth and Abigail, Mose, Susan and Jennifer, Dustin, and sisters Verena and Susan. We made sausage gravy in a kettle over an open fire and cooked bacon on the grill. We also made biscuits plus ham and cheese omelet roll in the oven here in the house.
No more space to write so I'll sign off wishing you all God's blessings.
Poor Man's Bread Pie
Bread crumbs
1 tablespoon flour
6 teaspoons sugar
2 tablespoons cinnamon
Milk
In an unbaked 9-inch pie shell, fill with crumbs of bread (can use up older pieces of bread) until full. Mix together flour, sugar and cinnamon and sprinkle over bread crumbs. Fill crust with milk. Bake in a 375-degree oven until well set.
Lovina's Amish Kitchen is written by Lovina Eicher, Old Order Amish writer, cook, wife and mother of eight. She is the co-author of three cookbooks; her newest cookbook, The Essential Amish Cookbook, is available from 800-245-7894. Readers can write to Eicher at PO Box 1689, South Holland, IL 60473 (please include a self-addressed stamped envelope for a reply) or at LovinasAmishKitchen@MennoMedia.org.